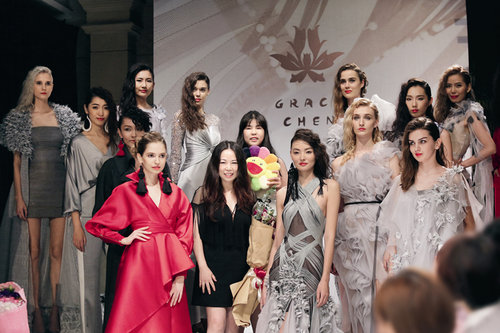 Grace Chen (2nd L, front) and her models [Photo supplied by Grace Chen]
Designing fashions has been a major part of Chen Yehuai's life for nearly 30 years. During the past three decades, she has made persevering efforts to create beautiful dresses for women, so they can display their charm to the world.
Beautiful Dream
Chen was born in spring, when the vast, open country was covered with flourishing flowering locust trees. Her parents named her "Yehuai," which literally means "wild locust tree" in Chinese, as they hoped their little girl would grow up to be as strong and vigorous as the plant, which could withstand the wind and rain. Since she was a little girl, Chen has had a keen interest in reading, and in watching Hollywood movies.
"When I was a primary school student, I was fascinated by Elizabeth Taylor, Audrey Hepburn, Greta Garbo and several other female Hollywood movie stars," Chen recalls. "Once, our teacher asked us to write an article to depict the person we most respected. Most of my classmates wrote stories about heroes (or heroines) and great people, while I chose Greta Garbo as my subject … At that time, many Chinese knew little about the great movie star … Probably, due largely to my enthusiasm for beautiful things, I have had a decades-long affinity for beautiful dresses."
Chen took a fancy to reading fashion magazines when she studied in middle school. When she learned about the profession of fashion designing, she made up her mind to become a designer when she grew up.
Compared with many of her peers, Chen was lucky, as she grew up in an open-minded family, who supported her in her pursuit of her dream to create beautiful dresses.
In 1988, Chen was admitted to Beijing Institute of Fashion Technology, after she passed the university-entrance examination. She completed her postgraduate studies at the school between 1992-1995. From 1988-1995, Chen learned a lot from Yang Aiqi, Li Keyu and other teachers with the institute. That helped her lay a solid foundation for her future career development.
While she studied at the institute, Chen enjoyed reading books (about fashions), especially works written by well-known fashion critics and fashion designers. The strong desire to create fashionable, beautiful dresses inspired her to go abroad to study clothing design.
When she recalls the many sweet, and bitter, experiences while preparing to study abroad, Chen says she believes all of her efforts were worthwhile. To achieve her goal of (studying abroad), she gave up the opportunity to work (as a teacher) in the institute.
Chen will never forget what the visa officer said to her when she applied for a US (United States) student's visa at the US Embassy in Beijing in 1995. The officer said, "Congratulations! How wonderful! You get the opportunity to study fashion design at the Fashion Institute of Technology (FIT), an internationally recognized college for design, fashion, art, communications, and business in New York." Recalls Chen: "My heart was filled with delight when I heard the officer's words. It's like a dream coming true."
Realizing Her Dream
Chen's parents were worried their daughter, who was a stranger to the US, might have a hard time adapting to her new life. However, Chen was pleased that she took her first step on the journey to her dreamland.
In August 1995, Chen arrived in New York. The young woman, free and unconventional by nature, instantly fell in love with the fashionable city, filled with avant-garde artists, writers, composers and thinkers. Unlike most new immigrants (to New York), who had to struggle with culture shock, she considered the city her second home, from which she drew inspiration for her artistic creations. "I have benefited greatly from the tailoring techniques, which I learned at FIT," says Chen.
In 1996, Chen graduated from FIT shortly after she received the school's award for the best fashion design of the year. During the following six years, she designed evening dresses for Zum Zum and Halston, which are both world-famous fashion companies on New York's Seventh Avenue. Chen has her own design philosophy; she believes in addition to a fertile imagination, a fashion designer must be considerate to his/her clients, as he/she has to make well-fit clothes for them.
Tadashi Shoji, a Los Angeles–headquartered fashion company, in 2002 employed Chen as design director. Many women celebrities — including Oprah Winfrey (one of the best-known American talk show hostesses), Hellen Mirren (Oscar-winning British actress), Sharon Stone and Jennie Garth (both are well-known American actresses) — asked Chen to design dresses for them.
In 2005, Chen went to Shanghai to expand the company's market. During the following three years, she built a team of 200 members in Shanghai. The team helped the company generate a 20-percent-profit every year. Gradually, Chen gained some experience in running the business. In 2009, she established her own brand, Grace Chen (her English name).
Beautiful View
At the end of 2012, Chen hosted a salon to showcase the beauty of Grace Chen's high-grade, custom-made dresses in Beijing Yintai Center. Since then, Grace Chen has been dedicated to custom tailoring dresses.
Chen believes custom tailoring dresses is somewhat like a craft, which requires rich experience in tailoring dresses and a strong ability to design clothes. More importantly, Chen believes fashion designers and members of their work teams must spare no effort in pursuing perfection, so they can create beautiful dresses for their customers. Chen is so strict with herself and the members of her work team that she never allows a single design, which is not up to her standard, to "walk" out of her studios.
"Before a fashion designer designs a dress, he/she must learn the occasion on which the customer will wear the dress," says Chen. "Many customers love to buy evening dresses, suits and Western-style clothes made by our company, as the dresses can beautifully outline their body shapes."
Grace Chen's target customers are women who have high social status and earn handsome incomes. The women, who tend to have fine artistic tastes, take a fancy to buying luxury items. Therefore, Chen established her studios in Beijing Yintai Center and Shanghai's Baoshan Road, which are both business hubs.
"In the past, most of our customers were women in their 40s. However, 30-something women have become our mainstream customers in recent years. Most of the women are well-educated career women, who are economically independent," says Chen.
Many customers have said they never expected they could look so beautiful until they wore a Grace Chen dress. Deeply affected by the women's words, Chen realized a dress will have "vigorous vitality" only when someone wears it. "South China Morning Post (a Hong Kong English-language newspaper) several years ago published an article (about me), which was entitled 'Power Dresser of China.' The word 'power' does not refer to influence or position. It implies beautiful dresses can 'empower' women — women will be more confident when they wear the dresses," Chen says.
"We will strive to improve our ability to design and make dresses. I hope one day Grace Chen will become one of the internationally acclaimed fashion brands like Chanel and Dior. However, that is not my ultimate goal. What I want most is that our dresses will add beauty to all women, who will become part of the beautiful view in their hometowns."
Chen also says she hopes Grace Chen will help more people worldwide understand the beauty of modern Chinese dresses. That is also the reason why she chose to become a fashion designer.
"A fashion designer should try his/her best to display the beauty of his/her dresses to customers, so more people will accept his/her creative ideas of fashion design, rather than impose the ideas on people … It has been my long-cherished wish to design clothes for all people," she adds.
Grace Chen (2nd R) at work [Photo supplied by Grace Chen]
Grace Chen (2nd L) [Photo supplied by Grace Chen]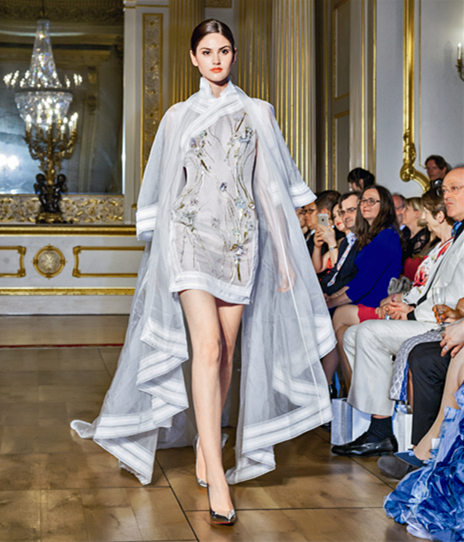 A model presents Chen's creation. [Photo supplied by Grace Chen]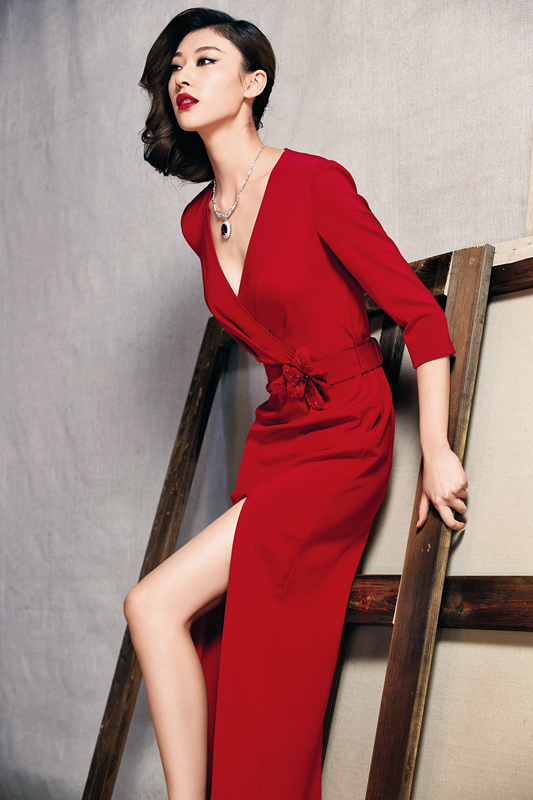 A model presents Chen's creation. [Photo supplied by Grace Chen]