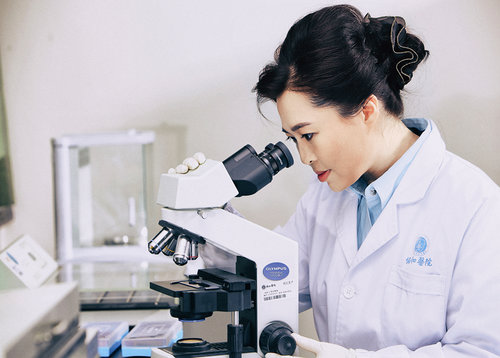 Wang Lin [Photo supplied by Wang Lin]
China is a country well-known for its production of high-quality silk. People worldwide like the delicate silk crafts produced in China, but only a few of those people realize a new type of biomaterial, known as "sericin," is hidden in the silk. In cocoons, sericin glues two fibroin filaments together to form silk fibers, and fibers are woven together to form cocoons. However, the biomedical value of sericin had not been explored until Wang Lin began to research and develop sericin into tissue engineering products during the past five years. Tissue engineering is a new scientific field, which focuses on the regeneration of tissues from cells with the support of biomaterials. The tissue engineering products Wang and her team have developed are used in the repair of various types of injuries, such as nerves, muscle, skin and cartilage injuries.
Return to the Motherland
"I have deep love for my country and I wish to repay the love and support I have received from my motherland," says Wang, currently director of the center for tissue engineering and regenerative medicine of Wuhan Union Hospital, which is affiliated with Huazhong University of Science and Technology.
Wang spent a part of her childhood in Germany, during the early 1990s. Both of her parents were visiting scholars at that time. "My parents are both doctors. Influenced by them, I chose to study basic medicine (as preparation) for my future career," Wang says.
In 2010, Wang graduated with her Ph.D. in biomedicine from Brown University, a prestigious ivy-league university known for its advanced biomedical research. As she talked about her experiences in the United States, Wang said: "I felt very lucky that I had opportunities to witness many outstanding Chinese scholars and experts making great achievements in this field. I was constantly impressed by their diligence and great willpower when they were obtaining new knowledge, techniques and skills."
Wang returned to China in 2011. She was one of the young scholars who participated in the "young thousand talents program," and who decided to return to their home countries after they completed studies overseas.
"Our homeland is a big country, with many areas that are still suffering from poverty. We, as young scholars and researchers, feel very grateful that our country has invested a great deal of resources in supporting our scientific research. With the trust from our country, we know we shoulder important responsibilities. We are responsible for improving the science and technology of our country. When I was abroad, I did not feel that I belonged to any foreign country. I thought about my country, and my hometown, all the time," Wang said.
Wang believes if every person works hard in his/her position, he/she will be able to fulfill his/her responsibility for society and will repay the support he/she receives from his/her motherland. Wang established the first regenerative medicine research center in Central China in 2011. Since then, she has led her team and has conducted medical research with the aim of healing various types of injuries by tissue engineering approaches.
Recycle Bi-products of Silk Industry
One of Wang's major findings is the proof that sericin is an ancient material with emerging value in tissue engineering. She has developed techniques to effectively recycle and reuse the bi-products of silk industry, by transforming the bi-products into raw materials that can be used for developing tissue engineering products.
In particular, Wang and her team have developed the techniques to extract sericin from the silk, and to develop sericin into various types of tissue engineering products such as nerve guidance conduits for peripheral nerve repair, injectable hydrogels for cardiac repair, and multifunctional drug delivery vehicles that can be utilized for wound healing and biomaterial based therapy.
In addition to healing injuries to the heart and nerves, the sericin-based biomaterials, which have been developed by Wang's team, have been extended to be used in the repair of skin, muscles and many other types of injuries. Wang says she hopes these findings will help advance high-tech biomedical development in China, and help more and more patients regain health in the future.
Wang in 2014 was named a member of the national standing committee of the regenerative medicine association of Chinese Medical Association. She received the 13th Outstanding Young Woman Scientist Award, which was presented in Beijing on February 28, 2017.
"I have devoted myself to the research of biomedical science for many years. I know it is not easy to be a scientist. A scientist has to endure loneliness and cope with all kinds of hardships until he/she eventually makes substantial and significant contributions to this field," Wang says.
Inspiring Women
Wang, who is currently also a professor of Wuhan Union Hospital, often encourages and inspires her students to pursue achievements in science. She gives them suggestions on how to balance the time they spend on scientific research with the time they spend with their families.
A good education and social environment are essential for women's career development, Wang says. "Every girl deserves respect. If a woman was disrespected and neglected by people from her surroundings when she was a little girl, she will grow up with psychological pain. In fact, every girl has the potential to become a mother, who will pass her values on to her child/children. A nation that pays enough respect to women, especially to mothers, will have a promising future," she says.
Wang stresses that women scientists should be independent, strong and confident. They need to overcome their own limitations, cope with all kinds of problems in their scientific research and overcome the obstacles in their career. "Scientific research is a field, in which everyone has to cope with challenges and difficulties all of the time. So, it is important for a woman scientist to be persistent, and to be brave and strong enough to restart from failures and setbacks, again and again," she adds.
Wang hopes people, from all segments of society, will create a supportive and friendly environment for women. She also hopes, in the near future, China will have more and more female scientists.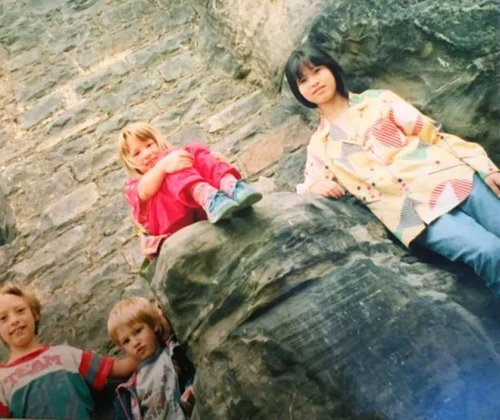 Wang Lin with friends in Germany (photo taken in 1993) [Photo supplied by Wang Lin]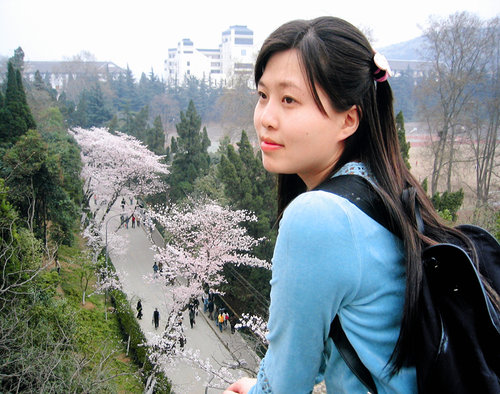 Wang Lin, as a student at Wuhan University (in Central China's Hubei Province) in 2004 [Photo supplied by Wang Lin]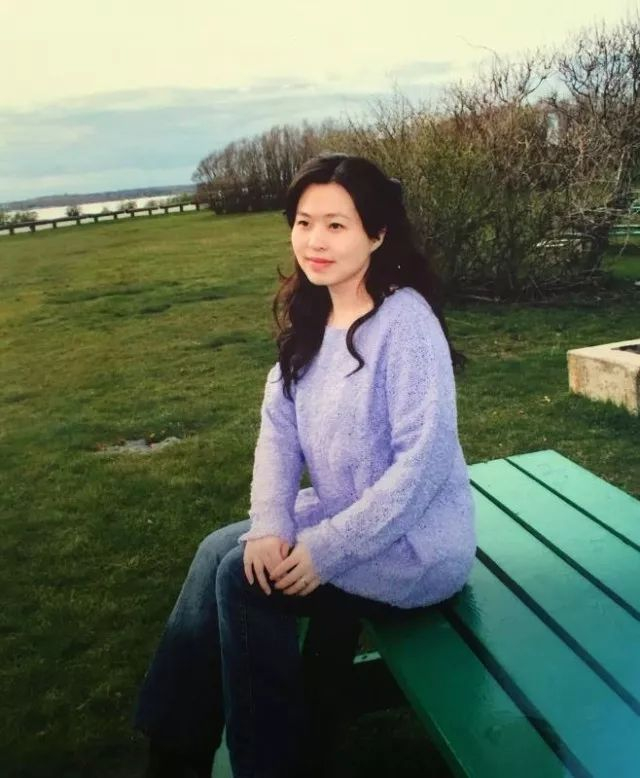 Wang Lin poses for a photo on a beach in 2009. She was a student in the United States at the time. [Photo supplied by Wang Lin]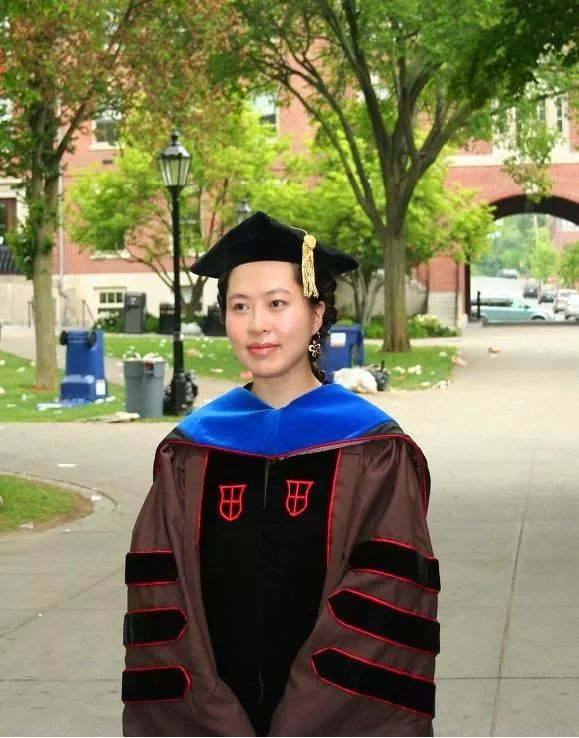 Wang Lin graduated from Brown University in 2010. [Photo supplied by Wang Lin]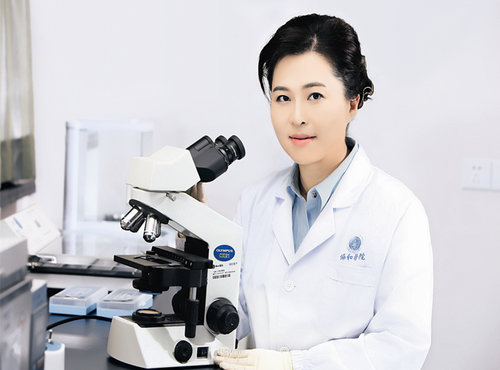 Wang Lin [Photo supplied by Wang Lin]
(Source: Women of China English Monthly August 2017 Issue)