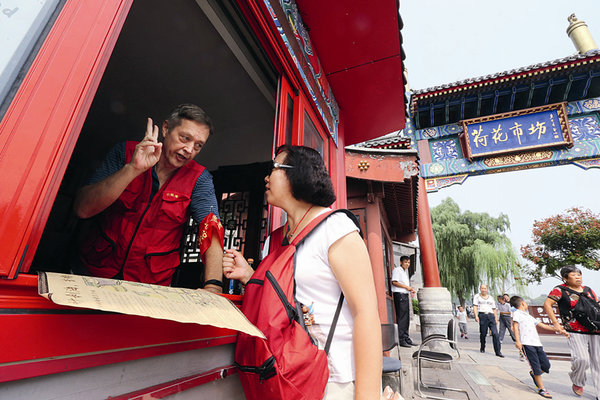 Terry Crossman (L) serves as a volunteer. [Provided by Fang Fei]
Near the southern entrance of Lotus Market, in Houhai, one of Beijing's famous tourist sites, there is a small, red house, in which volunteers give visitors sightseeing information and provide directions to various sites. Among those volunteers, there is an American, with blue eyes, who often wears a volunteer's armband and answers visitors' questions in English and/or Mandarin. He is Terry Crossman, who uses a Chinese name, Gao Tianrui, and a nickname, Lao Gao. Crossman has lived in Beijing for 22 years. During the past six years, he has enjoyed living in Beijing's hutong areas, where he has witnessed the changes in the old city, and where he has made friends with his warmhearted neighbors.
Crossman was attracted by the traditional quadrangle courtyard, in a hutong in eastern Beijing's Dongcheng District, when he visited the courtyard for the first time in 2011. The courtyard was nicely designed and decorated by a Chinese sculptor, who later moved to Germany for work. Crossman said he was particularly impressed by the beautiful wood carvings on the doors, and by the poplar tree in the small yard.
"I loved my neighborhood when I lived in a hutong in Dongcheng District. There were small restaurants, a grocery store and a barber shop nearby, which gave me a true taste of the traditional lifestyle of the local people in the hutong areas," Crossman said. It was a pity, he added, that most of the stores closed to allow for urban-renovation projects.
One and a half years ago, Crossman moved to his current residence, a more polished courtyard in a hutong near Shichahai, in western Beijing's Xicheng District. What does he think about the lifestyle in the hutong? "Life is slower in the hutong areas than other types of residential communities. I have had many opportunities to make friends with old Beijingers, who live in the hutong areas. Now, the rapidly developing online shopping software and apps enable me to order food and goods delivery, in quite a fast and easy way," Crossman says.
In March, Crossman met the so-called "Xicheng Dama," whom he said were nice ladies who were always concerned about his health and life in the hutong. "Xicheng Dama" refers to a group of volunteers, most of whom are retired women who live in Xicheng District. During a recent interview with Xinhuanet, Crossman said the "Xicheng Dama" were "local residents enthusiastic about maintaining the public security of their communities." In his opinion, living in a big city, such as Beijing, places great pressure on people to survive and get used to the fast pace of their everyday lives. He believes it is a great thing for retired people to do something for society. Therefore, the 62-year-old Crossman joined the group of "Xicheng Dama" a few months ago. He has since spent much of his spare time patrolling Shichahai on his electric bicycle and offering help to those in need. He became an online celebrity after he posted a video that documented his life as a volunteer with "Xicheng Dama."
Crossman developed an interest in China, especially the Chinese language and philosophy, when he was 13. "I read the Tao Te Ching and learned the idea of Taoism, such as letting things take their\ course," he recalled. More than two decades ago, he moved to Beijing for work. He said living in Beijing has made him feel "free and comfortable."
As he reviews the past five years, Crossman says life has become more convenient in Beijing. "Both the subway system and the bus system have improved. The online services are amazing. The suddenly booming shared bicycles have made Beijing a city full of bicycles again. The government and the companies are both taking measures to control the overall quantity of the bicycles, which are put almost everywhere. They are trying to make sure the shared bicycles do not affect too much the public space," Crossman says.
On the day of his interview with Women of China, in late September, Crossman chatted happily with several high school students, who were part-time volunteers at the small red house near Lotus Market. He said it was encouraging to see young Chinese showing their passion and willingness to take part in social work, and to shoulder their social responsibilities.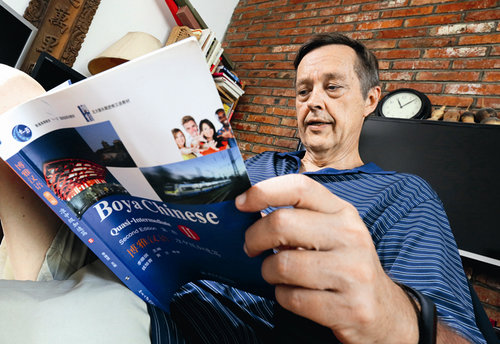 Terry Crossman [Provided by Fang Fei]
Terry Crossman [Provided by Fang Fei]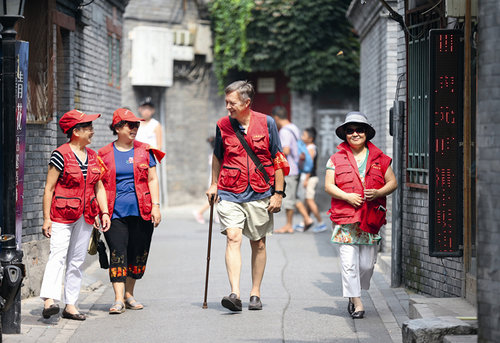 Terry Crossman (2nd R) and some 'Xicheng Dama' [Provided by Fang Fei]
(Source: Women of China English Monthly October 2017 Issue)