Hu Jiahua (second from right) poses for a photo with embroiderer Chen Jinzhu (second from left). [Women of China English Monthly]
Since Hu Jiahua (or Hu Chia Hwa) became fascinated with Shen embroidery at a trade fair 20 years ago, she has been dedicated to collecting, preserving and promoting Shen embroidery. She also spares no effort in helping women embroiderers inherit this special type of embroidering. Shen embroidery, created by Shen Shou (1874-1921) and referred to as emulational embroidery, is a form of Su embroidery.
In 1987, Hu established an international trade company in Los Angeles, in the United States. She developed an interest in Chinese-style embroidery in 1987, as she was preparing for an exhibition on traditional Chinese culture in Los Angeles.
In 1997, Hu visited a trade fair on Su embroidery (one of the four major styles of Chinese embroidery, and which originated in Suzhou, in East China's Jiangsu Province) in Beijing. She marveled at the exquisite embroideries exhibited during the trade fair. That was the first time she had heard of Shen, an embroidery master who lived in Nantong, in Jiangsu Province.
After the trade fair, Hu traveled to Nantong, where she visited Shen Shou Art Museum, which was established in 1992 to commemorate Shen. Bu Yuan, curator of the museum, told Hu a local arts and crafts institute had gone bankrupt, and that many talented women embroiderers had been laid off. Many of those women had to give up their embroidering careers to take jobs as factory workers, taxi drivers or fruit sellers.
"I felt upset when I heard what Bu had said. I worried about the women's lives, and I feared that their embroidering skills would fail to be handed down to future generations. I was deeply impressed by Shen's brilliant life experience. I felt responsible for revitalizing and promoting Shen embroidery," Hu says.
In 1998, Hu hosted a Shen embroidery exhibition in Beijing. A year later, she organized another Shen embroidery exhibition, in Kaohsiung, in Southeast China's Taiwan Province. She invited Bu and some embroiderers to visit the exhibition. "After the exhibition, I continued to collect Shen embroideries, and I wanted to find more talented embroiderers, to encourage them to give full play to their skills," Hu says.
In 2000, she moved from Beijing to Shanghai, so she could be closer to Nantong. She helps embroiderers collect various colors of embroidery threads. "I feel fulfilled and touched when I see embroiderers create works using colorful threads," Hu says.
"Women embroiderers in Nantong have a good temperament and excellent craftsmanship. I admire Jin Leilei the most. She is indifferent to fame and wealth. Her embroideries have won many awards, and they have been collected by many museums," Hu says.
She organized a Shen embroidery exhibition on May 3, 2011, in Shanghai. The exhibition attracted distinguished visitors from many countries, including the US, the UK, Germany, Italy and Singapore. After she had visited the exhibition, Peggy Dulany Rockefeller, with the Rockefeller Foundation, told Hu she realized China was home to the unique and most beautiful embroidery in the world. She said she appreciated Hu's efforts to preserve Shen embroidery.
Shen embroidery was listed as a national intangible cultural heritage in 2008. Works of Shen embroidery are often presented as diplomatic gifts. When former US President Barack Obama visited China on November 16, 2009, then-Chinese President Hu Jintao presented him with a Shen embroidery as a gift. The item was made by embroiderers at Shen Shou Art Museum. When Chinese President Xi Jinping visited Russia on March 22, 2013, he presented a Shen embroidery to Russian President Vladimir Putin.
The Beauty of Chinese Shen Embroidery, Hu Chiahwa Collection was published in November 2016. The album includes images and descriptions of Hu's huge collection of Shen embroideries.
"I feel grateful for my family's support. My parents, both in their 90s, live in Taipei. They have helped me take care of my storehouse during the past 10-plus years. My sisters and sisters-in-law helped me care for my son, Michael Derliang Lee, when he was little. Although my son and my grandchildren live in the US, I hope they can learn about and inherit traditional Chinese culture," she says.
Hu says her dream is to organize Shen embroidery exhibitions in other countries. "I hope more people in the world will have the opportunity to appreciate the beauty of Shen embroidery, and the craftsmanship of Chinese women. Along with the implementation of the Belt and Road Initiative, proposed by Chinese President Xi, I hope more individuals, organizations and companies will join together to promote Shen embroidery, both at home and abroad," Hu says.
'The Beauty of Chinese Shen Embroidery' [Women of China English Monthly]
An embroidery work by Hu [Women of China English Monthly]
An embroidery work by Hu [Women of China English Monthly]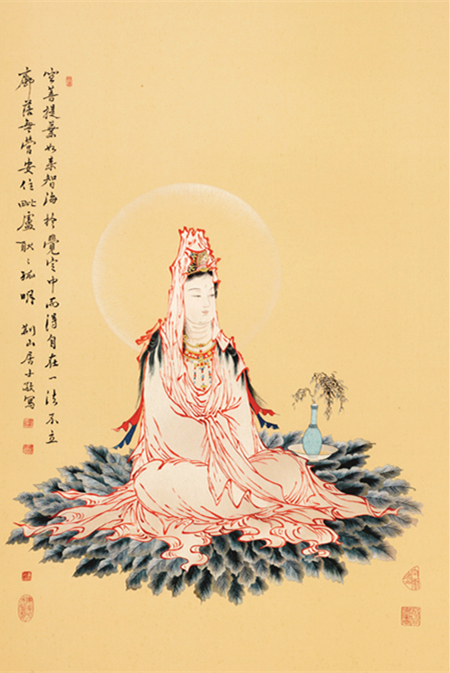 An embroidery work by Hu [Women of China English Monthly]
(Sourcee: Women of China English Monthly July 2017 Issue)