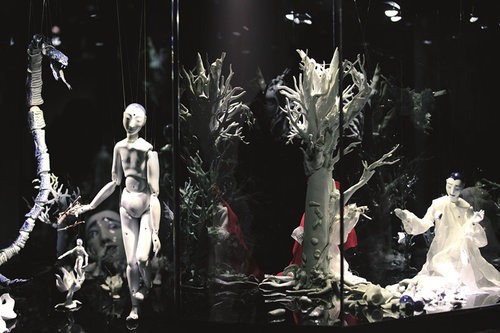 Mr. Sea [Provided by Geng Xue]
The works of Geng Xue are imprinted with her own personal style, and it is hard to categorize her works as one specific form of art. Geng in recent years has focused on exploring how to make sculptures and ceramics in a multidimensional way — by combining sculptures and ceramics with other forms of art, such as painting and filming. She has given new spirit to ceramics, an art form that is thousands of years old, and she has built her own ceramics-related visual system.
Mr. Sea, one of her representative works, is a combination of a film and porcelain installation. The work was derived from a story in Strange Tales, from a Chinese Studio, a collection of 430 classical Chinese tales of the unusual and supernatural.
"It took me one year to finish Mr. Sea. I produced a short, animated film to make the porcelain figures come 'alive.' The gloss of the porcelains and the lights used for filming formed a special language of light, which made the film develop a unique 'ceramic vision.' This vision accurately shows the characteristics of porcelains, and it effectively represents the unique charm of the original story," Geng says.
The Poetry of Michelangelo, created in 2015, is a combination of behavioral art, film and a sculpture.
"Michelangelo left his mark on sculpting by chiseling. To do my work, I used my hands instead of my tools. I pushed the soft clay, like I was giving a person a massage. In the 19-minute film, I keep touching the clay hard, so my strength is delivered from my body to the clay," says Geng. In the film, tender emotions were mixed with Geng's regular movements. Also, a woman's coolness and power were reflected. However, the film looks like an ordinary instruction film about sculpting.
Love poems written by Michelangelo were used as subtitles in the film. Geng hopes the poems and the action in the film will cause the audience have some special emotions.
Create Art Together was an exchange program between young German and Chinese artists. As a participant in the program, Geng and seven other Chinese artists in 2016 visited and stayed in Berlin for two months. In May 2017, the Chinese and German artist stayed in a hutong in Beijing.
"In Berlin, we lived in a cultural zone where a former women's prison was located. There, I created The Rope of Freedom, for which I used a cheap, blue plastic rope to link, in a free style, the doors and windows inside and outside each cell of the prison. From outside the building, it looked like the prison was sewn up. It was an interesting experience to take part in the program," Geng says.
Between May 4 and June 17, 2017, Geng's solo exhibition, Mount Sumeru, was held in New York-based Klein Sun Gallery.
Featuring her series of sculpting, the exhibition referenced the sacred Mount Sumeru, considered as the center of the physical and spiritual universe in Buddhist cosmology. The porcelain sculptures were in different sizes and their shapes looked mysterious. The porcelains were also sound installations, inside which flowing sounds echoed.
Now, Geng is creating several works at the same time. She often stops working when she lacks inspiration. "I like seeking inspiration from books, talking with others and the things about which I care. I continue my creation by interpreting inspiration by means of various forms of arts," she says.
Artist's Bio
Geng Xue, a native of Baishan, a city in Northeast China's Jilin Province, graduated in 2014 with a master's degree from the engraving arts department of China Central Academy of Fine Arts (CAFA). Her works have been added to the collections of several art museums in the world, and she has held solo exhibitions in several cities throughout the world, including Guangzhou, Shanghai, Cardiff and New York.
Geng Xue [Provided by Geng Xue]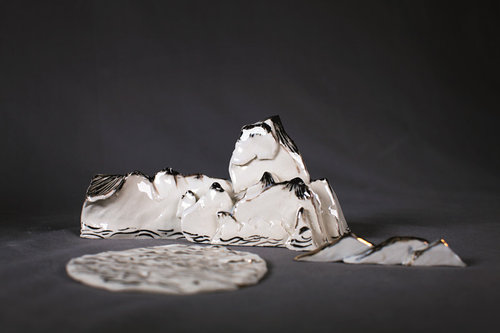 Mount Sumeru [Provided by Geng Xue]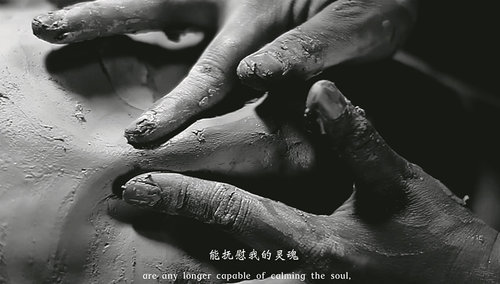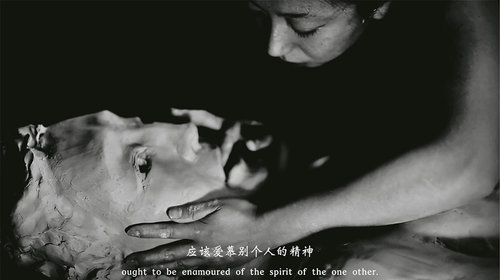 The Poetry of Michelangelo [Provided by Geng Xue]
(Source: Women of China English Monthly July 2017 Issue)