Qiu Yang [Women of China/Fan Wenjun]
For most people, moss is a little-noticed plant. For Qiu Yang, a florist, however, the plant has tremendous vitality — and unique charm. Qiu loves using moss to create miniature landscapes. She believes deftly made moss landscapes help people relax and feel happy. She also believes the works of art give people a greater awareness of the power of life.
In traditional Chinese penjing (miniature landscapes in pots), moss is used as a decorative element, and usually shaped as a lawn.
Artists from other countries in recent decades have used moss as the key element in miniature landscapes. Their works have represented the beautiful scenes of forests and rivers. In Japan and some American and European countries, moss has become a perfect type of landscaping material, and moss gardens and moss landscapes have become popular.
Moss, dubbed as a trailblazing plant, can survive harsh climates and environments. To create a miniature moss landscape, some plants, which have beautiful shapes and similar growing environments, including yucca, penny grass, and parlor palm, are often used with moss.
Other elements integrated in miniature moss landscapes include dolls (usually characters from animated cartoons), miniature bridges, fences, stones and sand.
As a native of southwestern China's Chongqing Municipality, Qiu has a vivid memory of green moss, which can be seen everywhere around her house. She remembers that when she was a kid, she fell down one day on a mossy stone step.
Qiu likes all types of plants, but moss is her favorite. She enjoys touching the green, fluffy plant, and she loves its mind-cooling beauty.
As a columnist for the home-decoration channel of a website, she wrote an article in 2015 about how to create miniature moss landscapes. The article went viral. At that time, there was no Chinese book about moss landscaping, and that prompted her to research the topic.
New Horizons of Moss introduces the application of moss in home gardening and landscape design, the types of moss and the ways to grow moss.
It also gives tips on how to use other plants and decorations in moss landscaping. The book also contains 100 pictures of works, including moss balls, outdoor decorations and table arrangements.
"Taking the creation of animal-shape, mossy works for example, you will be surprised by the amazing growing process of moss. When the moss grows fast and covers all the threads used to shape animals, such as dogs and dinosaurs, the green animals look alive!" Qiu says.
Inside Qiu's first bottled-moss landscape, the glass bottle wall is moistened with water vapor, and the bamboo and moss form a scene of a green forest. When one opens the bottle, he/she will be attracted by the fresh smell of the mud and plants in the bottle.
During the creation of moss landscapes, Qiu says she leaves aside anxiety and confusion, and she learns to enjoy herself in a tranquil environment.
With a more peaceful mind, Qiu has been bursting with ideas. Thinking that the nature of moss fits with tea culture, she created, with moss and a dead branch, a landscape. Behind the branch were stones in a bamboo forest, and a spring flowing silently. This landscape is put on a tea table, so the people, while drinking tea, can see the landscape and review their relationship with nature.
Qiu also teaches floral design to children. "Children often busily attend various after-class courses to improve their academic performance. I hope the world of plants will make them truly relaxed and happy. I have designed special classes for children; for example, about the creation of moss animals. The students can choose their favorite animals. Even if some don't know what kinds of animals they will create, they still have the good experience of keeping the plants," says Qiu.
She believes life is the best source of inspiration, and that nature is her best teacher. "Every person has an A and B side. We won't panic anymore after we experience failure and adversity in our lives. I can't agree more with the saying that, 'Except all the identifications, a woman has herself," Qiu says.
Artist's Bio
Qiu Yang worked as an art editor with People's Daily for eight years. As she had a deep interest in floral arrangement, she resigned in 2012 and learned, by attending courses, the Japanese and Western styles of floral arrangement. Since 2015, when she fell in love with moss gardening and landscaping, she has compiled New Horizons of Moss, which is about moss and moss landscapes. The book was published in 2016.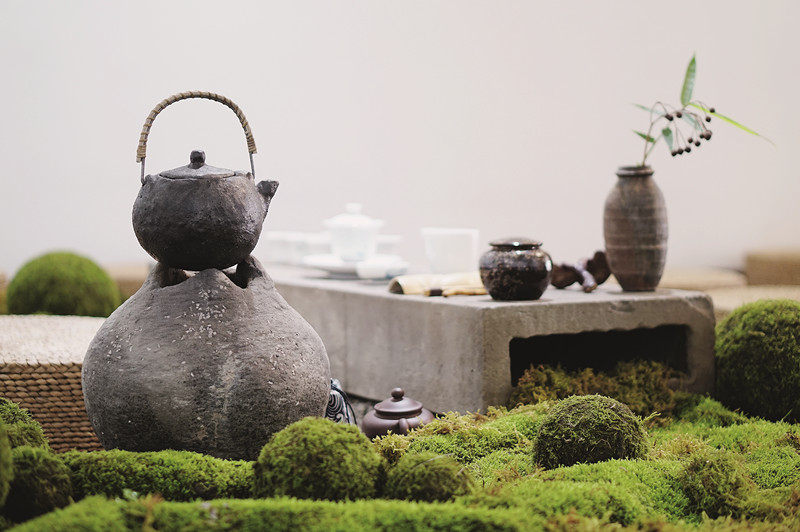 A moss work by Qiu Yang [Women of China/Fan Wenjun]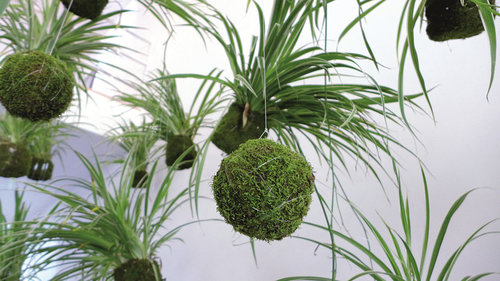 A moss work by Qiu Yang [Women of China/Fan Wenjun]
A moss work by Qiu Yang [Women of China/Fan Wenjun]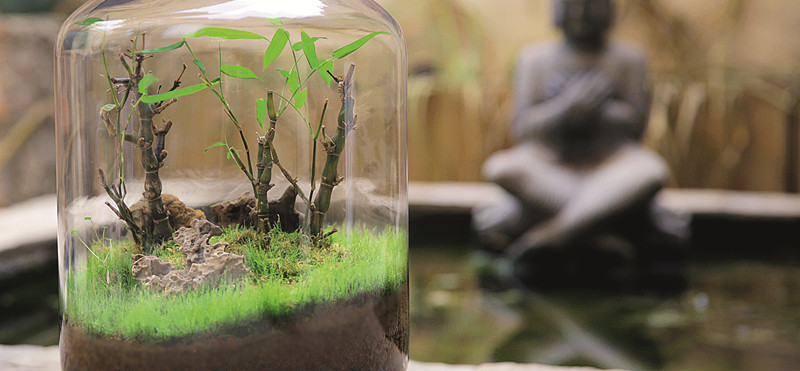 A moss work by Qiu Yang [Women of China/Fan Wenjun]
Cover of the book 'New Horizens of Moss' [Women of China/Fan Wenjun]

(Source: Women of China English Monthly August 2017 Issue)