Liu Xiya and her students [Women of China/Fan Wenjun]
Liu Xiya is headmaster of Xiejiawan Primary School, in Southwest China's Chongqing Municipality, and she is also a deputy to the 12th National People's Congress. Since 2004, she has promoted the education philosophy of "Six years that make a lifelong difference," and she has reframed the school culture, with the theme "Each flower of red plum blooms." Under her leadership, the school has developed its own school-based "plum blossom curriculum." Liu insists that the purpose of student-centered teaching is to develop each child's competencies.
From Children's Perspectives
During her childhood, Liu's parents worked in other regions of china. "I had to live with my granny in the countryside. My deepest impression of the kindergarten was that it was dull and boring. The education I received in primary school was exam-oriented," Liu recalls.
"My parents didn't pressure me to study, and I developed the ability to think independently. When I grow up and become a teacher, I always think from the perspective of children, and I always get along with them. I advocate and encourage innovation in education. I never believe that children are too little to have own thoughts, because I had quite many ideas when I was little," Liu says.
At the age of 19, Liu began teaching at a remote kindergarten in Rongchang County, in Chongqing, after she graduated from Chongqing Preschool Education College. She taught more than 50 children Chinese, dancing, music and the arts. The children in her class won first prize during a dance competition in the county. "It is important to foster children's interests and hobbies during kindergarten," Liu says.
Several years later, she passed the exam and became a teacher at Huayan Primary School, in Chongqing's Jiulongpo District. "The principal was open-minded, and he supported teachers' teaching in an innovative way," Liu recalls.
During the basic education stage, Liu says, it is important to help children maintain a positive attitude toward life, and to guide them to have correct values. Children, she adds, are the soul of the school, and that the priority is to ensure children's all-round development, regardless of how difficult it is.
'Six Years that Make a Lifelong Difference'

"Walking in Xiejiawan Primary School, you will find that our children are sunny and confident, and they care about others," Liu said on May 9, 2017, during a competition at the school.
Liu was named the school's principal in January 2004. The school's education philosophy, "Six years that make a lifelong difference," is engraved on a stone on the campus. "We hope the education children receive during the six years of primary school will have a positive and lasting influence on the rest of his/her life," Liu says.
The "plum blossom curriculum" system is the result of the school's curriculum reform. The system has three kinds of curriculum — academic subjects, student clubs and practical activities. The school has seven academic subjects, including Chinese, math, English, science, art, physical education as well as ideological and moral education.
Liu says the school's purpose is to develop each child's competencies, based on their own advantages. "All factors that have a positive impact on children are meaningful and valuable. The whole campus has no boundaries, and everything is connected with each other," she says. The atmosphere in the school is relaxing. Children are self-disciplined, and they participate in campus activities.
Tian Huisheng, President of the National Institute of Education Sciences and director of the Basic Education Curriculum Materials Development Center, under the Ministry of Education, says, "The school-based curriculum integration is in line with the trend of national curriculum reform. The innovations of Xiejiawan Primary School are inspiring and noteworthy."
"According to statistics of the Chongqing Educational Evaluation Institute, our children have improved their problem-solving abilities, their abilities to express themselves and the ability to think logically since we implemented curriculum reform. In addition, teachers have a greater sense of responsibility," Liu says.
Let Each Child Shine
Liu says the school's purpose is to educate all of its students in an all-round way. "We provide life-oriented education to children. We hope each child will receive adequate attention, and that each child will be educated in a scientific way," she says.
The school has two campuses and more than 6,000 students. Children feel free, equal and loved in the school's relaxing atmosphere. As Liu says, children are the center of the school. People, who have visited the school, said that the students are smart, frank and open-minded.
In the school, children can directly give their advice to the principal. They decide whether to recite articles or not. It is OK if some of the students don't want to say "Hello" to teachers. If they want to show the large pictures of their smiles on the top of the teaching building, they can apply to the school office. They are even allowed to leave the classrooms to get some fresh air.
"Under such a liberal atmosphere, children can be themselves. Educators need to see children's true nature so they know how to have a positive influence on the children. If children disguise their real selves in front of adults, it will be troublesome," Liu says.
Teamwork
A good team needs a good leader. Liu is the school's leader. She and the teachers have common values and vision. Liu says the most important work of a principal is to build up a team that strives for a common goal.
"Many people think we have a high emotional quotient. As a matter of fact, one of our most prominent characteristics is that we are good at simplifying problems. We think from children's perspectives, and we discuss problems in a frank and honest way. We use the simplest way to deal with the complex issues," Liu says.
Vice-Principal Luo Feng says, "Liu is an honest and open-minded person. As a principal, she encourages us to discuss and argue with her about her own understanding of education. After brainstorming and discussions, we reach a consensus on how to educate the children. Parents and children also agree on our teaching ideology. That's not an easy task. She also helps me to have a better understanding of myself."
Xiao Ying, the other vice-principal, says, "Liu is not only an ordinary person, like other grass-roots educators, she is also a great principal who brings and promotes innovation in the school."
The school's education reform has caught the attention and support of people within the global education sector. More than 500 groups of educators from other regions of China and from many foreign countries such as the United States, the United Kingdom and Canada, have visited the school to learn from its experiences. The school has become a model for other schools in Chongqing and other regions of China to learn from.
"China still has a long way to go in terms of basic education reform. I hope China's basic education can be improved comprehensively. I'd love to share our experiences with others. In the future, we will continue to work hard and to accumulate more experiences," Liu says.
Students pose for a photo. [Women of China/Fan Wenjun]
Students [Women of China/Fan Wenjun]
The playground [Women of China/Fan Wenjun]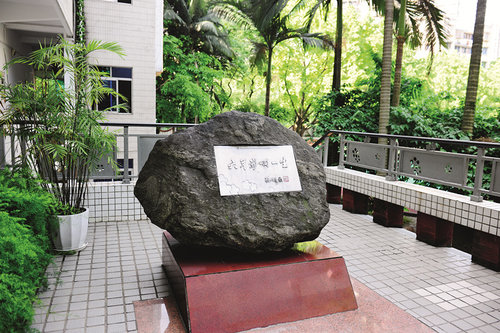 A stone with the motto 'Six Years that Make a Lifelong Difference' [Women of China/Fan Wenjun]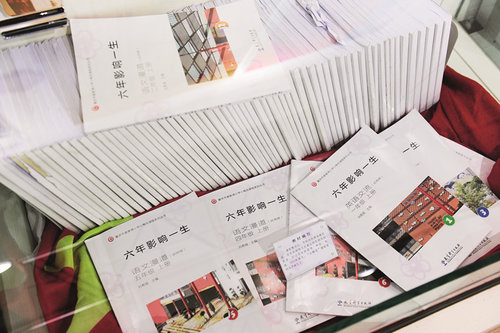 Books 'Six Years that Make a Lifelong Difference' [Women of China/Fan Wenjun]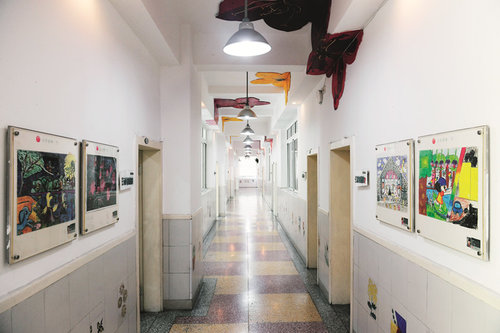 A passage [Women of China/Fan Wenjun]
(Source: Women of China English Monthly June 2017 Issue)