A traditional Chinese-style wedding [Photo supplied by Chen Xiulan]
Xiniang is a special occupation in Fuzhou, capital of southeastern China's Fujian Province. Only woman can work in the sector. Xiniang plays an important role in traditional Chinese-style weddings in Fuzhou. Xiniang helps newlyweds arrange and officiate during the wedding ceremony. Three sisters — Chen Xiayu, Chen Xiuzhen and Chen Xiulan — are the fourth generation of xiniang in their family. They have devoted their lives to delivering blessings to newlyweds and promoting traditional marriage culture.
Xiniang is a female-only occupation that plays an important role in traditional Chinese-style weddings in Fuzhou. Women who work in the sector need to be skilled in the etiquette of weddings and the province's marriage customs. The groom and his relatives invite the xiniang to help prepare the wedding, officiate during the ceremony and give performances during the wedding banquet.
The profession of xiniang, which dates back to the Spring and Autumn period (770-476 BC), is referred to by different names in different regions of China. The xiniang played an important role during weddings in ancient times. Back then, nearly all of the brides and grooms did not meet each other before their weddings. The xiniang helped the brides get to know their future in-laws, and praised the brides to their future in-laws, so their new families would have good impressions of the brides.
Now, the occupation is rare in most regions of China. However, it is still well-preserved in Fujian. The marriage custom related to xiniang was added to the list of the provincial-level intangible cultural heritage earlier this year.
Inheritance and Innovation
Nearly 3,000 women work in the sector in Fuzhou. Of those women, three sisters — Chen Xiayu, Chen Xiuzhen and Chen Xiulan — are especially famous.
"Xie Lanjin, my great-grandmother, became a xiniang at the end of the Qing Dynasty (1644-1911) and at the beginning of the Republic of China (1912-1949). She was the first-generation xiniang in my family. Lin Yiju, my grandmother and the second generation of xiniang in my family, began to work in the sector after 1949. Lin Guiying, my mother, was the third generation of xiniang in my family. The first three generations taught their offspring and students — orally — how to arrange the procedure of a marriage ceremony and officiate during the ceremony. At that time, nearly all of the xiniang were less educated (than now), and their social position was low," says Chen Xiayu, the eldest of the three sisters.
Chen Xiayu became a xiniang in 1993. "My mother persuaded me to become a xiniang, as she hoped I would inherit her occupation. So, I learned the marriage customs from her, and I watched how she prepared for and hosted weddings. I often asked for her advice after I hosted a wedding on my own. In the past 20-plus years, I have always been strict with myself, as I have not wanted to damage the good name of my family. It is not easy to be a good xiniang. I am both a consultant and a host," says Chen Xiayu.
"I am always trying to change the bad behavior of women who work in the sector. In the past, when xiniang guided the bride and groom to offer tea to their relatives, who participated in the marriage ceremony, xiniang would encourage the newlyweds to ask for money from their relatives. Then, xiniang would take some of the money. However, I do not ask newlyweds to ask for money … Now, most of the women who work in the sector in Fuzhou no longer ask for that money," Chen Xiayu continues.
Chen Xiuzhen became a xiniang in 2000. She likes traditional Chinese culture, and she is an expert in marriage customs in Fuzhou.
"I tell a bride and groom the meaning of each step during their wedding. I hope they will respect and love each other, show filial piety to the elderly and take care of their children after they get married," says Chen Xiuzhen. "I have worked in the sector for 17 years. In recent years, I have realized that I need to continue learning (about marriage customs) ... and that I need to host the weddings in a fashionable way. I also need to blend the good virtues, including being grateful to parents and being tolerant to husbands/wives, into the marriage ceremony. I hope newlyweds will live happy lives after they get married."
Chen Xiulan, formerly a kindergarten teacher, became a xiniang in 2003. "The occupation of xiniang is more than a host of a wedding. We need to be skilled in the marriage customs. At first, I only recited the lines spoken during the marriage ceremony, and I knew little about the meanings of the marriage customs. Then, I gradually found out it was my responsibility to master the marriage customs, and to promote the traditional virtues to the newlyweds. I also try to host the marriage ceremony in a more fashionable way. When I host the ceremony, I often say some simple English words, or kuaiban (a form of oral storytelling performance, similar to rap, that is popular in northern China). It is a good method of enlivening the atmosphere," says Chen Xiulan.
"Sometimes, a bride's family has requirements for the wedding that differ from those of the groom's family. I often need to coordinate between the two families, so both will be satisfied with the marriage ceremony. It is hard for us to help them prepare for the ceremony. However, I am happy, and I gain some sense of achievement when the couple's families approve of my work," says Chen Xiulan.
Education and Promotion
The three sisters in 2012 established a xiniang association and a training institute, to promote the province's marriage culture and cultivate more women to work in the sector.
"Now, many young people prefer to employ young women as their xiniang. So, we enroll some university graduates … and cultivate them to become new-style xiniang. Some women … have a good command of a foreign language. Some are good at playing a musical instrument. They not only need to learn how to host a wedding, but they also need to learn Chinese history, about marriage culture and about Confucian culture. Dozens of women have graduated from the institute, and they can arrange and host weddings independently," says Chen Xiayu.
"In the future, we hope to promote the traditional marriage customs to other regions, and to enroll students from other regions. We hope those students will work in the sector in other regions, after they graduate from our institute," adds Chen Xiuzhen.
"My sisters and I have participated in many television programs to promote our province's marriage culture. We have also organized other women, who work in the sector, to participate in some activities and cultural festivals to display the traditional Chinese marriage ceremony … We have gone to other regions, including Beijing, Shanghai, Hong Kong SAR (Special Administrative Region) and Hunan, Jiangsu, Guangdong and Shaanxi provinces to host traditional weddings, and to promote the marriage culture. Some women, who have graduated from our institute, have been working in the sector in other countries, including Malaysia and the United States. We hope to promote traditional Chinese weddings and the traditional marriage culture to more young people," says Chen Xiulan.
Song Linglan, Lin Guiying's granddaughter-in-law, is able to arrange and host a marriage ceremony independently. Lin Qun, Lin Yijun's granddaughter, is now learning the skills that are needed in the sector. The profession of xiniang has been passed on to the fifth generation of Chen's family.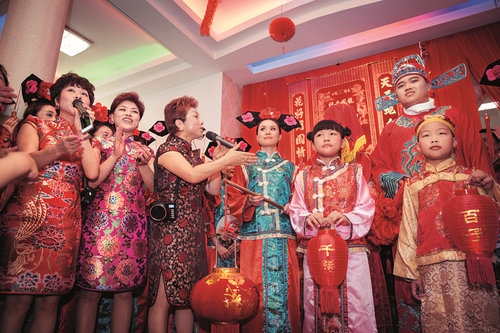 Chen sisters host a traditional Chinese-style wedding. [Photo supplied by Chen Xiulan]
A 'xiniang' [Photo supplied by Chen Xiulan]
A Chen sister dresses up a bride. [Photo supplied by Chen Xiulan]
A Chen sister teachers traditional Chinese wedding customs. [Photo supplied by Chen Xiulan]
Chen sisters on a TV program [Photo supplied by Chen Xiulan]
(Source: Women of China English Monthly June 2017 Issue)