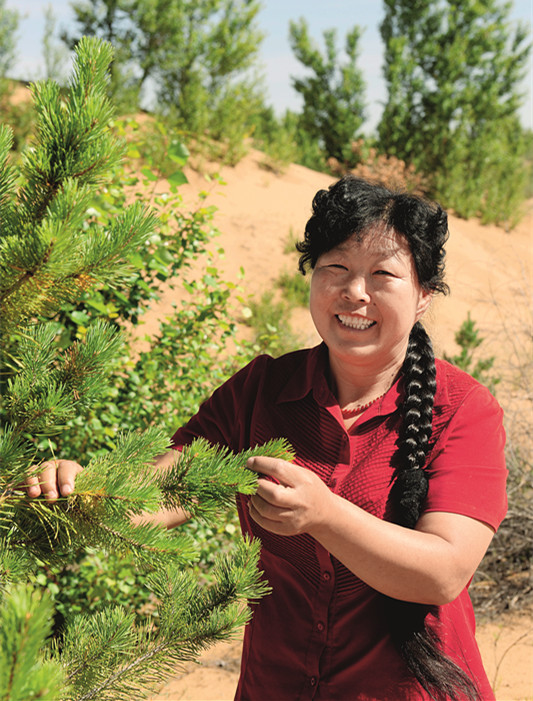 Yin Yuzhen [Women of China/Fan Wenjun]
This year marks the 70th anniversary of the establishment of North China's Inner Mongolia Autonomous Region. During the past seven decades, great changes have taken place in Inner Mongolia, a region covered by boundless, magnificent and vigorous grasslands. Of the many people who reside in the region, a great number of women have succeeded in starting businesses, and in helping to develop various industries. In this edition, Women of China (WOC) will highlight the stories of five women in Inner Mongolia. The women have made achievements in protecting the environment, developing international trade, improving agricultural production, advancing the third industry boom and promoting the culture and traditions of the people on the grasslands.
今年是内蒙古自治区成立70周年。70年过去,这片美丽的草原发生了沧桑巨变。如今,巾帼创业者们凭借创新与努力,在这里开辟出了另一番天地。她们在沙漠里"淘金"建设绿洲,在"一带一路"上开展国际贸易,用绿色理念和互联网改变农耕业,启动动漫产业列车,推广草原文化……昔日"风吹草低见牛羊"的草原,在巾帼智慧的助力下,焕发出崭新的勃勃生机。
Turning Desert into Lush, Green Land
Yin Yuzhen is commonly referred to as a "model worker" by the locals in Wushen Banner, Ordos, in Inner Mongolia. She is well-known in Wushen for planting trees in Maowusu Desert. With good reason; after all, she has been planting trees in the desert for the past 32 years. She has received many awards for planting trees, and in 2005 she was nominated for a Nobel Peace Prize.
In 2012, reporters with a television station from the Republic of Korea visited Yin, and they recorded a video about her life. In the video, Yin, carrying a bundle of saplings, walked into the desert. She planted trees, sometimes alone and sometimes with her husband and children. When she was hungry, she ate some homemade food. When she was tired, she rested on the ground. In the windy and untraveled desert, Yin was like the Chinese mythological figure, Yu Gong, the persistent person who removed two mountains in front of his house.
Yin has a simple explanation for why she began planting trees in the desert: She wants to live a better life. In 1985, Yin married Bai Wanxiang, and they lived in Erlinchuan, a village near Maowusu Desert. At that time, the windy weather often lasted dozens of days. The sandstorms blotted out the sky and blocked the sun, and the sand got in the nostrils of people when they breathed. "If we want to live here, we must plant trees and change the environmental conditions," Yin said to herself at that time.
In the spring of 1986, Yin traded her family's sheep for 600 saplings, and she planted the saplings around her house. A year later, she saw that more than 100 saplings had survived, and that gave Yin much confidence. "There is hope even if only one tree is alive," Yin said.
The sandstorms were severe. Once, when Yin and her husband planted saplings, a sandstorm arose. They headed home immediately, as they feared being blown away by the storm. After a day and a night, the sandstorm finally stopped. Yin discovered that most of the saplings they had planted had been blown away. She was angry and depressed, and she fell ill.
As she reflected on the situation, she figured out a way to prevent saplings from being blown away. How? She decided to plant shrubs to block the wind, stabilize the sand and retain water in the soil. So, Yin planted psammophil willows to establish a protective shield for the saplings. She and her husband relied only on themselves, as they did not have money to either hire helpers or rent machines. By 1999, the couple had planted a forest that covered more than 13 square kilometers.
To date, Yin has planted more than 600,000 saplings, and the green land covers more than 46.67 square kilometers. Standing on the top of the three-story watchtower in front of her house, Yin says, proudly, "What you can see is all my forest."
Many of the local farmers and herdsmen have followed her example and started planting trees. The local forest coverage rate is 70 percent, compared with 32 percent a decade ago. The local vegetation coverage rate has increased to 85 percent, from 45 percent a decade ago. Yin has been honored as a national model worker, and as one of China's top 10 outstanding women, for her achievements in planting forests and fighting land desertification.
During decades of hard work, Yin has helped improve the environment in Wushen. A "green kingdom" has been established, and it has replaced the original world of sandstorms. Various birds and animals can now be seen in the forests.
In addition to planting the forests, she has been planting crops and fruit trees. In 2005, Yin established Inner Mongolia Oasis Sand-control and Afforestation Company to produce and sell green organic foods. The brand name of the company's products is Mohai. In Chinese, mo means desert, and hai means ocean.
The organic millet produced by Yin's company, which sells for 60 yuan (US $9) per kilogram, is being well-received by consumers. In 2010, her company's sales revenues reached 1 million yuan (US $149,253). Yin has also grown fruit trees, such as peach trees and apricot trees. The fruits are sold directly or made into various products. Customers can also pick their own fruit.
Yin's life has been improved dramatically. Her family lives in a two-story building, surrounded by bushes and trees. It seems that they live in a "natural oxygen bar." The building, constructed with the assistance of the Wushen Government, is both Yin's home and her office. In 2007, an asphalt road was constructed in front of Yin's house, making it easier for Yin's family to travel to other places. Now, Yin often drives between her home and the town to do her business.
With the assistance of the governments at the city, banner and town levels, Yin's green kingdom — Yuzhen Desert Oasis Ecological Park — is taking shape. A 1,000-square-meter ecological restaurant and a 400-square-meter, two-story office building are being constructed. A 5,300-square-meter patriotic-education base has been completed.
Affected by Yin's story, many people visit Yin and they follow, help and learn from her. He Xinqiang, a young man from Northwest China's Xinjiang Uygur Autonomous Region, moved to Wushen. He was determined to follow Yin in the planting of trees. He also brought Yin honey melon seeds from Xinjiang. Chen Shuqin, a retired woman from Beijing, visited Yin four times, and she took many seeds to Yin.
This year, more than 2,000 people have visited Wushen, and they have planted trees with Yin. Of those guests, many were volunteers from other countries. A German volunteer and a French volunteer impressed Yin the most.
"They have a strong awareness of water conservation. After they washed their faces, they used the water to wash their feet, and then they watered the trees. Although we don't understand each other's language, I can feel their awareness of the need to save water … They know water is most precious in the desert," Yin says.
Yin has a blueprint for her ecological park. From the entrance to the central area of the park, there will be a green gallery, with flowers and plants along both sides of the gallery. There will be a 3,000-square-meter farmyard, where customers can enjoy Shaanxi cuisine, and a 3,000-square-meter area of Inner Mongolia yurts, where customers can enjoy Inner Mongolian cuisine. A 3,000-square-meter, Inner-Mongolia-style hotel will be built.
There will be a crop, fruit and vegetable base, a 0.33-square-meter ecological garden and an exhibition hall that details Yin's tree-planting story. Yin also plans to plant spruce, pinus sylvestris (a type of red pine) and Chinese scholartree. To date, she has planted about 500,000 pine trees covering more than 13.33 square kilometers. She plans to turn the 46.67-square-kilometer, poplar-tree forest into a forest that has a variety of trees.
An increasing number of people are following Yin's example and planting trees in the desert. Some 246 families in Wushen have signed agreements with the local government to plant trees on 2-square-kilometer blocks of desert.
Yin says she will continue to pursue her "green dream" of transforming the bleak desert into an ecological land of happiness. Her dream will definitely encourage more people to join her.
"The desert is desolate, but as long as people treat it well, the desert will be like the ocean, which is full of inexhaustible treasure and wealth," Yin says.
Yin Yuzhen [Women of China/Fan Wenjun]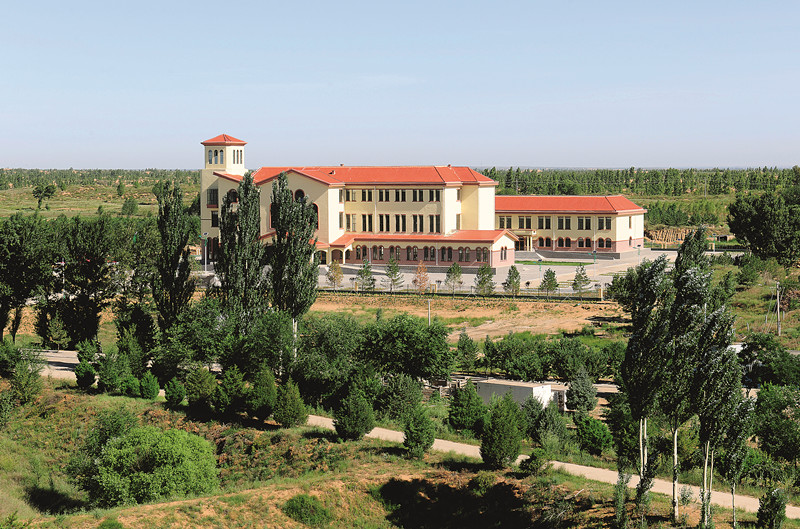 A view of Yin's forest [Women of China/Fan Wenjun]