Members of MamaRun [Women of China English Monthly]
Mothers in China, as in most other regions of the world, generally have a tight schedule every day; they are busy shouldering the housework, looking after their children and families, and fulfilling their career obligations. Many of the mothers seldom spare time taking care of themselves or developing hobbies. But some of them have changed their minds since they joined MamaRun, a group founded by two mothers, He Xiaoman and Long Lili, in April 2015. When they established MamaRun, He and Long simply wanted to encourage mothers in residential communities near their homes to run on a regular basis, so the mothers could stay healthy. They never expected the group would attract nearly 1,500 members.
Running has grown in popularity in China in recent years. In 2014, people from all segments of society developed an interest in participating in various kinds of competitions, including marathons. The following year, 2015, more than 60,000 people applied to run in Beijing Marathon; however, the race offered just 30,000 places for competitors. The applicants had to draw lots to decide who would compete.
Between 2014-15, He, who was living in Beijing, noticed many of her friends had joined runners' groups, through which they made friends with other runners. She also noticed her friends had applied to participate in various running competitions. He also began to exercise, including running, about three to four times a week, to make her body shape look nice after she had given birth to two babies.
"Some people believe doing sports is for fun. But, in my opinion, persistence is the core of doing all kinds of sports. Whether I attend daily training or I prepare to take part in a competition, I always try my best to persist on what I have decided to do," He says.
After she began running and/or attending physical fitness training, He felt her muscles grow more powerful, and the health conditions of her heart and lungs greatly improved. She participated in a women's semimarathon held in San Francisco, the United States, in 2015. It was the first time that she had completed a 21-kilometer race. She completed the race with a fairly good personal score — one hour and 58 minutes.
He not only ran, trained and competed, she also shared her achievements on social media platforms, such as her WeChat account. Her neighbors and friends, including many mothers, said they hoped to run with her. Long was one of those people. "Xiaoman and I have been close friends for more than 10 years. I can tell she has changed a lot since she began running on a regular basis. Influenced by her, I invited several women, all of whom are young mothers living in the same residential community, to run with us," Long recalls. In April 2015, He and Long organized a group of mothers to run together in the southern part of Olympic Forest Park, in Beijing. They gathered in the park every Saturday to run together. That was how MamaRun became a runners' group composed of mothers.
Is it easy for the group's members to balance the time they spend on family, work and exercises? "Not really," Long answers. "Take myself as an example, I work in the advertising industry. I am busy with my work almost every day. So, I have to squeeze some spare time for running. But my husband has told me several times that I should spend more time looking after our children."
Says He: "At the very beginning, my husband felt I spent too much time running and attending fitness training. But over the past few years, he witnessed how I succeeded in improving my body and health … He was gradually convinced that I was doing something right — and outstanding! Now, he totally supports me."
He and Long encourage the members of their group to share their exercise records on WeChat or sports apps. Every week, they organize fitness-training sessions for the mothers to improve their physical strength. They sometimes gather in a park, and they sometimes meet in a gym.
'Global Run'
In 2015, MamaRun enrolled nearly 200 participants, who joined this runners' group and took part in a five-kilometer race held in the Olympic Forest Park. It was around that time He opened a public account, entitled MamaRun, on WeChat. She has used this account to provide running-related tips and to teach mothers various methods to improve their physical health.
"Global run" is one of the services He and Long provide through the WeChat account. They organize mothers, who have applied to compete in marathons in other countries, to go overseas and realize their dreams. From Nagoya (in Japan) to the Gold Coast (in Australia) and to Queenstown (in New Zealand), He and Long have helped mothers broaden their horizons by running in other countries, meeting the local people and experiencing their cultures.
He and Long are like a couple of sisters and friends for the members of their group. When they organize the members to participate in a race overseas, they pay attention to every detail, such as the background information of the race and the accommodations. In addition to taking part in the races, they also take their members sightseeing in the host cities. They are happy to see that many mothers have become healthier, more beautiful and confident since they joined MamaRun.
A Way to 'Talk' to Oneself
Peng Min is a mother of twins, and she is lucky that she has a boy and a girl. She became a member of MamaRun in 2015. At first, she participated in a fitness-training session and a three-kilometer run every week. After a few months, she was able to run nearly 50 kilometers every month. Peng says she was once a young girl who had difficulty completing an 800-meter run (when she was in middle school). Now, she is proud that she has become an amateur runner.
He invited Peng to participate in a marathon held in Shanghai in November 2015. Peng had never thought she could one day compete with other runners during a marathon. "I think every person who has succeeded in completing a marathon is a hero/heroine, because that person has had enough courage to take the challenge. I was grateful for my teammates, who encouraged me to take the challenge and try finishing a marathon. Before the race started, I told myself if I really could not run such a long distance, I would walk to eventually reach the finish line," Peng recalls.
Peng did not feel too much pressure during her first marathon. She tried her best to enjoy the race. She gave up chasing her teammates, but slowed down so she could take photos and short videos to record what she saw along the way. Peng asked volunteers to help her take a photo of herself at each point, which marked a certain distance along the route. In this way, she constantly encouraged herself to reach one goal after another. After she ran 25 kilometers, however, her muscles (shoulder, legs, waist and back) began to ache. After she ran 28 kilometers, she sometimes had difficulty continuing to run, so she had to stop and walk for a while.
After Peng passed the 40-kilometer mark, her hipbones started to ache. She thought she might not be able to reach the finish line. "Several runners, who passed by, encouraged me not to stop. They told me, even if I started to walk, I could still finish the race by around five hours and 30 minutes. During the last kilometer, I was stunned as I saw an old man, approximately 70, running slowly toward the finish line. I said to myself, if the old man could continue running to finish the race, so could I," Peng recalls. She was happy that she eventually completed the marathon in five hours and 35 minutes. "Running is not only a way to keep us healthy, it also enables us to talk to ourselves and find our inner peace," Peng added.
Growing Stronger
Since He and Long established MamaRun in 2015, many people have suggested they should organize running events for mothers and their children. But He has a different understanding about the purpose of establishing such a runners' group.
"Nowadays, many mothers in China spend much of their time and energy taking care of their children and families. Due in part to the great pressures they accumulate in their daily lives, many mothers easily feel anxious. They are in dire need of a period of time that will allow them to concentrate on doing something they truly like," He says. Besides being mothers, He hopes the members of MamaRun can first be confident and strong women, who enjoy pursuing their personal goals during running.
As a mother of two children, He often leaves her home for a run after she gets both of her children to sleep. She likes to run at night, usually between 10-11 p.m., and she feels quite relaxed when she is running alone. "The most important thing is that you persist on what you have decided to do. There are, of course, mothers who do not like running. Those mothers choose other ways, such as reading and practicing calligraphy, to relax and regain their confidence. If a mother becomes healthier, stronger and more confident, she will naturally have a positive impact on the growth of her child/children," she adds.
In He's opinion, "run for fun" is a concept that encourages people to keep running and participating in daily exercises. But as the leader of her runners' group, and also as a model for many mothers, she runs for her personal best time every time she takes part in a race. She wants to pass the spirit of sports, which highlights "go beyond oneself," to as many mothers as possible.
MamaRun has established several runners' teams in the communities of Olympic Forest Park, Yizhuang and Wangjing. Each team organizes mothers who live in nearby residential communities to attend weekly training sessions.
MamaRun's founder He Xiaoman [Women of China English Monthly]
Peng Min [Women of China English Monthly]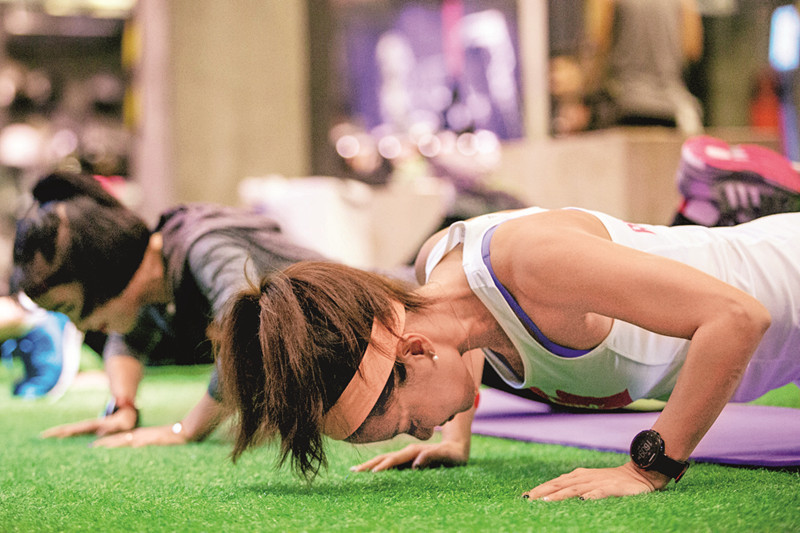 Training hard [Women of China English Monthly]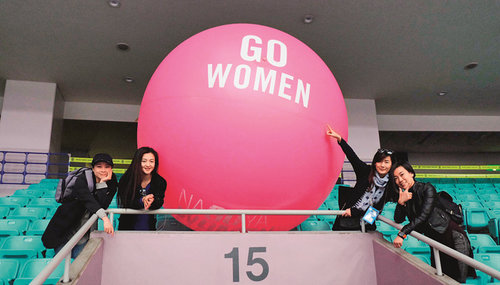 Members of MamaRun [Women of China English Monthly]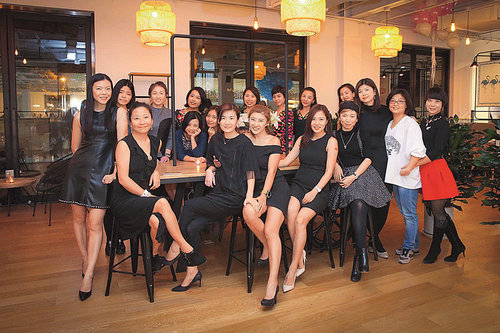 Members of MamaRun [Women of China English Monthly]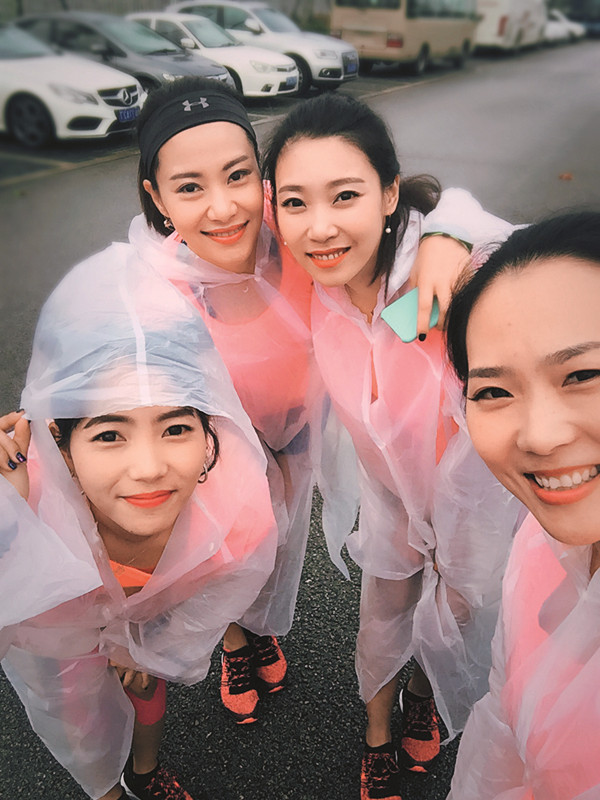 Members of MamaRun [Women of China English Monthly]
(Source: Women of China English Monthly June 2017 Issue)