Ma Xiaohui, one of China's top folk musicians, insists on communicating with the world through her erhu, a two-stringed, traditional-Chinese instrument. Ma, who has toured Europe, the Americas, Asia, Oceania and Africa, has performed with renowned orchestras in hundreds of concerts. She has performed and promoted her "Erhu Dialogues," a musical conversation that encompasses Oriental and Western civilizations, during many of her recitals and lectures.
Artistic Influence
Ma, who was raised in an academic family, has played erhu since she was six. Both of her parents, who are fond of music, left a deep impression on Ma, who recalls how her mother sang and danced while her father played various instruments.
"When I was six, there were three musical instruments in my home, a violin, an accordion and an erhu. The violin and accordion were too big for me, but the erhu was compact and easy to carry," says Ma.
"At that time, the erhu was a magical thing to me. It had two long strings, and it was played using a bamboo bow strung with horsehair. Sound projects out of the small windows on the back of the instrument's body, which is made of old redwood and snakeskin. I even thought it was cool to move the bow. Finally, I chose to learn to play the erhu," Ma adds.
When she was 11, she began studying the erhu under Professor Shu Zhao, at the Sichuan Conservatory of Music. Two years later, she was admitted to the middle school affiliated with Shanghai Conservatory of Music. Five years later, she passed the entrance exam to enter the Shanghai Conservatory of Music. She studied under Professor Wang Yi.
"As I walked through the campus of Shanghai Conservatory of Music, many people asked me about my major. When I told them that I studied the erhu in the folk-music department, I was looked down upon, and that hurt me," Ma recalls.
Since then, she has sworn that she will always promote the art of performing the erhu, in China and throughout the world.
"Erhu can be traced back to ancient China, more than 1,000 years ago. Although it has only two strings, it can convey a wide range of emotions," says Ma. "Erhu is considered as Chinese violin. The violin has gained popularity in the world. Why can't erhu become as popular as violin?"
"Music has no boundaries. It's the wealth of all mankind. If the romance, elegance and vividness of Western music can be lent to traditional Chinese music, the performance will give fans more surprises," Ma adds
Introducing Erhu to the World
In 1987, Ma graduated from the Shanghai Conservatory of Music and joined the Shanghai National Music Orchestra. That was the beginning of her on-stage musical career.
As an erhu performer, Ma loves tradition, but she refuses to limit herself to any one genre. Her repertoire, which contains many unconventional forms of performance, and diverse forms of bowing, showcases the rich sound and expressiveness of the erhu.
In October 1996, Ma performed in Shanghai Music Hall. After he watched Ma play the erhu, German pianist Tim Ovens said he was shocked by the performance. He also expressed a desire to collaborate with Ma.
The two artists worked together, virtually non-stop, for nine days to adapt and rehearse two archetypical erhu compositions, Listening to the Pines and When the Grapes Are Ripe. When they felt they were ready, they recorded the two songs, and they shot a music video.
The collaboration marked the first time that Ma tried an "erhu-piano dialogue." Says Ma: "Dialogue implies that the two instruments are on an equal footing, and are able to interact with each other."
Ma formally launched the "Erhu Dialogues" project in 2003. Since then, she has conducted "dialogues" with dozens of instruments during hundreds of concerts held around the world. She has dedicated herself to introducing the erhu to the world.
Ma is perhaps most readily recognized for her duet with famed cellist Yo-Yo Ma on the Oscar-winning soundtrack for the film Crouching Tiger, Hidden Dragon. Tan Dun, composer of the soundtrack, spoke highly of Ma's performance. "Xiaohui has used her faith and techniques to prove that erhu music is powerful, and that it can warm people's hearts and bring love and beauty to the world," Tan has been quoted as saying.
Ma's seemingly endless efforts have won her many awards, and favorable comments from media.
German Saale newspaper once wrote: "Miss Ma is a brilliant interpreter, mastering virtuously all possibilities of her tender instrument, and playing her truly personal interpretation with enormous humor and refinement ... in which she could show, once again, her breathtaking virtuosity."
The South Bend Tribune wrote: "Ma Xiaohui's erhu is able to evoke not just traditional Chinese musical themes ... but the emotional variety of Western music as well. She strives to span cultural divides, and she emphasizes the universality of music."
Nuremberg Daily opined: "Erhu, an ordinary instrument in appearance, gains an incredible strength through the interpretation of Ma Xiaohui."
Oxford Times proclaimed Ma "drew a kind of alto human voice bereft of words." The paper added her playing "sounds so culture-free and universal, that Ma Xiaohui's gift, and vibrant musicality, shone out on us like light."
Says Ma: "I believe music can become eternal if it is integrated with the world. To me, erhu is not just a simple instrument, but also an art communicator."
Charity and Art
In addition to performing the erhu, Ma has participated in various welfare activities.
In 2007, Ma was named the "love envoy" of the Shanghai Special Olympic World Summer Games. When she attended a cultural activity, which involved the Special Olympics, and which was organized by the United Nations, she met Qiao Meili, a mentally challenged girl from Shanghai. After Ma learned that Qiao loved the erhu, Ma decided to teach the girl how to play the instrument.
During the closing ceremony of the Shanghai Special Olympic World Summer Games in October 2007, Qiao performed a part of The Sound of Music on the erhu. That impressed the audience. Although Qiao's performance was not perfect, especially compared with professional erhu players, it was nothing short of a miracle that the mentally challenged girl performed such an instrument in such a situation. Since then, Ma has maintained a close friendship with Qiao, and she has treated the girl like a family member.
Ma has also hosted a series of public lectures with her husband, Timothy A. Kell, a renowned American psychologist, to introduce and demonstrate the healing power of music therapy and relaxation strategies. The couple has hosted more than 100 lectures throughout the world.
"I benefited a lot from the help of my leaders, teachers, colleagues and friends on my way to becoming an artist. So, I decided to repay society. Participating in charity will be my lifelong duty and responsibility," says Ma.
Performing at Prades Music Festival, in France [Women of China English Monthly]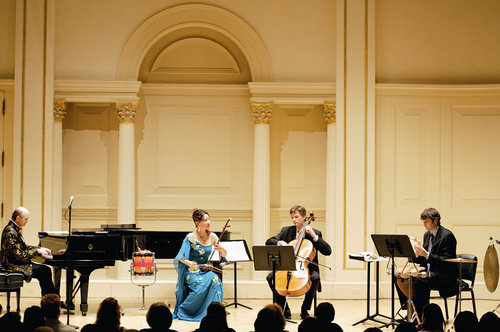 Erhu Recital at Carnegie Weill Hall [Women of China English Monthly]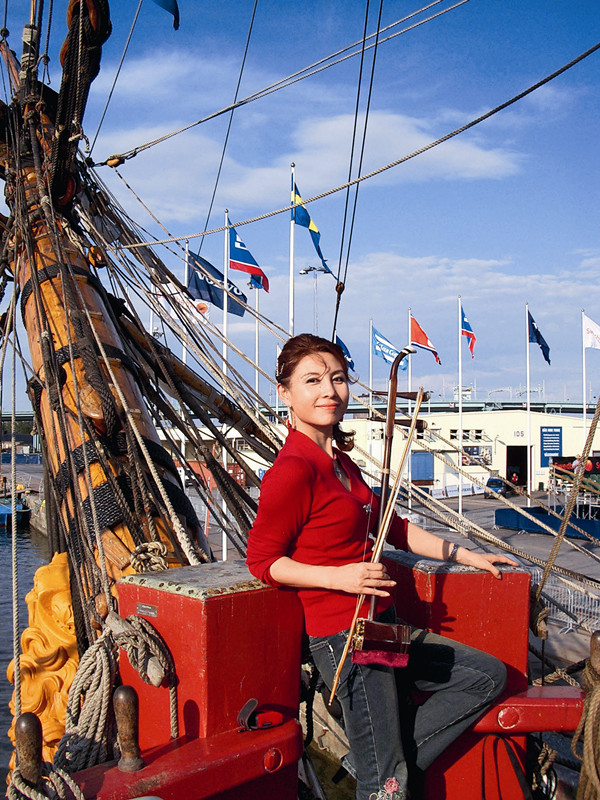 Performing for then-Chinese President Hu Jintao and Sweden's king and queen aboard the ship Gotheborg [Women of China English Monthly]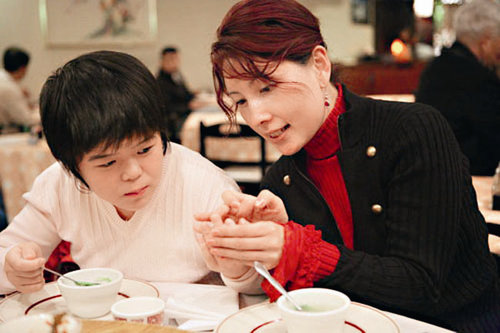 Ma Xiaohui (R) and Qiao Meili [Women of China English Monthly]
Ma Xiaohui [Women of China English Monthly]
(Source: Women of China English Monthly June 2017 Issue)