Zhou Na [Women of China English Monthly]
To Zhou Na, painting is a way of talking with her soul. In fact, she has used painting as a language to speak the truth of life. Nima Zeren, Vice-President of China Artists' Association, once said, "Zhou has abstracted Oriental elements from the ancient Chinese mural paintings, and she has utilized multiple aesthetic languages to form her unique artistic style."
For Zhou, painting enables her to express the part of her life that she can't express with words. Also, painting helped her survive the darkest days in her life.
Zhou and her husband, Jiao Zhiping, loved each other deeply, and they and their daughter lived a happy life. Unfortunately, in 2013, Jiao was diagnosed with cancer. He eventually passed away.
Jiao's death sent Zhou into the depths of despair. She wrote in her diary, "I felt so much pain as I watched my lover gradually lose his ability to move, and as his body turned cold. I could do nothing to help him. I even couldn't cry out. I realized that people who suffer painful experiences are like puppets without souls. They can move and talk, but they can't think."
At that time, Zhou had no strength to paint anything. However, she realized she had much to say, and she had many questions to ask, especially about life. She struggled to complete The Back, her first painting after Jiao's death. In that painting, a living Buddha looks out from a fort and several Buddhas stand either in back or to the side. Zhou said the painting depicted Jiao's past life. After that, Zhou became obsessed with painting. Her skills kept improving, and her works embodied more philosophical thinking.
Wandering in a fantasy world and practicing Buddhism helped Zhou gain self-awareness.
"Painting is a way to practice Buddhism, because during the process of painting you can see yourself. We will see our spiritual world in a painting," Zhou says.
Artist's Bio
Zhou Na, a native of Hohhot, a city in North China's Inner Mongolia Autonomous Region, graduated in 1990 from the Art College of Inner Mongolia Normal University. Her first solo painting exhibition, with the theme Silent Language, was held in Beijing in May 2017. The exhibits included Zhou's three series of works — Handprint, Dialogue and Nonaction. The major sources of inspiration for Zhou were the ancient Silk Road and Tibetan Buddhist culture.
A painting by Zhou Na [Women of China English Monthly]
A painting by Zhou Na [Women of China English Monthly]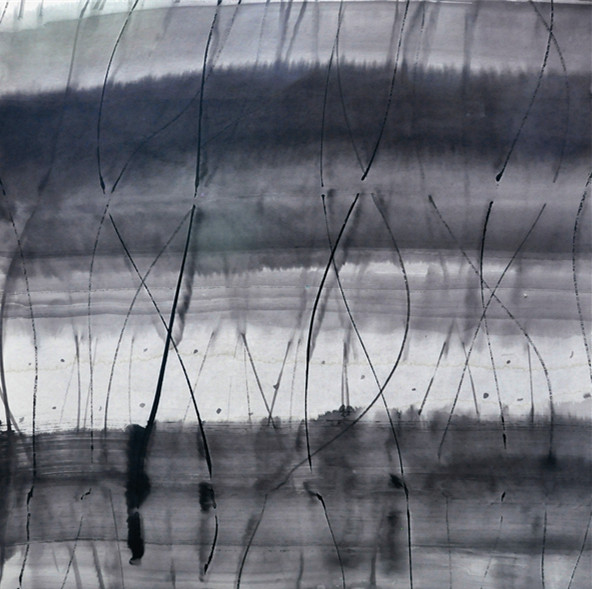 A painting by Zhou Na [Women of China English Monthly]
A painting by Zhou Na [Women of China English Monthly]
(Source: Women of China English Monthly June 2017 Issue)