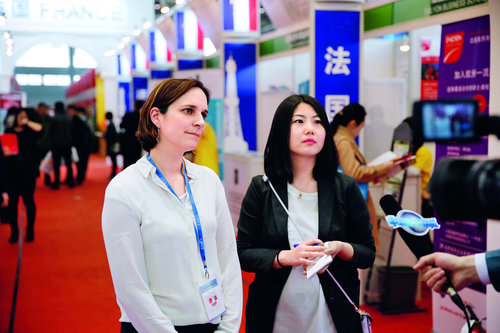 Li Ying works as an interpreter for Nadege Siri, Campus France's General Coordinator in China, during the China International Education Exhibition Tour 2015. [Women of China English Monthly]
Learn foreign languages; participate in seminars, workshops and other academic communications; visit exhibitions and/or watch performances by foreign artists … Nowadays in Beijing, residents have many varied opportunities to participate in cross-cultural, people-to-people exchanges. In fact, such events are held in this city almost daily. On websites, such as Weibo and Douban, people can easily find information about such activities, which are hosted by various institutions — administrated by embassies — for people-to-people exchanges. Some of the events are hosted by Beijing-based institutions, which specialize in international communications. In those institutions, Chinese women employees contribute their time and energy to enhance cross-cultural, people-to-people exchanges. For those women, organizing and/or participating in the various activities gives them opportunities to meet fantastic people and learn about cultures from around the world.
Mutuality Key to People-to-People Exchanges
"The British Council is an organization where things move at a real fast pace," Echo Wang told Women of China (WOC).
In 2002, Wang joined the British Council, the United Kingdom's international organization for cultural relations and educational opportunities. The organization operates in China as the Cultural and Education Section of the British Embassy, in Beijing, and as the Cultural and Education Section of the British Consulates-General in Shanghai, Guangzhou, Chongqing and Wuhan.
During the past 14 years, Wang has moved between various teams, in which she has played different roles. She began her career as a Marketing Assistant in Shanghai, and she is now the British Council's Director of Education Policy and Project for China. She moved to Beijing in October 2007, and she has since taken on various roles while working for projects at the national level.
Wang's memory of her earliest work experiences with the British Council goes back to 2003, the year when China was hit by SARS. "It was the year when (much of) China was ravaged by SARS (severe acute respiratory syndrome, a serious disease that affected patients' ability to breathe). Yunnan Province, however, was the province in China where no SARS case was reported. At the invitation of the provincial bureau of education, nearly 100 British secondary students visited Yunnan on a summer immersion course. Despite SARS, the British spent a great summer in Yunnan. For most of them, that was their first encounter with China, and many have since developed a keen interest in China," Wang recalled. She still keeps in touch with some schools and students, and she notes that some of the students have gone on to study Chinese and develop a China-related career. "A few of them even joined our team in China! That's how people exchanges can make a real and lifelong impact on people," Wang says.
In Wang's view, when people talk about the United Kingdom, they are likely to focus on the country's history, culture, education and innovation. The British Council has a strong role to play in building cultural relations, enabling people-to-people exchanges and, eventually, in increasing people's willingness to work with the UK.
"People-to-people exchanges are also meant to be mutual," Wang says. She is proud that the British Council emphasizes mutuality and long-term benefits. One great example is the work she and the British Council team have done, in the past decade, to encourage more British children to learn the Chinese language. When this program started, only a handful of schools showed their interest. Due to the popularity of English as an international language, the students generally did not have a strong desire to learn foreign languages in the UK.
"Things have progressed in the last 10 years. We have made concentrated efforts to raise the awareness, both of the public and of schools, including commissioning research to inform policy thinking," Wang says.
In 2016, she adds, the British Government finally announced a 10-million-pound (85-million-yuan) investment to boost Chinese-language learning in British secondary schools. The investment will be used to enable 5,000 students, who are on track of learning Chinese, to achieve high proficiency by 2020. "This was a real breakthrough, but we will aim higher and our ambitions will go beyond the 5,000 target," Wang noted.
"Each country has unique charms of its culture. What we are doing is building opportunities for people to understand and appreciate each other, which will in turn create positive and productive relations. Women are well placed for roles, in which they can help make a real difference," Wang adds.
Help Students Communicate with Locals
The Institute Francais, founded in Beijing in 2004, became the first institution established by an embassy in China for the purpose of enhancing cross-cultural communications. More than 90 percent of the Chinese employees who work at this institution are women. "Employees of our institution are required to speak and write in French. In China, the majority of graduates, who have majored in a foreign language during college studies, are female. As a result, many of our employees, who have majored in foreign languages, are women," says Li Ying, who began working for Campus France, a department based in the Institute Francais, in 2007.

Li developed an interest in foreign languages when she was young. "I once heard my teacher comment that French was 'the most beautiful language in the world.' I was told that besides France, French is also widely used in European countries, such as Belgium, Luxemburg and Switzerland, as well as in some North African countries. So, I chose French as my major when I studied at Capital Normal University, in Beijing, between 2000-2004," Li recalls.
During her third year of studies, Li had an opportunity to study at a language-training center in Université Michel de Montaigne, in France. It was her first time to visit — and live in — France. She seized on the opportunity to meet and experience the culture and customs of the locals.
At that time, the Internet and information technology were developing relatively slowly in China. Chinese students overseas did not have many social media platforms — compared with today — to communicate with people who had been living in France. Thus, they had fewer opportunities to learn about France.
Inspired by her own experiences in France, Li and her colleagues organized an event, "France Welcomes You," in 2008.
"Most of the participants were Chinese students who had received visas to study in France. We invited Chinese who had studied in France before to tell those students about what life would probably be like in France. The speakers also included employees from banks and universities in France. They told the students how to use checks, how to get medical insurance, how to better prepare essays and presentations, and how to work in teams to finish various academic projects," Li says.
The Institute Francais, a building of three floors, has various departments, each of which has its own functions. The first floor, which contains a library and a screening room, is the venue for exchange activities that highlight art and cultural communications. The second floor has classrooms for teaching French to students who belong to the Alliance Francaise. Campus France, which is based on the third floor, is responsible for promoting high-education communications between China and France.
"We have founded an alumnus association, which is composed of Chinese who have studied and/or worked in France. By organizing various communication activities, we hope they will keep their interest in French culture after they return home. The alumnus association helps build a network among people who have had similar experiences while they have studied and/or worked overseas. It is important for them to find a place where they can share their experiences and interests," Li adds.
Li cherishes the experiences she has had through her work during the past 10 years. She says she is glad to see more and more universities/colleges in France are opening their gates to Chinese students. "Nowadays, the total number of Chinese students in France exceeds 36,000, which makes Chinese students the largest group of foreign students in France. As a person who has studied French, and who has lived in France, I am always fascinated by the charm of French art and culture. I am also happy to see more and more Chinese students better integrate themselves into society of a foreign land," Li concludes.
Remove Cross-cultural 'Barriers'
The Cervantes Institute, a global nonprofit organization, was established in 1991 by the Spanish Government. It was named after Miguel de Cervantes (1547-1616), the author of Don Quixote. Cervantes is widely recognized as the most important figure in the history of Spanish literature. The Cervantes Institute is the largest organization in the world responsible for promoting the teaching of the Spanish language and culture. The institute has branches in more than 20 countries. Its Beijing branch officially opened in 2006.
Liu Xi, who works in the Department of Culture of the Cervantes Institute's branch in Beijing , says she feels lucky to be a member of the institute. She joined the institute's team in June 2015, shortly before the institute hosted a grand, bustling event of the year — El DÍA E.
"It was like a big party, during which our institute opened its gate to welcome the public to take part in more than 20 activities, such as dances, concerts, karaoke, movie screenings, storytelling events, quizzes … Several embassies of Latin American countries also opened their stalls to showcase their art and culture. You could see people wearing traditional costumes, from different countries, walk here and there. All of the activities involved the promotion of the Spanish language and culture. We had more than 1,000 visitors during that event," Liu recalls.
In Liu's opinion, a country demonstrates its influence upon the world not only by showing its booming economic growth or strong military power, but also by showing the charms of its unique culture. People-to-people exchanges are effective in helping people from different cultural backgrounds better understand, and communicate with, each other. "Due in part to the differences in languages, social values and customs, barriers do exist in cross-cultural communications. Working in embassies or officially established people-to-people exchange institutions has enabled me, and other Chinese employees alike, to help remove the 'barriers' in cross-cultural communications," Liu says.
Liu loves her motherland, China. She also loves Spain. Working in the Cervantes Institute sometimes gives her the feeling as if she were living in two countries — China and Spain — simultaneously.
In 2016, Liu was impressed by an art-exchange activity the institute hosted to commemorate the 400th anniversary of the death of Cervantes. "Our institute collaborated with an engraving studio, and we invited four Spanish artists, all of whom specialized in engraving, to Beijing to stay for two months and to create works of art. Meanwhile, four Chinese artists were invited to create a series of works under the theme of 'Cervantes: Idealism and Knight.' All of the works were exhibited in our institute.
"I believe visual art is a good measure for comparing, combining and sharing the art and cultures of different countries. Engraving is an art form that has a long history in both China and Spain. The exhibition we hosted last year provided spectators, especially Chinese people, with an opportunity to appreciate the combination of classic Spanish literature with contemporary art. During the two months, when Spanish artists were invited to Beijing, they had chances to communicate with Chinese artists, including young engraving artists. The things they (the Spanish artists) had experienced in Beijing were somehow depicted in their works of art," Liu adds.
Liu enjoys the time she spends with her colleagues, and especially the time they spend organizing and participating in interesting cross-cultural communications. "I no longer have a dividing line between my work hours and leisure time. Now, I have 24 hours a day to do the things I like very much," she says.
Pass Friendship to Next Generation
"My Russian name is Катюша. I began working in the Russian Cultural Center, in Beijing, on September 20, 2010, one week before we held the ceremony that formally marked the establishment of the center," Gao Jun told WOC.
It was also in 2010 that Gao, for the first time, helped organize a cultural-communication event. "Our center hosted a concert to pay tribute to Mikhail Glinka (1804-1857), an outstanding musician in the history of classical Russian music. The function room in our center usually receives less than 200 visitors per time. But during that concert, we had approximately 400 visitors, including Chinese who had been to Russia for studies and/or work. I was shocked by the great interest Chinese people had in Glinka, and in classical Russian music," Gao recalls.
The Russian Cultural Center, in Beijing, was established on September 28, 2010. Dmitry Medvedev, then-President of Russia, attended the center's opening ceremony. The Russian Government attached great importance to using the center to enhance cultural and art communications between the Chinese and Russian people.
During the past six years, Gao and her colleagues have been responsible for organizing various activities, including art exhibitions, concerts, seminars, round-table meetings, and language and translation workshops. In particular, the center has organized several classes, such as painting, ballet, drama, modern dance, and vocal music and instruments, to help children develop an interest in the arts.
Gao speaks Russian fluently. She says she is happy to work for an organization that allows her to put her knowledge into practice, and where she can contribute to the deepening of the friendship between Chinese and Russian people. "Now, I am even happier to see our friendship is being passed to the next generation," she adds.
Since Gao began working in the Russian Cultural Center, many of her friends and former college classmates have frequented the center to participate in various events. She has encouraged her son, Thomas, to participate in fine arts competitions organized by the center. In June last year, one of Thomas' paintings won a prize during an international children's painting competition, cohosted by the Russian Cultural Center and the Secretariat of the Shanghai Cooperation Organization (SCO).
"Following the competition, our center held an exhibition, which displayed more than 500 paintings created by children from 12 countries. My son, and other children who had won prizes, received certificates presented by SCO's secretary general, Rashid Alimov, during the awards ceremony. That experience was no doubt a precious memory for my son. He has since been encouraged to take part in more exchanges, during which he has been able to meet friends from around the world," Gao says.
During Christmas celebrations in December, Thomas enjoyed singing, dancing and playing games with Russian children in the center. He learned how Russian people welcomed the New Year, according to their traditions. "When we watch news reports on TV every morning, Thomas and I always pay attention to the news related to cooperation and communications between China and Russia. I think Russian art and culture have become an indispensible part of the life of myself and my family. I hope to see more and more Chinese, especially people from ordinary families, develop an interest and learn more about Russian culture, art, science and education," Gao says.
Promote Dialogues among Civilizations
If you like to participate in social networking events during your spare time, you may have noticed that more and more institutions for enhancing cross-cultural, people-to-people exchanges have been established in Beijing in recent years. In addition to organizing art and cultural communications, many of the institutions also provide education and training programs, which help local residents learn about other countries. Li Jiansheng, Director of the Cultural Studies Institute of Beijing Academy of Social Sciences, says it is important for Chinese to learn effective measures for enhancing people-to-people exchanges, which have been conducted for years by cultural institutions established by embassies in Beijing. It is also important for Chinese to think about how to introduce Chinese culture to people from overseas, Li adds. In fact, some local institutions, which specialize in enhancing cross-cultural communications, are developing fast in Beijing.
On December 10, a Christmas party was held in Maizidian, in Beijing's Chaoyang District, and that party was attended by Chinese and foreign residents. The Beijing Women's Foreign Exchange Association organized the event, which had the theme of Dialogues Among Civilizations. During the event, Chinese and foreign residents gave performances that revealed the colorful arts and cultures of their respective countries. They also discussed their understanding of the "harmony within families" and the "harmony in society." During that event, organizers formally opened a cultural-exchange center in Maizidian, to promote people-to-people exchanges.
Maizidian is a community inhabited by expats who work for a combined 13 embassies or institutions that organize international exchanges. Of the 60,000 residents in Maizidian, approximately 10,000 are foreigners, who come from a combined 93 countries or regions. Dialogues Among Civilizations, a project officially launched in early 2016 by the Beijing Women's Foreign Exchange Association, is intended to enhance communications between Chinese and foreign residents in Maizidian, and to help foreigners better appreciate China's civilization and traditional art and culture.
The Beijing Women's Foreign Exchange Association, an organization administered by Beijing Women's Federation, spares no effort in carrying out various activities to enhance communications between Chinese women in Beijing and women from other countries or regions. The association plans to establish more cultural-exchange centers throughout Beijing. The association will also organize a series of forums, with the theme of Dialogues Among Civilizations, throughout 2017.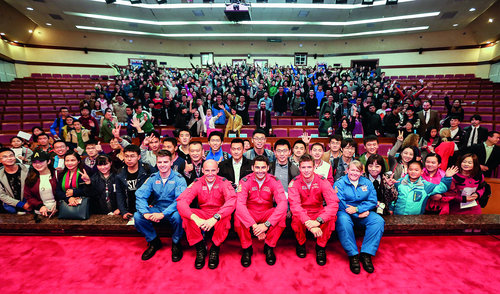 Shakespeare on Film national touring in China [Women of China English Monthly]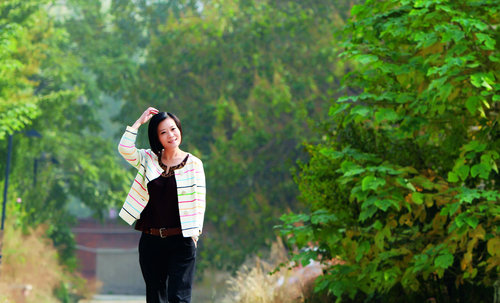 Echo Wang [Women of China English Monthly]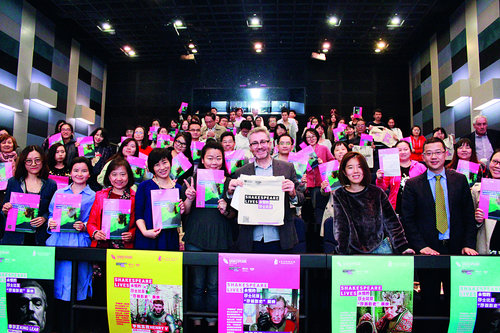 Smart Talk with the Red Arrows at Beijing Institute of Technology [Women of China English Monthly]
Laurent Fabius, then-Minister of Foreign Affairs of France, attends the sixth anniversary celebration for the establishment of Alliance Francaise in China. The event was held in 2014 [Women of China English Monthly]
Showing the charm of traditional Spanish dance (Photo by Eduardo Akins)[Women of China English Monthly]
Gao Jun at the Christmas Party [Women of China English Monthly]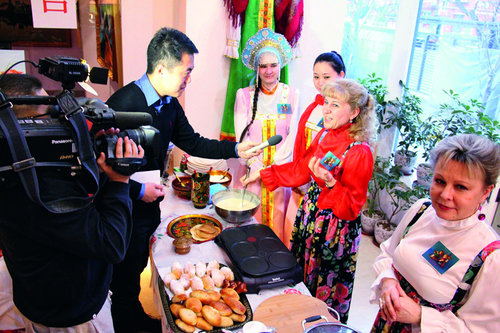 A Chinese reporter interviews a Russian woman, who makes traditional snacks [Women of China English Monthly]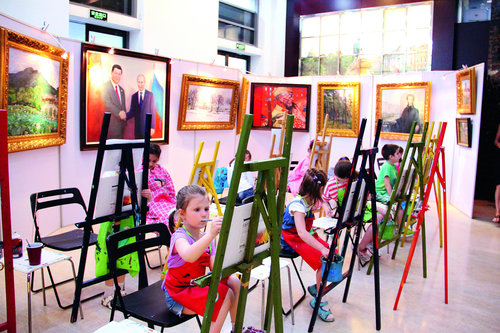 A painting class [Women of China English Monthly]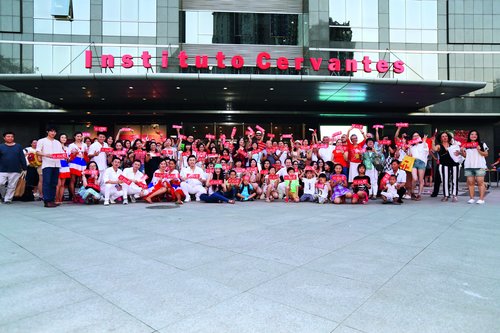 A group photo in front of the Cervantes Institute [Women of China English Monthly]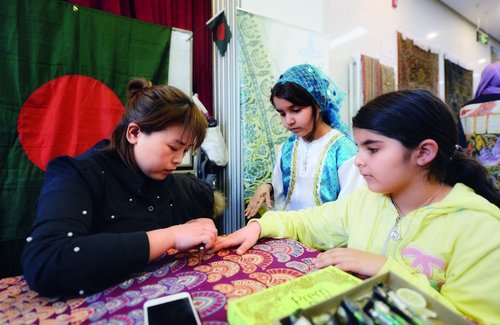 Girls watch a Chinese woman make crafts [Women of China English Monthly]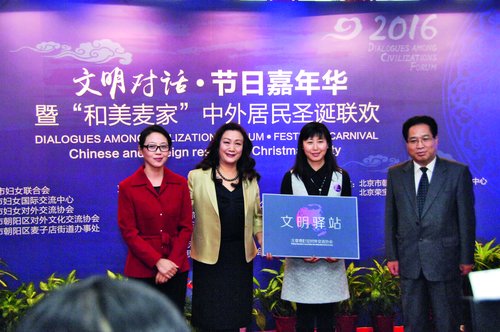 A cultural-exchange center is established in Maizidian [Women of China English Monthly]
Performance at the launch [Women of China English Monthly]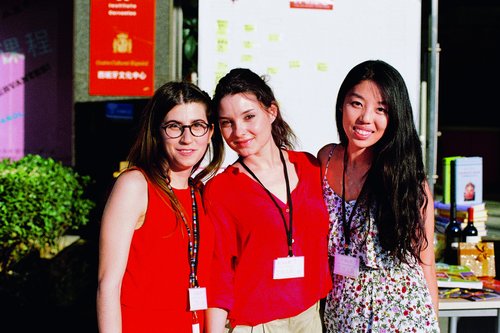 Liu Xi (right) with her colleagues (Photo by Eduardo Akins) [Women of China English Monthly]
(Source: Women of China English Monthly February 2017 Issue)