Yuanding Primary School [Women of China English Monthly]
Sixteen years ago, Chen Guo and his wife, Zhang Rong, gave up running businesses, which guaranteed them an annual combined income of 40,000-50,000 yuan (US $5,970-7,463), in Bazhong, a city in southwestern China's Sichuan Province. Why? They wanted to spend most of their time teaching and looking after left-behind children, whose parents had moved from their hometown to earn money in other regions of China. Thanks to Chen and Zhang, many of the children have since received an education. Now, the children consider the couple to be their loving "parents," in part because the couple has established a warm "home" on a remote mountain.
Yuanding Primary School is located halfway up Mount Yuanding, a 1,600-meter mountain in Heitan, a town in Bazhong. Chen and Zhang became teachers at the school in 2005. Prior to that, the couple had closed their businesses to teach left-behind children in their home (for more than five years).
At Yuanding Primary School, Chen and Zhang not only teach their students various courses, they also play with their students during their spare time, and they shoulder the responsibility for looking after the students — as if they were the students' parents. During the past 16 years, they have taught and taken care of 689 left-behind children, most of whom were from impoverished villages on the mountain.
Home-schooled Children
Chen became a primary school teacher in 1994, after he graduated from high school. During the early 1990s, his monthly income was less than 100 yuan (US $15). To earn a better living, he quit his job in 1997, and he opened a restaurant in downtown Bazhong. At that time, Zhang, his wife, operated a clothing shop. The couple earned a combined 40,000-50,000 yuan a year.
In January 1999, Chen and Zhang went to Heitan to visit Chen's parents. One day, the couple saw a peasant, about 60, who was busy working on a farm. They noticed two boys, one about 6 and the other about 4, playing near their grandfather, the peasant. After the younger child grew tired, he laid on the farmland and fell asleep. The grandfather sighed, shook his head and covered the child with his big coat, so the child would not catch a cold. Both Chen and Zhang were moved by the elderly man's gentle spirit.
"My husband's hometown is on a mountain. After he saw the kids, who should have entered a kindergarten/school to receive early education, he thought about what he could do to help them, and to help more children living in the mountain," Zhang recalled. Two months later, the couple decided to close their businesses, so they could relocate to Heitan, Chen's hometown, and spend the majority of their savings to establish a private school. That was in the autumn of 1999. The school was actually in their farmhouse. They bought desks, chairs and computers, so left-behind children from nearby villages could attend the private school. More than 70 children were enrolled in Chen and Zhang's school in 1999.
'Special Parents'
In the spring of 2002, as the new semester was about to begin, Yang Qingke, a resident of Heitan, visited Chen. He told Chen: "Both my son and daughter-in-law will soon move to a city for work. Their son needs to go to school. But our home is too far from your school. The kid has to walk for 2-3 hours to go to the school and then return home. Is it possible to let the kid reside in your house?" Chen obliged. A short time later, Chen and Zhang had 13 students boarding in their home.
Due in part to the rising number of boarding students, Chen and Zhang realized it would be difficult for them to teach and look after so many kids, especially if all of the kids lived in the limited space in their house.
In the autumn of 2005, Chen and Zhang were hired as supplementary teachers at Yuanding Primary School. They took the students, who resided in their house, to and from the primary school every day, so the students could attend classes in better classrooms. In 2007, the leaders of Yuanding Primary School agreed to provide boarding services to the left-behind children.
"Most of the children we have taken from our home to Yuanding Primary School come from impoverished and/or single-parent families. My husband and I play the role as their 'special parents,' so those children can receive the love and care they should receive from their real parents," Zhang says.
More than Teachers
Yuanding Primary School currently has four teachers, including Chen and Zhang. In addition to mathematics and Chinese, the couple teaches music, fine arts and physical education. "I used to teach at a primary school in the downtown area of Bazhong. After I began teaching at the primary school on the mountain, I soon realized children here lacked education in the arts and entertainment. When my wife and I established a school at our home, we included music and art classes … Since we became teachers at this school (Yuanding Primary School), we have taught the courses to help broaden the students' horizons and enrich their lives," Chen says.
Chen and Zhang have a 10-square-meter room, which is supposed to be their flat in the school. The couple has two beds in their flat, so some small kids can sleep with them at night. During weekends, the couple washes their students' clothes and shoes. They also help young children wash their hair and bodies. They have fastened iron wires on several trees behind the school, so they can hang the clothes and shoes out to dry. They are responsible for cooking breakfasts and dinners for their students from Monday to Friday. They sometimes go to the food market, so they can make more delicious foods during weekends.
Compared with the time they live with their parents, who work in other cities and places, most of the students spend much more time living with their teachers, Chen and Zhang, throughout a year. When Spring Festival arrives, Chen and Zhang take students, whose parents cannot return home, to the couple's own house, so the students can celebrate the Chinese New Year with the couple's family.
If you mention Chen and Zhang's names in Heitan, it is very likely that the locals will put their thumbs up. Impressed by the couple's kind deeds, the local government has allocated money to develop distance education, so students can use computers and the Internet to study online.
When asked what their hope is for the near future, Zhang answers: "We hope there will be less and less left-behind children in our hometown. Although we can do our best to give them a good education and look after them, we are not their real parents. We hope their parents will return after they earn some money, so they will have more time to accompany their children."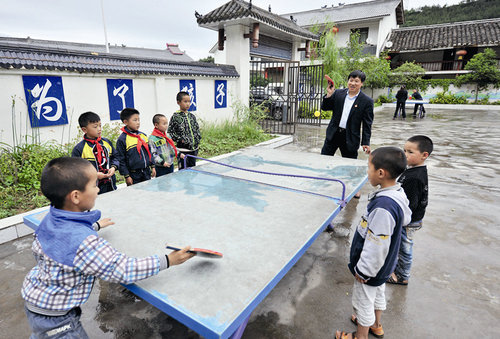 Chen Guo teaches children how to play table tennis. [Women of China English Monthly]
Zhang Rong plays with children, who sit in a circle under a big tree. [Women of China English Monthly]
Reading with the children [Women of China English Monthly]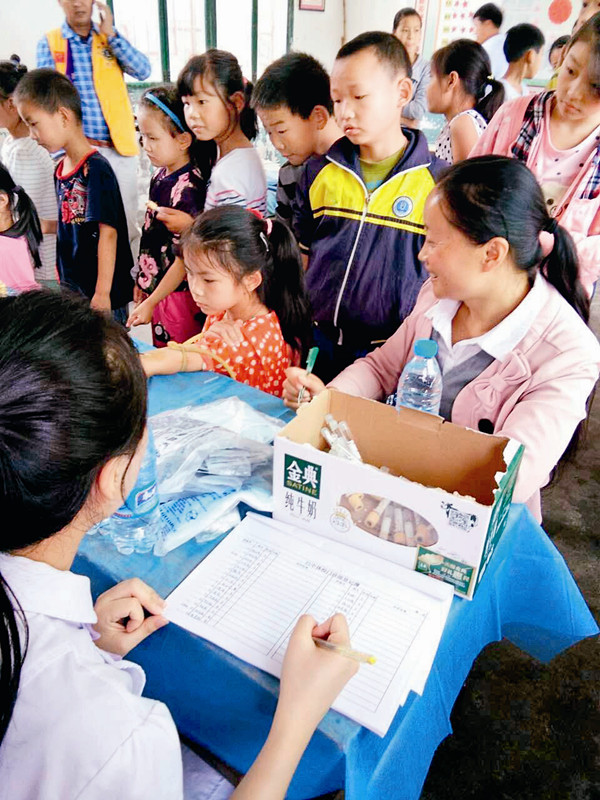 Taking children to receive medical checkups. [Women of China English Monthly]
Zhang Rong helps children wash their hair. Weekend is the happiest time for the children and their special parents, Chen Guo and Zhang Rong. [Women of China English Monthly]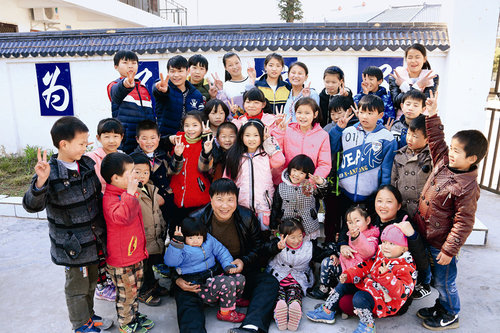 The couple poses for a photo with children at Yuanding Primary School. [Women of China English Monthly]
(Source: Women of China English Monthly December 2016 Issue)