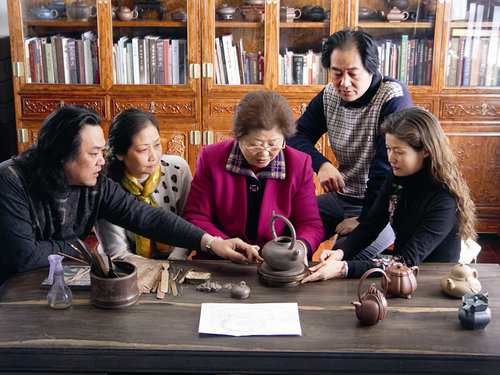 Cao Wanfen and her children discuss the design of a teapot. [Women of China English Monthly]
Cao Wanfen, a master of ceramics, is not only recognized for her excellent, purple-clay-teapot-making craft in her hometown, Dingshu, a town in Yixing, a city in East China's Jiangsu Province. Cao's family is famous in Dingshu for its inheritance and development of the teapot-making craft, and for the harmonious relationship among the members of the big family. Cao and her family have also helped needy people throughout the years.
Learning from Masters
Cao Wanfen and her husband, Fan Yuelin, live with their two children and two grandchildren in Dingshu. There are eight people in the big family, and each treats the others with love and respect.
In 2015, Cao held a solo purple-clay-teapot exhibition in Shanghai. Throughout the past 60 years, Cao has mastered the various styles for making purple-clay teapots, and she has developed her unique style of making teapots.
Her works have earned her several prizes, and some of her items have been collected by the Nanjing and China National Arts and Crafts museums.
Cao is able to skillfully finish the whole process of making purple-clay teapots, in various shapes, and she is skilled at making the tools needed to produce the teapots.
In 1940, Cao was born into a family of ceramics artists in Dingshu, a town famous for its long ceramics-production history. Her mother taught her how to make ceramics when she was a child.
In 1955, Cao began learning how to make purple-clay wares in Yixing Purple-clay Crafts Factory. Her teacher was Zhu Kexin, who was a master of making teapots in the shapes of plants.
Three years later, Cao assisted Jiang Rong, an experienced craftswoman, as she trained the factory's workers.
Besides Zhu and Jiang, Cao learned skills from four great masters. She said the masters' serious attitudes toward making crafts and their desire to achieve the highest quality deeply affected her.
Unchanging Love
During Cao's career, the factory often failed to record a profit and, therefore, did not have enough money to pay the employees. Many workers left, but Cao stayed.
Fan joined the factory one year after Cao, and his job was to glaze the teapots. Fan and Cao took the same skills-training class offered by the factory. Fan often organized discussions and parties after class. Cao soon fell in love with him.
Cao and Fan were married in 1961. However, in 1962, Fan was made redundant and he was laid off. He returned to his hometown, a village near Yixing, and he became a farmer. Cao stayed in Dingshu with their son. The couple lived apart for 23 years.
Some people gossiped about Cao and Fan, and spread rumors that Cao planned to divorce Fan because he lived in another village. Cao didn't care about the rumors, and she often visited her husband when she had free time.
Cao has often said her husband and mother-in-law are her family, and as such she must accept and take care of them wholeheartedly.
Fan's village was four kilometers from Dingshu. Cao walked between the two places every time she went to see her husband. When her mother-in-law was ill, she borrowed a tricycle to take the elderly woman to the hospital in Dingshu.
Cao had a hard time working and raising her son alone. She got up at 5 a.m. each day to cook breakfast, and she worked until midnight every day to produce as many works as possible. She also worked, taking her son with her, during weekends.
Given her good skills and hard work, Cao received a bonus each month. Although the family depended on her salary, she never complained.
Fan did all the housework when he reunited with Cao and their children in Dingshu during holidays. If Cao worked during weekends, he cooked and took food to her at the factory. They have unswerving love for each other.
Favorite Dinner Topic
Fan Jianjun, Cao's son, and Fan Jianhua, Cao's daughter, both worked in purple-clay-teapot factories after they graduated from high school.
Fan Jianjun is a provincial master craftsman. Fan Jianhua is a renowned ceramicist artist.
Fei Yinyuan, Fan Jianjun's wife, often watched Cao produce teapots at home. Fei sometimes assisted Cao. After she developed a deep interest in the craft, Fei quit her job, as an accountant, to learn how to make teapots. Now, she is a senior craftswoman.
Lu Jun, Fan Jianhua's husband, began working in Cao's factory in 1983. He eventually became Cao's apprentice.
Lu and Fan Jianhua established a purple-clay-craft-training center in March 2010. They teach traditional teapot-making skills, and they promote teapot-related culture.
In Cao's family, the making of teapots is a constant topic of discussion. The family eats dinner together almost every day, and they all enjoy sharing their creative ideas about the designing of teapots.
In 1986, Cao and Fan Yuelin visited Splendid China (a park where miniatures of famous Chinese scenery and architecture are displayed) in Shenzhen, a city in South China's Guangdong Province. Cao was inspired by the miniature items.
During one dinner, she talked about making copies of the purple-clay teapots that had been created by masters during various periods of history.
Her family supported her, and her relatives collected information about masterpieces made by great craftspeople. They also offered suggestions to Cao, especially about the details of her production. Almost all of the discussions occurred when they ate dinner.
Each member was excited when Cao finished the project. In 1990, the set of teapots earned Cao second prize in a national ceramics-design contest.
Cao has created many prize-winning teapots during her career. But she is especially proud of the special set because it embodies the love and intelligence of her family.
Sharing Love
Cao and Fan Yuelin live happy lives within the family of eight, and they are overjoyed every year when Spring Festival arrives.
"Each year, we invite my children's parents-in-law to come to our house to celebrate the festival … This tradition has never changed throughout the years," Cao says.
Each year, during the dinner on Chinese New Year's Eve, all members of the large family toast one another, and they enjoy themselves.
Cao's grandchildren have good personalities, and they have their own dreams.
Lu Chaofei, Fan Jianhua's son, is preparing to write the entrance examination to the graduate school of the Academy of Arts and Design, Tsinghua University. He plans to become a ceramicist.
Cao's family is filled with loving care, and the members share love with their neighbors and strangers alike. Cao is well-known in Yixing for her benevolence.
In May 2006, Ge Zhi, a young, disabled man, became Cao's apprentice. A car accident had led to the amputation of Ge's legs. Due to mental stress and severe physical pain, he was discovered trying to commit suicide one day.
To save Ge's life, and to inspire other disabled people, Cao taught him (for free) to make teapots. Her family supported her. Cao and her family made 30 special tools for Ge.
Now, Ge is able to make teapots by himself, and he supports his family with his income. Cao and her family feel comforted by Ge's achievements.
In 2007, Cao and Fan Yuelin read, in a local newspaper, that orphaned twin sisters in Xizhu, a village in Yixing, had qualified to attend college, but that they did not have the money to pay their tuition fees.
The elderly couple decided to help the sisters. They began giving 8,000 yuan (US $1,194) to the sisters each year until the sisters graduated. The sisters depended on the couple's assistance to attend college.
Also in 2007, Fan Jianjun and his wife began giving 4,000 yuan (US $597) each year to a female student from a poverty-stricken, single-parent family, until she graduated.
Cao's family also supports the education of 13 poverty-stricken students in Yongshou, a county in Northwest China's Shaanxi Province. The family donates about 60,000 yuan (US $8,955), combined, to the students annually.
Cao and her family have done everything possible to develop the craft of making purple-clay teapots, and they have contributed to the building of a warm and harmonious society.
Family's Motto
"Being diligent and thrifty are keys to a family's management. An honest and harmonious atmosphere has been formed in our family. We seldom regulate family members' behavior, and we often do something for one another. We encourage every member to learn, and we encourage every member to be tolerant of others. These are our family traditions."
— Fan Yuelin
Family members of Cao Wanfen pose for a photo. [Women of China English Monthly]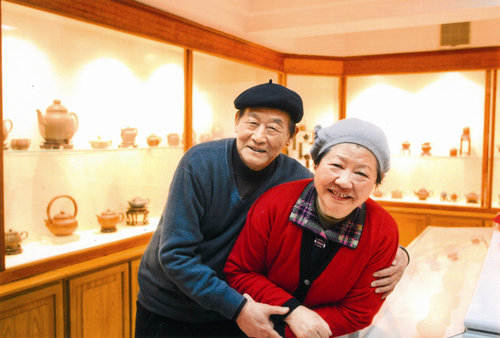 Fan Yuelin and Cao Wanfen [Women of China English Monthly]
Cao Wanfen [Women of China English Monthly]
Cao Wanfen and her children [Women of China English Monthly]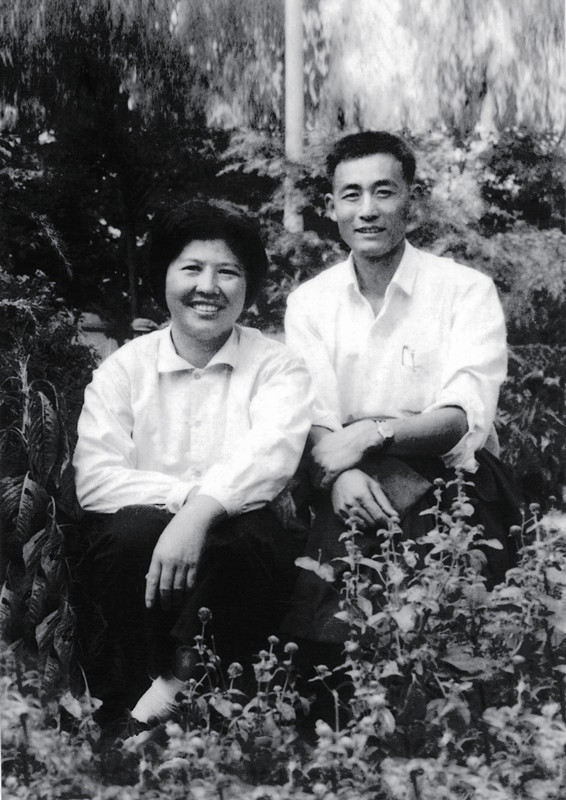 Cao Wanfen and Fan Yuelin pose for a photo(taken in the 1950s) [Women of China English Monthly]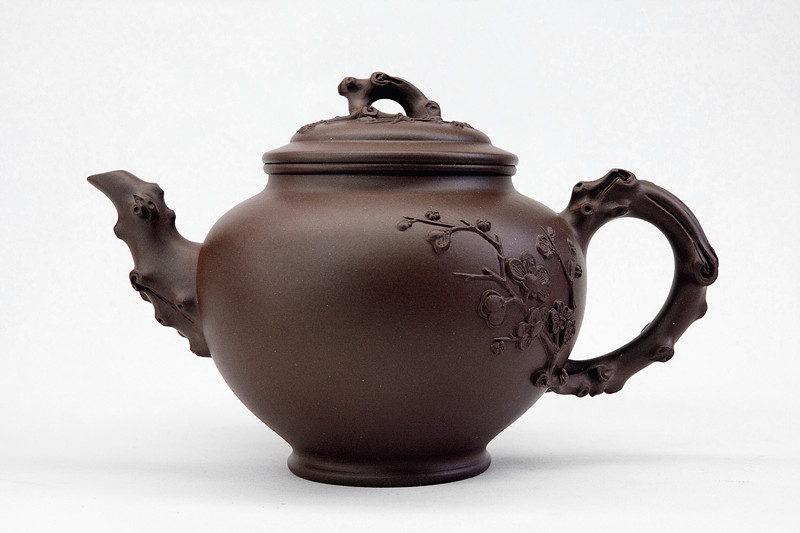 A teapot made by Cao Wanfen [Women of China English Monthly]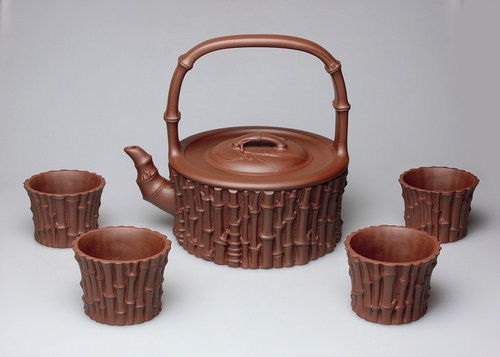 A teapot set made by Cao Wanfen [Women of China English Monthly]
(Source: Women of China English Monthly February 2017 Issue)