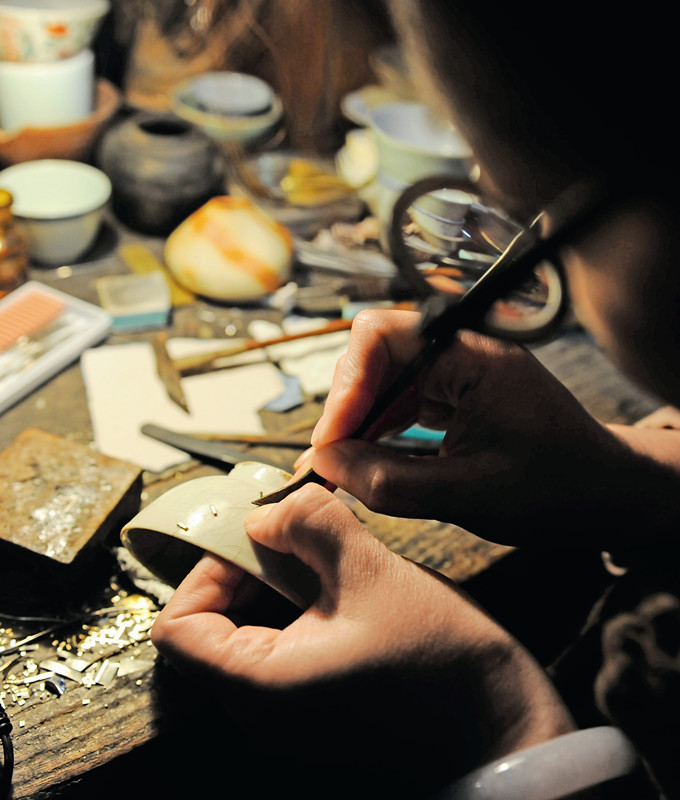 At Li Fangyuan and Bai Yunze's shop [Women of China/Fan Wenjun]
In this fast-changing era, many people think most of the traditional crafts, which were commonly used in life, are out of date. As a result, some crafts are on the verge of being lost. Some young Chinese, however, have been showing a deep and sincere love for traditional crafts. Some of those young people have even inherited the crafts, and they have done their part to develop and promote the crafts in creative, fashionable ways.
Functional Again
From the style of the clothes they wear, you might not believe Li Fangyuan and her husband, Bai Yunze, were born during the late 1980s. They often wear plain-colored, traditional Chinese-style clothes. Does their clothing have something to do with their careers?
Li and Bai own a small shop in Jianchang Hutong, in Beijing, where they sell porcelain and lacquerware items.
Li and Bai were classmates in the Department of Art and Design of Beijing University of Technology. Although they focused their studies on designs, they were interested in traditional-crafts courses, such as ceramics and making lacquerware.
"Because we liked drinking tea, we often traveled together to collect old tea sets and furniture during our vacations. When we graduated, in 2012, we had a large collection. Thus, we opened the shop," Bai says.
They named the shop Tuqi. "One day we saw the two characters, tu (earth) and qi (vital energy), in a book, and we realized that the characters embodied significant meaning. Earth is essential to all things, and everything in this world has its unique energy," Li says.
Most of the porcelains sold in Tuqi are not new. Li and Bai collect old, broken items, mainly cups and bowls, and they repair them with a traditional craft that they learned from a craftsman in Northeast China's Liaoning Province.
Depending on the broken porcelain's shape, and the patterns on it, they use a special, arch-like tool to drill tiny holes around the cracks. Then, they gently hammer copper or silver nails into the holes.
Drilling the holes is the key step, and the depth of a hole should be about half of the porcelain's depth. Sometimes a cup is one-millimeter thick, which requires the couple to take extreme care.
Making lacquerware is an Oriental craft that dates back some 7,000 years. Li and Bai have lacquered various objects, including wood, metal and leather, and all the items had functions in life.
"Lacquer is obtained from trees. It is not harmful to the health, but most people will have an allergic reaction if they touch lacquer with their hands. We have to endure the pain … as we use lacquer every day," Li says.
Li and Bai stay in their workshop during much of each day. They employ a man to help operate the shop.
In recent years, the shop's business has been stable. "WeChat has been helpful … to collect old things and sell products. It is interesting that nearly half of our customers are in their 20s. They love drinking tea, and they use traditional-style tea sets," Li says.
Some foreigners have also expressed an interest in Li and Bai's works. An official, from the French Embassy in China, and his wife visit the shop every month.
Since 2015, Bai has taught short courses about the craft of making lacquerware at the City Design School of China Central Academy of Fine Arts.
"I believe that old items must be functional in everyday life. By using these things, people will realize the value of the things, and they will have the desire to learn how to make them," says Bai.
Each year, Li and Bai create some new categories of items, so they can keep pace with the latest trends. They have recently been experimenting with glass in making lacquerware.
"The old crafts will not disappear. They are just not as frequently used as before. As long as people are willing to research and practice the crafts, the crafts will be preserved and passed down," Li says.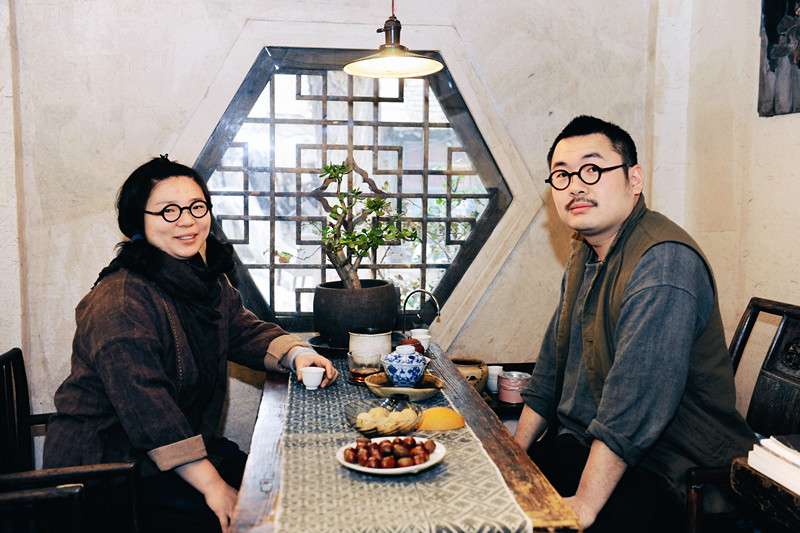 Li Fangyuan and Bai Yunze [Women of China/Fan Wenjun]
Li Fangyuan and Bai Yunze's shop [Women of China/Fan Wenjun]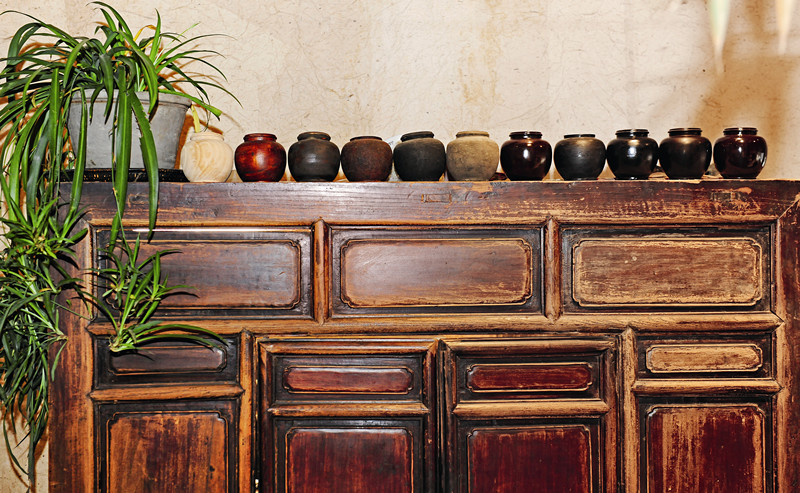 Li Fangyuan and Bai Yunze's shop [Women of China/Fan Wenjun]