Gao Linrong (2nd L) and her employees [Women of China English Monthly]
Gao Linrong, Director of Gaolianghe Color-glazed Porcelain Plant, in Beijing, and her employees in recent years have worked hard to improve their creativity and porcelain-making skills. As a result, the crafts, especially the "Chinese Red" porcelain, they have produced have sold well, both at home and abroad. The plant has become an experimental base, in Beijing, that has been used to encourage rural women to create crafts.
At the invitation of the Beijing Women's Federation, Gertrude Mongella, who was Secretary-General of the UN (United Nation)'s Fourth World Conference on Women (held in Beijing in September 1995), visited Huairou, a district in Beijing, on July 27, 2015. Gao Linrong was happy to see her friend again when Mongella visited her plant. They first met each other during the Fourth World Conference on Women. Gao told Mongella about her experiences in starting and developing her business.
Booming Business
Gao said she was "born at the right time;" when she graduated from senior middle school, in the summer of 1978, China implemented its policy of reform and opening to the world. Leaders of Gaolianghe, a village in Beijing's Huairou District, decided to establish several village-run enterprises. Within a short time, they sent Gao and several other young villagers to Jingdezhen, a city in East China's Jiangxi Province, and which is known for the production of color-glazed porcelain, to study the skills needed to create the porcelain.
When the village established the plant in 1979, Gao was a key member of the plant's technical personnel. December 3, 1979, was a big day for Gao. Why? She became an apprentice of Fang Gencai, a well-known craftsman from Jingdezhen, so she could learn from him how to make color-glazed porcelain.
Under Fang's guidance, Gao, a bright and talented woman, within a short time mastered the skill of matching colors — the most difficult part of the craft — used in the porcelains.
"Whenever I think about all of the hardships I experienced during those years, especially when I studied the craft-making skills and started my business, my heart is filled with all sorts of emotions … My feelings are somehow like the patterns that I draw on porcelains, brilliant and wavy," says Gao.
"As the director of the plant, which is one of Gaolianghe's first village-run enterprises, I'm duty bound to lead workers in promoting the plant's development," adds Gao.
Her and her employees' efforts to develop the business have paid off, as the plant has evolved into an enterprise with an annual output value that exceeds five million yuan (US $76,923).
In 1986, the village's leaders appointed Gao deputy director, which made her responsible for the plant's technological development. Given Gao and the workers' hard work, the small plant eventually developed into the largest production base of color-gazed porcelain in North China.
Given Gao and her employees' efforts to develop quality products and improve their services to meet customers' demands, the plant has developed soundly in recent years. The porcelains have sold well in many countries, including the United States, Germany, Britain, France, Italy, Malaysia and the Republic of Korea.
Developing New Products
Given the rapid development of foreign trade involving China during the 1990s, an increasing number of China-made porcelains were exported. As a result, competition among porcelain-making plants became increasingly fierce. The plant's business began to wane, due to poor management and the slow updating of products, during that period. During the summer of 1995, the plant stopped production.
"It was stressful to see women workers lose their jobs and live hard lives … When I began running the plant in 1996, I recruited many of the plant's skilled workers," Gao recalls.
In 1996, Gao hired a teacher from China Central Academy of Fine Arts (CAFA) to provide training to the women workers, to help them improve their porcelain-making skills.
Gao that year also conducted market surveys on porcelains, and she learned the items produced in her plant were of little practical value, despite their beautiful appearance. As a result, she put much effort into designing new products, with high practical value. For example, based on the design of porcelain vases, she designed lampshades. She also designed a tea set by adding a tray and four tea cups to the porcelain teapot formerly produced by the plant. In addition, Gao led workers in the development of new porcelain products, including lavabos, cup pads, Easter eggs and biscuit barrels. The products were a hit when they appeared in the market, and that success strengthened the women workers' determination to pursue their dreams of realizing their potential as craftswomen.
Diligent Student, Considerate Leader
Gao began studying English after an increasing number of foreign businesspeople began to show an interest in porcelains. Despite her tight schedule, in 1998, the then-38-year-old Gao attended an English course offered by Huairou's University for the Elderly. Since then, she has taken every opportunity to communicate in English with foreign businesspeople who have visited her plant.
Gao cares about and is considerate to her workers. She allows her employees to work flexible hours, so they can complete their farm work every day. She also lends a helping hand to workers who are financially strained.
Unique Porcelains
As the porcelains produced in Gao's plant have become increasingly popular the world over in recent years, an increasing number of people have become fascinated with the items. The beauties (in ancient costumes), the delicate flowers and the lively little animals, painted on the porcelains, are true to life. The exquisite artworks are the results of the craftswomen's hard work.
During the past decade, Gao and her employees have put a lot of effort into improving their porcelain-making skills. In 2005, the plant used the technology, introduced by Changsha (capital of Central China's Hunan Province) Red Porcelains Development Co., Ltd., to produce "Chinese Red" porcelains. In the same year, the plant cooperated with the company to develop high-end porcelains in the plant's large, newly built workshop. In 2010, the plant developed red-glazed porcelains that could adapt to the temperature and humidity in North China.
"When workers make ordinary red-glazed porcelains, they heat minerals (such as silicon, calcium, potassium and sodium) over 800 degrees centigrade to shape the products. However, our workers have to heat the materials over 1,200 degrees centigrade to shape the "Chinese Red" porcelains," says Gao.
"Compared with other porcelains, our products look more beautiful, as the red … is brighter, and it will not fade easily. Our plant is the only enterprise in North China that produces such porcelains."
During the past few years, the "Chinese Red" porcelains have become the plant's "name cards." Given the craft's smooth development, more job opportunities have been created for rural women. As a result, the plant has created tremendous social and economic benefits.
In recent years, many film and television studios in the State Production Base of China Film Group, in Beijing's Huairou District, have bought porcelains, produced by Gao's plant, to use as stage props in their films or TV shows.
Promoting the Craft's Development
During the past year, the plant has organized activities to teach couples, parents and their children to make DIY (do-it-yourself) color-glazed porcelains. The activities have been well received by the participants, who have not only learned how to make the traditional Chinese porcelains, but who have also promoted their relations with their couples or parents/children.
In recognition of her contributions to the development of the traditional Chinese porcelains, Gao has received various accolades and special titles in recent years. For example, she has been named outstanding businesswoman and senior rural talent at both the municipal and district levels.
In January 2009, the leading group of the Learning and Competing Campaign named Gao one of China's top rural women skilled producers in 2008. The All-China Women's Federation (ACWF) and 12 ministries or commissions, including the ministries of Agriculture, Forestry and Education, initiated the campaign in 1989. The campaign, entitled Learning Culture and Techniques, Competing Results and Contributions, is intended to enable rural women to better adapt to economic reforms in the countryside, and to help women apply scientific and technological knowledge in production.
Also in January 2009, Beijing Women's Federation and Huairou Women's Federation named Gao's plant a craftswomen's studio and a base used to help women find work.
In 2013, Gao was elected Vice-President of the Miaocheng (a town in Beijing's Huairou District) Women's Federation. In the same year, her plant became a home for women in the town.
Gertrude Mongella, who was Secretary-General of the UN (United Nation)'s Fourth World Conference on Women (held in Beijing in September 1995), visits Gao Linrong's plant in Beijing on July 27, 2015. [Women of China English Monthly]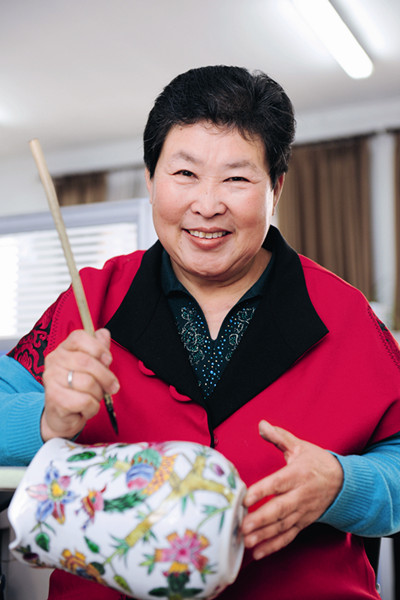 Gao Linrong [Women of China English Monthly]
(Source: Women of China English Monthly March 2016 Issue)