One of Li Xiuqin's works. [Women of China]
It was an unfortunate — yet special — experience for Li Xiuqin. In 1982, while she was traveling from southern to northern China, Li suffered from Sjogren's syndrome, and that left her eyes dry and in pain. While she was suffering from the vision-threatening disease, the sculptor realized blind people were unable to enjoy works of visual art. After she recovered, Li began to use Braille in her art. She has since created a series of sculptures that enable blind people to touch — and feel — the beauty of her art. Her objective is to help the blind understand the art world, and to help people with normal vision better understand and relate to those who are blind.
Braille, devised by Louis Braille in 1821, consists of raised dots arranged in "cells." It is a system that enables visually impaired people to read and write through touch. A "cell," made up of six dots that fit under the fingertips, is arranged in two columns of three dots each. Each "cell" represents a letter, a word, a combination of letters or a numeral or punctuation mark.
By touching the dots, blind people find their own "language" to understand the world and communicate with people with normal vision. When the dots are enlarged and exaggerated by artists in their art creations — for example, sculptures or installations — they become powerful symbols that can be touched by spectators, whether or not they are visually impaired.
"Dots form the 'language' I use to express the artistic power of my sculptures. It is hard to describe the power through words. Spectators can feel the power when they touch the dots on my sculptures," says Li Xiuqin.
Li, now a professor with the China Academy of Art (located in Hangzhou, in eastern China's Zhejiang Province), is a famous sculptor. She graduated from the academy (formerly the Zhejiang Academy of Art) in 1982. She has since taught in the academy's sculpting department.
In July 1982, Li was traveling to northeastern China's Heilongjiang Province to work on a sculpture, when she was afflicted with inflammation caused by rheumatoid arthritis, due mainly to the change in the climate.
Rheumatoid arthritis, primarily a joint disease, occasionally affects other parts of the body, including the eyes. When Li was in Heilongjiang, she suffered from Sjogren's syndrome, an autoimmune disorder associated with rheumatoid arthritis, which left her eyes dry and in pain. Thanks to the timely treatment she received, Li recovered from the disease. However, the experience helped her realize the anxiety and fear experienced by visually impaired people as they cope with living in a dark world. So, she decided to integrate Braille in her sulptures. The Braille "dots" inspired her, and she thought the dots could be used to transform her sculptures into a "touchable language."
In 1992, Li created 15 sculptures, each of which contained Braille. She named the series "Concave and Convex — the Sense of Touch." One year later, Li held an exhibition in Zhejiang, during which her 15 sculptures were displayed. She invited students from schools for the visually impaired, as she wanted the children to experience the sculptures. By touching the Braille and the shapes of the sculptures, many of the children were able to form their first impressions of what sculptures "looked" like.
In the following two decades, Li has integrated Braille in more of her creations. Last year, Li spent three months searching for the blind people who had attended her 1993 exhibition. She was eventually able to find nine of the former students. She took videos to record how she found them, and she kept a journal and took photos to document their lives.
She also asked several of her postgraduate students to make busts of the nine people. Li visited their homes, and she learned that most of the former students had become massage therapists. As a result of their attendance at Li's exhibition 20 years earlier, many of the former students had developed an interest in sculptures.
The materials Li collected while she was searching for the former students, and the busts she and her students made of the nine people, were displayed during four exhibitions throughout 2013 and 2014. Li held the exhibitions in Hangzhou, Shanghai, Qingdao and Beijing.
At each exhibition, Li displayed a work, entitled "Touch the Clouds." It was composed of hanging sculptures — a few clouds — and stairs that rose from the floor to reach the clouds. Tiles with Braille were affixed to the stairs, to help visually impaired people climb the stairs so they could touch the clouds. Another work, "Crossing by Oneself," was made from a wheelchair and a large round table. Li decorated the table with large Braille dots, so people could sit in the wheelchair, turn the table
and touch the dots.
Each display at each exhibition was connected by a sidewalk that contained tiles with Braille. Li wanted people with normal vision to be able to experience the world of the visually impaired. She believed that would help them accept and communicate with the blind.
During the Beijing exhibition (in July this year), Li invited two students from a school for the visually impaired to attend the opening ceremony. With her eyes closed, Li touched the students' heads and then sculpted their busts. Each student made a bust of Li.
"I am always touched by the changes in each blind person's life. I can feel the blind people's determination to live independent lives, their dreams, enthusiasm and longing for a bright future. Their lives are not easy, but they accept the fact that they live in a dark world — with their minds at peace," Li says.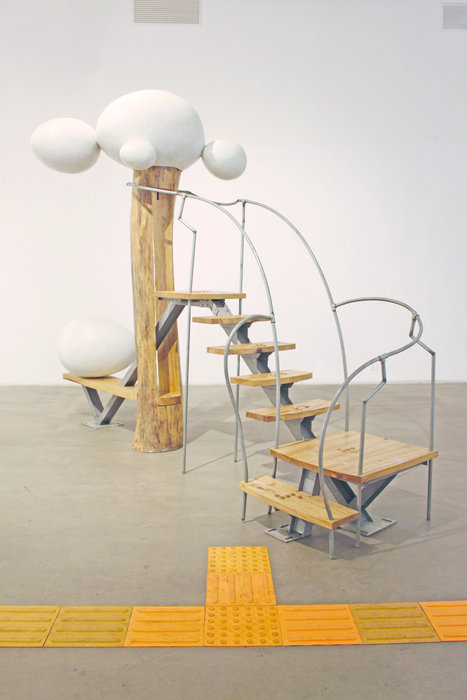 One of Li Xiuqin's works [Women of China]
Part of Li Xiuqin's works. [Women of China]
(Source: Women of China English Monthly October 2014 Issue)