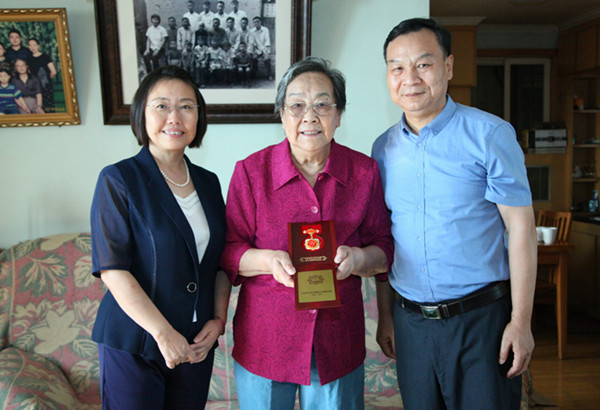 Li Mingshun (R) and Liu Liqun present the commemorative medal to An Shufen (C) during a visit to her home on September 24. [China Women's University]
Li Mingshun, Secretary of the Party Committee of the China Women's University (CWU), and Liu Liqun, President of the CWU, gave medals in commemoration of the 70th anniversary of the founding of the People's Republic of China (PRC) to He Linqing and An Shufen, on September 24. He is one of the living veterans who participated in the revolutionary war before the founding of the PRC, while An is a Party member and retiree from the CWU.
The commemorative medals were jointly released by the CPC Central Committee, the State Council and the Central Military Commission to mark the 70th anniversary of the founding of the PRC as a part of the celebration activities.
During the visit, Li and Liu talked with He and An about their health and life, conveyed to them the greetings of the Party committees of the All-China Women's Federation and the CWU, expressed high appreciation to them for their noble contributions to the country's revolutionary cause and the founding and development of the CWU, and wished them a long life.
He and An expressed sincere thanks to the CPC for the care and love given to them.
They added that they had paid attention to the remarkable development of the country and the CWU till now, and hoped that the younger generation could carry forward good traditions, remain true to their original mission, fulfill personal responsibilities, and contribute their efforts to social and economic development in the new era.
The visit is of great significance for the CWU in promoting its patriotic education, fostering and practicing core socialist values among students and teachers, and strengthening the power to unite and the ability to inspire in the great cause of socialism with Chinese characteristics.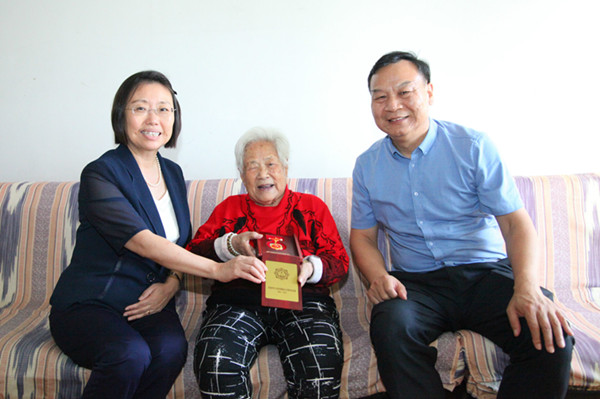 Li Mingshun (R), Secretary of the Party Committee of the China Women's University (CWU), and Liu Liqun, President of the CWU, present a commemorative medal to He Linqing during a visit to her home on September 24. [China Women's University]
(Source: China Women's University/Translated and edited by Women of China)