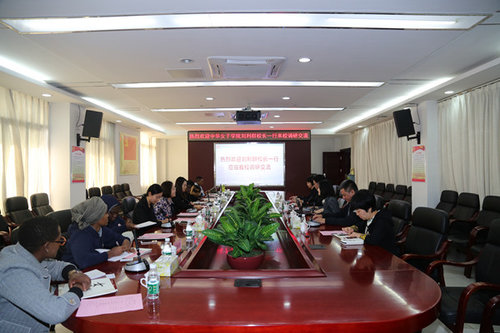 Attendees from both sides hold discussions on November 23. [China Women's University]
Liu Liqun, president of China Women's University (CWU), led a delegation of faculty staff and seven female officials from several developing countries to visit Guangdong Women's Polytechnic College (GWPC) in the southern province on November 23.
Those officials are students from a two-year academic program entitled "Master of Social Work in Women's Leadership and Social Development" at the CWU.
Zhou Youying, secretary of the Party Committee at the GWPC, talked with the visiting delegation about her college's characteristics, curricular arrangement, and courses on entrepreneurship as well as innovation.
Zhou also conveyed thanks to CWU for its assistance to her college as a member of the Council of China Women's Universities Consortium.
Foreign officials from CWU participated in a symposium then and communicated with relevant staff from GWPC. Moreover, they also toured the GWPC campus, historical education base and experience center of traditional Chinese culture.
During the exchange event, Liu lectured local young female officials in a training session on how to better utilize media and promote gender equality. She also spoke with Zhou about the two sides' cooperation and the preparations for the upcoming 5th National Symposium on Women College Students' Employment and Entrepreneurship.
Liu hoped the national symposium held by the GWPC would be a great success and hoped that the two sides could further deepen their cooperation on the cultivation of women talents, the exploration of laws on women-oriented education, the improvement of women's leadership, and the development of women's careers.
The CWU delegation was to attend the 2018 International Summit of Women Entrepreneurs in Guangzhou on November 21-22, which was sponsored by the China Association of Women Entrepreneurs.
A female foreign official and student from the CWU gives a speech during the gathering on November 23. [China Women's University]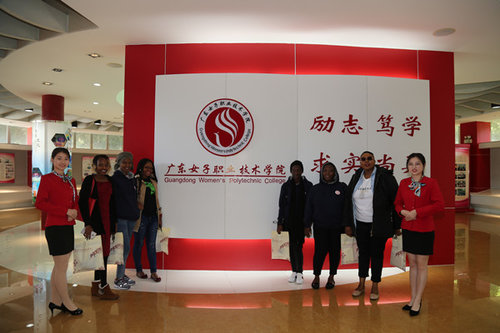 Female foreign officials and students from the CWU tour around the Guangzhou-based college on November 23. [China Women's University]
Female foreign officials and students from the CWU tour around the Guangzhou-based college on November 23. [China Women's University]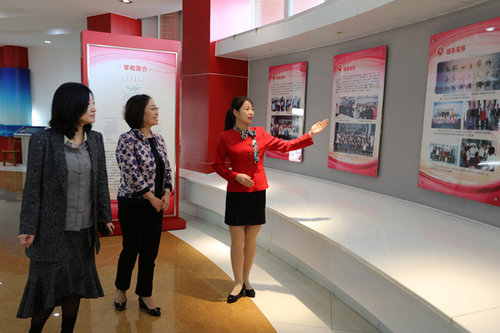 Liu Liqun tours around the Guangzhou-based college on November 23. [China Women's University]
The CWU delegation poses for a group photo during their visit to the Guangzhou-based college on November 23. [China Women's University]
(Source: China Women's University / Translated and edited by Women of China)