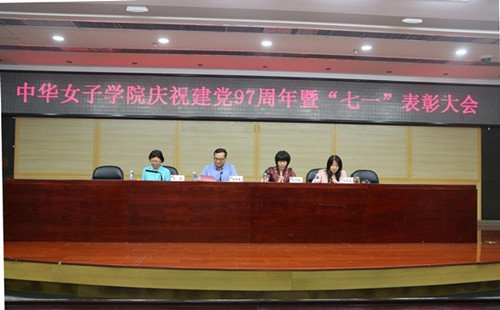 Participants at the ceremony [China Women's University]
China Women's University (CWU) held a ceremony on campus on June 28 to celebrate the arrival of the 97th founding anniversary of the Communist Party of China (CPC).
The ceremony was chaired by Ren Cuiru, deputy secretary of the CWU Party Committee and secretary of the CWU Commission for Discipline Inspection.
Wang Lian, a member of the Standing Committee of the Party Committee and vice-president of the CWU, announced a list of awarded Party branches, model Party members and faculty workers in charge of Party-building affairs during the semesters from 2016 to 2018.
Meanwhile, Wang Jingxia, who has held the same position at the university as Wang Lian, read another list of honored student counselors and head teachers in 2017.
Zhang Jinghao, a model student Party member; Yu Guangjun, a representative of faculty members in charge of Party-building affairs and head teachers; and Fan Meihua, an awarded student counselor, gave speeches at the event.
Li Mingshun, secretary of the CWU Party Committee, made a review of the glorious history and remarkable achievements made by the Chinese people under the leadership of the CPC in achieving national independence and the construction of socialism with Chinese characteristics since 1921.
Li stressed that the university should further strengthen its fulfillment of its main responsibilities in Party-building affairs and systematically advance relevant work in the future.
More specifically, it should stick to the leadership of the CPC and map out its overall work around talent cultivation in a drive to constantly improve the level of its education and administration, nurture more high-quality graduates, and develop it into an advanced and application-oriented higher educational institution.
The university should emphasize problem-solving and solution-oriented principles, take concrete measures to correct undesirable working methods in grassroots Party-building affairs, and further consolidate its political qualities.
It should follow the guidance of Xi Jinping Thought on Socialism with Chinese Characteristics for a New Era, act on the instructions of the 19th CPC National Congress around higher education and Party-building affairs, and advance the building of grassroots Party branches.
Meanwhile, all Party members at the university shall closely bear their political identity in mind, observe the Party's regulations and disciplines, and follow the example of model Party members in their daily life.
Faculty Party members are also expected to clearly understand their responsibilities in talent cultivation for the construction of socialism with Chinese characteristics and strive for an outstanding performance in their personal positions, while student Party members should set up an example for their classmates in employment and entrepreneurship, volunteering services and academic studies.
The event drew the attendance of other members of the CWU Party Committee; representatives of Party members amongst faculty and students; and awarded units as well as individuals.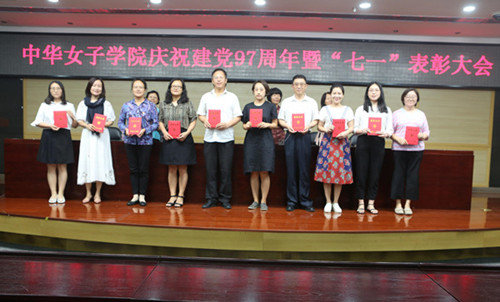 Model Party members receive their awards at the ceremony. [China Women's University]
Model Party members receive their awards at the ceremony. [China Women's University]
(Source: China Women's University/Translated and edited by Women of China)