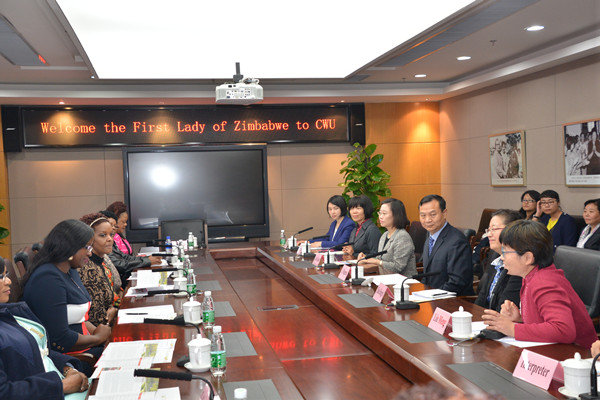 CWU leaders met Grace Mugabe and officials from Zimbabwe Women's Federation. [China Women's University]
Invited by All-China Women's Federation(ACWF), the First Lady of Zimbabwe Grace Mugabe, accompanied by officials from Zimbabwe Women's Federation, visited China Women's University (CWU) on October 21.
Li Mingshun, the Chairperson of CWU Council, met Grace Mugabe and extended warm welcome to African friends who have come here from afar. Despite the geographic distance keeping China and Zimbabwe apart, the two peoples enjoy a long history of traditional friendship. Li said that Chinese people are familiar with the President of Zimbabwe Robert Mugabe, and he also mentioned that the first lady had experience of studying in China.
Li introduced CWU's achievements in the cultivation of talents, especially in promoting social gender awareness and social gender equality. CWU has participated and achieved much in the international projects launched by UNESCO, the UN educational, scientific and cultural organization. CWU students have made a positive social impact with their outstanding performances in public social services.
CWU president Liu Liqun, vice-president Wang Jingxia attended the reception. Vice-president Liu Meng presided over the event.
The First Lady Grace Mugabe delivered an impromptu speech to CWU students. She briefly reviewed Zimbabwe's struggle for national independence from British colonial rule, and introduced Zimbabwe's achievements in promoting equal opportunities for education and social gender equality.
She shared her own experiences at school, encouraged the students to cherish the opportunity, study hard, stick to and carry forward the spirit of "never giving up" while chasing dreams. She also asked students to repay family and country with excellent learning and working performance.
Liu Liqun presided over the lectures and delivered a speech. She said that it is a great honor to listen to the first lady's speech, and Grace Mugabe has set up a model of personal career development for students. Liu believed that Grace Mugabe's speech would broaden students' horizon of globalization, and inspire their sense of mission and responsibility as citizens of the world.
Liu also affirmed Zimbabwe's achievements in the area of universal basic education after independence. She pointed out that CWU has cooperated with many women's universities in Africa, and hoped to cooperate with Zimbabwe in women's higher education development.
The first lady Grace Mugabe carried out a brief interaction with CWU students after the speech. The participants watched a chorus performance given by the CWU's Red Sail choir and highly praised it.
The First Lady of Zimbabwe Grace Mugabe delivered a speech at the meeting. [China Women's University]
CWU President Liu Liqun delivered a speech at the meeting. [China Women's University]
The participants watched a chorus performance given by the CWU's Red Sail choir.[China Women's University]
(Source: China Women's University/Translated and edited by Women of China)