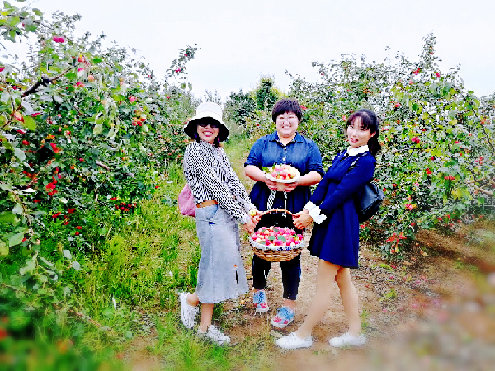 Visitors pose for a photo carrying newly picks apples in Shuangding village, Changchun's Jiutai district on Sept 6. The 5th Apple Picking Festival commenced in Jiutai on the day, and will run until Sept 30. [China Daily]
The end of summer means the best travel season is arriving.
It's back-to-school season, and we've done our homework and come up with the three reasons to travel to Changchun, Northeast China's Jilin province, this autumn.
1. The right time to pick fruits
Autumn is the season of harvest. Apples, grapes, yellow peaches, and mini watermelons; all kinds of fruit-picking festivals will roll out in Changchun this September.
From Shuangyang district's Grape Picking Month (from Aug 28 to Sept 28), to Kuangcheng district's Yellow Peach Picking Season (to commence on Sept 9), you will definitely find the one that fits you.
2. Let's go for a hike
Summer's scorching temperatures are behind you and it's time to relish in autumn's crisp, cool air.
Jingyuetan National Forest Park, located in the southeastern part of Changchun, is a perfect choice for autumn hiking. As the largest manmade forest park in Asia, Jingyuetan boasts a wetland area covering about one square kilometer with an ecological system with more than 30 varieties of trees.
Hu'an Mountain and Humatou Montain in Changchun's Jitai district are also good choices for hiking.
3. Stop and smell the flowers
The 1,100,000-square-meter sea of chrysanthemum flowers at Lianhua Mountain scenic area in Changchun is still in full bloom in autumn.
There are also two chrysanthemum-themed labyrinths in the flower sea, which is a perfect place to explore with your children.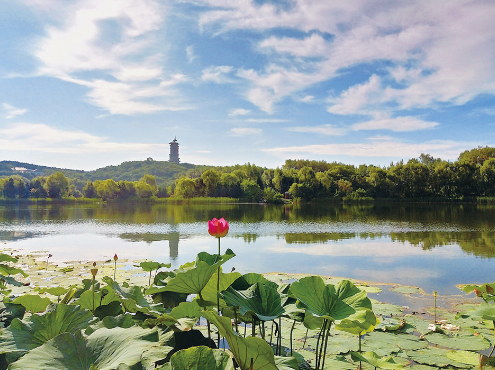 Jingyuetan National Forest Park is a perfect choice for hiking in autumn in Changchun. [China Daily]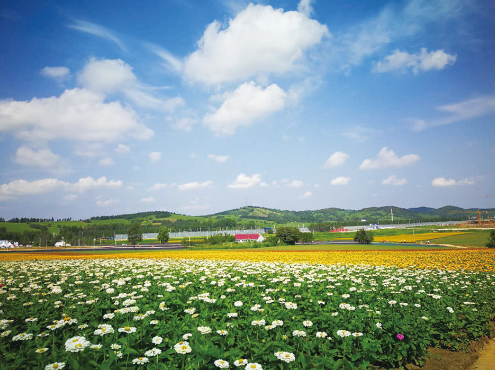 A sea of flowers in full bloom at Lianhua Mountain scenic area in Changchun. [China Daily]
(Source: China Daily)