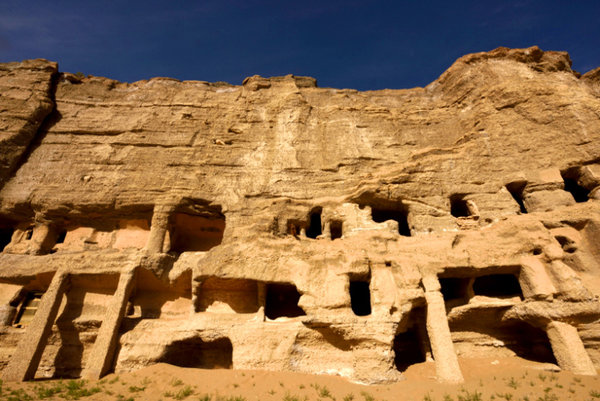 A view of the Mogao Grottoes in Dunhuang, northwest China's Gansu Province, the world largest single collection of Buddhist art [Women of China/ Zhang Ping]
The Mogao Grottoes in Dunhuang, northwest China's Gansu Province, is the world largest single collection of Buddhist art with 2,415 statues and 45,000 square meters of murals in 735 caves.
Back in 1961, the grottoes were listed as a National Key Cultural Relics Protection Unit by the country's State Council and in 1987 they were given UNESCO World Cultural Heritage status.
Many visitors have declared the richness of artworks in the grottoes as unparalleled.
The caves contain sculptures and murals created over a period of a thousand years depicting social customs, Chinese Buddhist art and history.
In particular, their thousands of images provide vibrant and precious records of the development of traditional Chinese arts such as dance, music and architecture; and the changing methods of transport, as well as trade between the East and West.
According to historical records, a Buddhist monk named Le Zun made the first cave in the cliff face in 366 AD and since then, the construction has experienced numerous ups and downs during 16 dynasties.
In the Sui Dynasty (589–618 AD) and Tang Dynasty (618-907 AD), with the prosperity of the Silk Road, the number of caves steadily increased. In particular, during the reign of Tang Empress Wu Zetian, the number of grottoes reached over 1,000.
After the fall of the Tang Dynasty, construction in the caves sharply decreased and was ceased completely in the Yuan Dynasty (1271–1368 AD).
In 1528, the Jiajing emperor of China's Ming Dynasty (1368-1644 AD), closed the nearby Jiayuguan Fortress and stopped traffic and trade along the Silk Road, leaving Dunhuang at the frontier.
In 1990, the Mogao caves were rediscovered and captured the world's attention. With the coming of Westerner explorers such as Paul Pelliot from France, and Aurel Stein from Britain, a large number of cultural relics in the cave were 'dispersed' to foreign countries, where many still currently reside.
The Nine Storey Building of the Mogao Grottoes, built for the protection of a colossal Buddha inside the cave [Women of China/ Zhang Ping]
The central altar of Cave 61 built in the Five Dynasties (907-960 AD) [Women of China/ Zhang Ping]
A wall painting of Cave 61[Women of China/ Zhang Ping]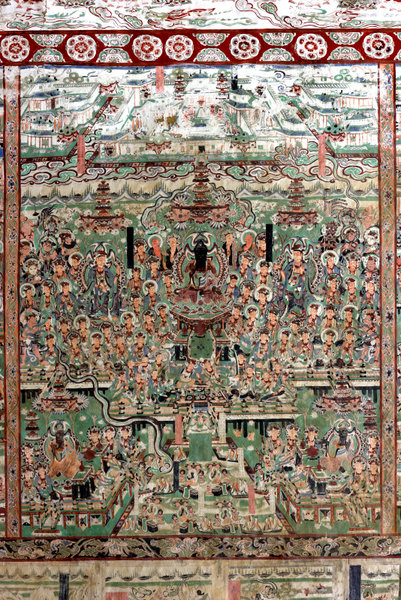 A wall painting of Cave 61[Women of China/ Zhang Ping]
A partial view of the Northern Giant Buddha in Cave 96, the second largest stone Buddha in the world built in the Early Tang Dynasty (618-705 AD) [Women of China/ Zhang Ping]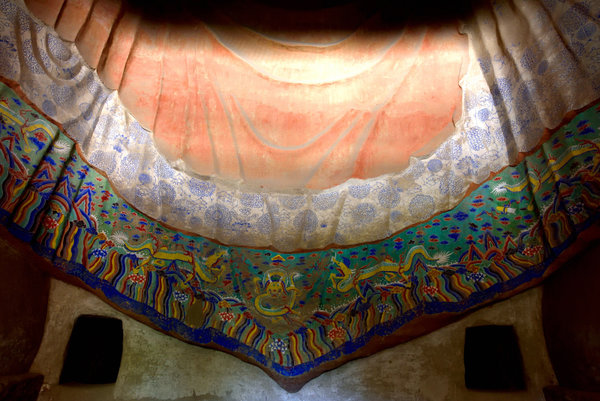 Colored paintings on Maitreya's robe in Cave 96, built in the Early Tang Dynasty (618-705 AD) [Women of China/ Zhang Ping]
A wall painting of Cave 428 [Women of China/ Zhang Ping]
An interior view of Cave 428 built in the Northern Zhou Dynasty (557-581 AD), the largest cave of the Northern Dynasties [Women of China/ Zhang Ping]
(Women of China)