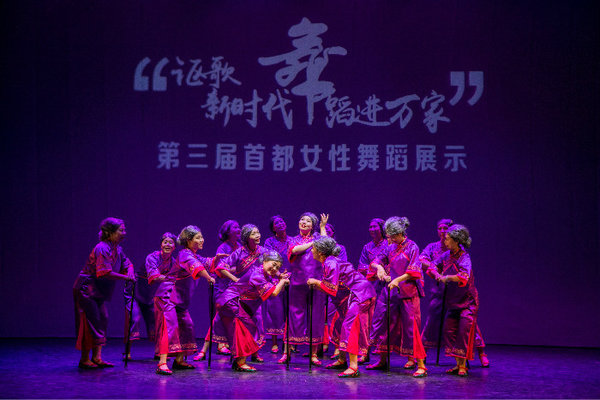 Dancers perform on stage. [Women of China]
Organizers from several women and children's social service centers around Beijing presented the third Grassroots Women's Dance Performance event at Beijing Tianqiao Performing Arts Center on October 30.
The event was held to celebrate the 40th anniversary of China's reform and opening-up.
Nineteen local dance teams took part in the gathering, promoting the achievements of the past 40 years since the implementation of reform and opening-up and presenting modern women's new look and lifestyles in the capital.
Most of the teams were selected or recommended by district-level women's federations and women and children's centers, whilst a further three were specially invited.
The first performance was Cup Poem, a poetry recital accompanied by rhythm of tapping cups, dancing and music from the guqin, a plucked, seven-stringed Chinese instrument.
These dances featured many different styles, such as folk dance, classical dance, modern dance and contemporary dance. They highlighted the theme of the times and demonstrated the gratifying changes that have taken place since the implementation of China's reform and opening-up, said organizers.
Some of the dance troupes have been established for over two decades. The dancers showed audiences their skills against the background of reform and opening-up through their graceful movements.
Professional judges from local dance communities and universities gave comments on the choreography, artistic expression and completeness of the works of each team during the event.
As the supporting organization of the performance, Beijing Women's Federation (BWF) has always attached great importance to women's spiritual and cultural needs, leading them to be advocates of civilized life and practical fitness activities.
BWF Vice President Zhao Lijun said: "Based on the fact most participants in dance activities are women at grassroots level, women and children's centers at all levels should guide the healthy development of such activities, and play an active role in promoting social harmony and stability."
Since 2016, through cultural activities, the social services centers have been playing a leading role in coordinating resources and bringing dances into communities in different districts.
Based on the professional advantages of universities such as China Women's University, the social services centers have provided services for nearly 200 grassroots dance teams that provided services some 15,000 times in total.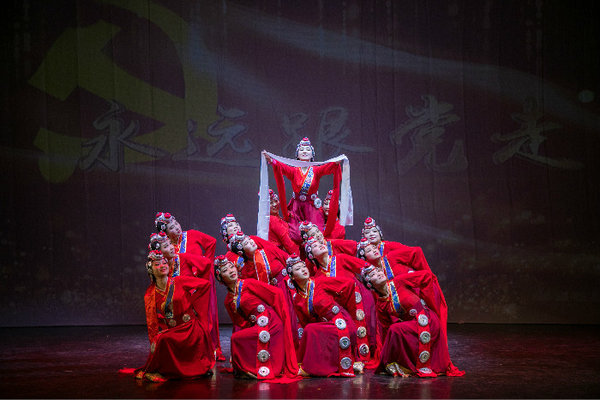 Women give a performance dressed in traditional ethnic clothing. [Women of China]
Dancers perform on stage with red silk scarves around their necks. [Women of China]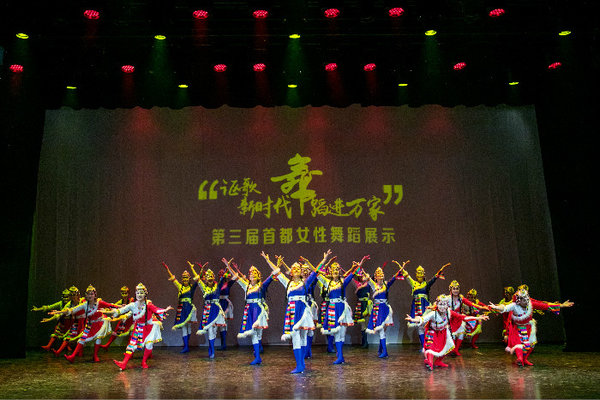 Female dancers perform on stage. [Women of China]