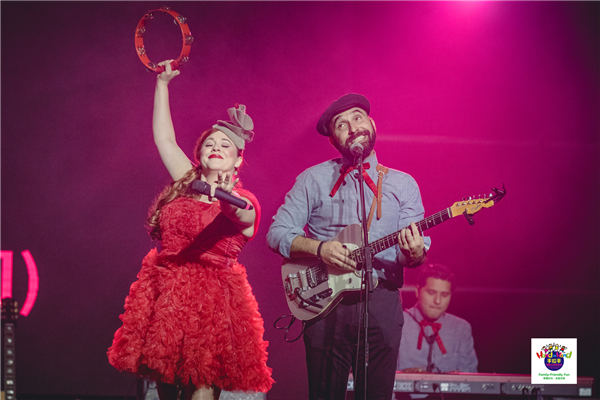 American band Lucky Diaz and the Family Jam Band performs in Shijiazhuang, North China's Hebei province, as part of a nine-city tour throughout China on June 1, 2018. [China Daily]
With great love for music and an international outlook, the enterprising new music festival Hand in Hand takes the initiative in creating a music festival experience for Chinese families.
It is China's first international music festival designed for parents and children. Chinese singer-songwriter and author Liu Jian and his American journalist wife, Rebecca Kanthor, created Hand in Hand for their children and all kids in China to hear the best live music for families from around the world and learn about different cultures through music.
The idea was to offer music-loving parents like themselves more child-friendly music events.
"We used to go to music festivals and live music shows all the time. But after we had kids, we didn't go as much, because it was too hard to take our kids where they weren't comfortable," Liu said.
Having decided to improve the situation, Liu saw the answer in a children's music CD from US. "It was so good, I was inspired to bring them to China to tour. Then we realized that there are so many great bands for kids all over the world and the idea for the festival was born," he said.
The couple launched Hand in Hand in 2017 and joined hands with Emmy-winning Lucky Diaz and the Family Jam Band from the US, as well as acclaimed rock band Hippe Gasten from Holland.
So far the musicians have traveled to Shanghai, Chongqing, Chengdu, Hangzhou, and Nantong and performed for over 20,000 people. During the 2018 tour, Hand in Hand will entertain audiences in Shanghai, Shenzhen, Chongqing, Chengdu, Shijiazhuang, Beijing, Zhoushan and Guangzhou, and in East China's Zhenjiang province.
Husband and wife duo Lucky Diaz and Alisha Gaddis, one of the two performing bands, are Latin Grammy and Emmy award winners, who also star their own PBS program, "Lishy Lou and Lucky Too", a color-filled, children's TV show.
"Our music is written for children, from a very early age, and we believe that music helps children grow," Gaddis said.
"Sharing our music with the Chinese people is a gift that we hope keeps giving. The audiences are more warm and generous than we could have ever imagined. Parents here adore their children and love dancing, singing and being joyful together! They are just fabulous!" she said.
Hippe Gasten puts on an amazingly interactive show with lots of audience participation as they show kids and adults how to be their own rock stars. Their vigorous songs embrace individuality and highlight the significance of being true to oneself.
"If you feel the power of music, it doesn't matter what country you are from, what age you are or how different you think, you can always feel and dance at our concerts. We want everybody to have fun together," keyboardist Maurice Cramer of Hippe Gasten said.
Every detail of the festival, from the sound levels and lights to the translated lyrics on the screen, is carefully designed with children in mind.
"We're getting a great response from the families who come to Hand in Hand. The kids love the music of course, and the parents have a great time too," Kanthor said. "I think that's something very new in China and our audiences are responding to that."
The music here is both recreational and educational, inviting children to have a good time while they learn positive values, such as generosity and kindness, through the lyrics.
"These are values that we as parents want to share with our kids, and music is a great way to get that message across to families, both during the show and later on when they talk about the festival together," Liu explained. "I knew that if we didn't make this festival, I'd regret it for the rest of my life. I want to change children's music in China. It's meaningful and it's worth all the effort it takes to put on this festival."
Over the next five years, Hand in Hand aims to bring the coolest bands for kids from 10 countries to 100 Chinese cities in China.
"We want kids and families all over China to hear this music and learn about the world through music," Liu said. "We hope to inspire Chinese musicians to create more inventive music for kids too and hopefully they can join our festival as well."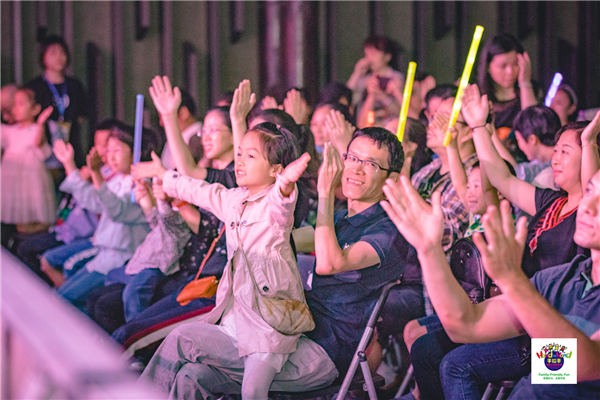 Children and parents enjoying music together at the Hand in Hand International Children's Music Festival in Chengdu, Southwest China's Sichuan province, on May 26, 2018. [China Daily]
(Source: China Daily)