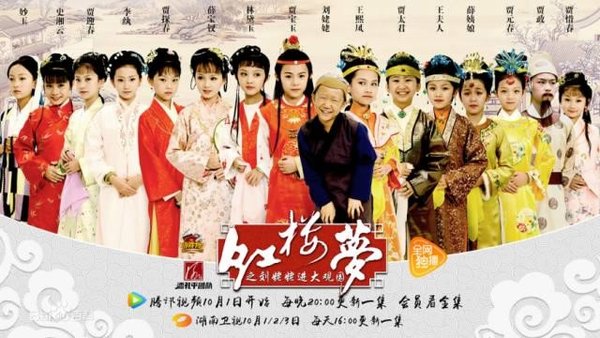 A poster for the TV drama [MengmaxiangApp on WeChat]
A group of young children received a thumbs-up from audiences recently for their vivid performances in the latest TV drama, adapted from one of China's classic books, "Dream of the Red Chamber."
Written in the 18th century, the fiction revolves about the romance and ups and downs of four big families. The text has been adapted into numerous art forms since it was published.
As the first adaptation played by a cast of all children, the new version is a tribute to the TV drama shot in 1987, which has always been regarded as "insurmountable." This adaptation has eliminated the romantic elements of the masterpiece, and mainly focuses on themes of humanity and gratitude.
Despite their young ages of 11 or 12, which actually meet the ages of the characters in the book, the actors' natural and devoted acting have fully convinced audiences that they've precisely captured the essence of the original book.
On China's leading social media platform Weibo, user @woyoudianlow commented "their acting skills are much better than some celebrities."
While user @jiakuaiguojiang said, "They are not children playing just for fun. I began to take it serious after watching it for less than half a minute. The future of China's entertainment world is on them. Come on children, don't give up in acting!"
Director Pan Liping hopes his work helps children learn about Chinese traditional culture. "We want to film global classics into TV series that appeal to children, as enlightenment for them to read the books. Children's acting is a bridge to be immersed in Chinese culture," Pan said.
In addition to the elaborate music and costumes, etiquette teachers are invited to coach actors' behaviors to make it realistic to the book. The leading actor in the 1987 version Ouyang Fengqiang also gave guidance to the children, who later wrote on his Weibo post, "The little veteran actors are really awesome!"
In terms of "veteran", those children live up to the claim, as they have shown their talents in a number of TV dramas based on Chinese classics in the past couple of years, including Legend of the White Snake, and Mulan.
(Source: CGTN)