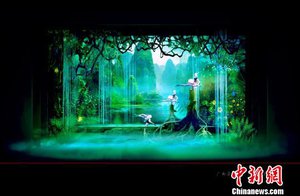 A stage shot of the first Zhuang ethnic magic and acrobatic show, entitled "A Hundred-Bird Dress" [chinanews.com/Lin Yanhua]
The first magic and acrobatic show performed by and themed on the Zhuang people — China's second most populous ethnic group — entitled "A Hundred-Bird Dress," is destined to be staged from December 26–30, 2014 in Nanning, capital of south China's Guangxi Zhuang Autonomous Region.
"After its first five 'local' performances in Nanning, the show will kick off its performance tour along the China–Vietnam boarder, followed by performances in Southeast Asia, Europe and the United States," said Chen Jiaming, vice general manager of the Guangxi Art Performance Group at the show's press conference, held in Nanning on December 16.
"As acrobatics is an art form that has no language barrier, we've seen this as a wonderful opportunity to use the acrobatic show as a vehicle for telling the Zhuang people's folk story and to promote Guangxi's culture to the world," said Huang Yunlong, director of the Literature and Art Office of the Guangxi Zhuang Autonomous Regional Publicity Department.
Based on a classic Zhuang folk tale, the show tells the tale of a fairy sunbird who transforms herself into a young Zhuang woman to call in a hundred birds to weave a dress for a Zhuang man and help him complete a magnificent Huashan rock painting. Although her actions help to fulfill the dream of the Zhuang people, the story unfolds with her eventually sacrificing her own life.
While singing praises for the ethos of bravery, tenaciousness and selflessness and team spirit, the show presents the Zhuang people's resolute passion for preserving their ethnic culture and expresses their beliefs and enthusiasm for building a happy life.
"The show takes advantage of breathtaking acrobatics, dramatic conflicts, a dream-like stage, thrilling music, and ornate finery to create an inspiring and fascinating story for the audience, one that is as much a treat for the eyes as it is for the ears," said scriptwriter Chang Jianjun, who also serves as director of the Guangxi Art Center.
(Source: chinanews.com/Translated and edited by Women of China)