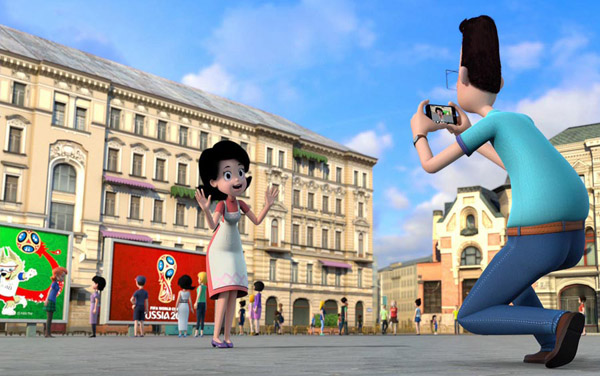 Many animated films produced by Chinese companies, including Crystal Sky of Yesterday, Monkey King Reloaded and New Happy Dad and Son 3: Adventure in Russia, hit the big screen during the July-August vacation. [China Daily]
Many of the new titles for the July-August vacation are animated films, with the majority being produced by Chinese studios.
No other season seems more lucrative than summer when it comes to attracting student audiences to cinemas. Latest statistics from the China Film Distribution and Screening Association show that 14, or 22 percent, of the 63 new titles for the July-August vacation, are animated films, with a majority of them produced by Chinese companies.
The 80-minute movie, New Happy Dad and Son 3: Adventure in Russia, based on Big-head Son and Smallhead Dad, a 156-episode, popular TV cartoon series which debuted on China Central Television in 1995, was the first animated film to be released in July, and the third sequel in the film franchise, which first hit theaters in 2014.
The film, which has a voice cast of Ju Ping, Liu Chunyan and Dong Hao, all household television presenters of children programs, has grossed more than 88 million yuan ($13.2 million) since it was released on July 6.
Ancient Chinese culture is also a hot subject when it comes to animated films with Monkey King Reloaded, loosely based on the 16th-century novel Journey to the West.
The film features the iconic roles from the book but the movie places them in a modern setting.
In the movie, which will open across the country on July 14, Sunny, a naughty yet brave golden monkey from a zoo in Sichuan province, goes to New York to rescue his breeder who is kidnapped by a bull monster.
With the help of Bajie, a pig martial arts master, and an American police officer, the trio defeat their enemies.
There are two versions of the film - in Mandarin and English - penned by American scriptwriter Aaron Mendelsohn and featuring Hong Kong superstar Leo Lai as one of the executive producers.
In recent years, China's film industry has seen more diverse themes, and the trend is also reflected in domestic animated films, a genre which has yet struggled to win a wider viewership.
Reflecting the diverse themes is Crystal Sky of Yesterday, the country's first coming-of-age animated movie about high school friends in a town in southern China in 1998.
The movie, seen as a Chinese version of Japanese director Makoto Shinkai's 2016 hit Your Name, will be released on July 27.
Meanwhile, another film with a similar theme is Flavors of Youth, where Chinese and Japanese animators produce three short stories, respectively, set in Beijing, Shanghai and Guangzhou. The movie will be simultaneously released in China and Japan on Aug 4.
Some animated imports will also be released on the Chinese mainland in the summer vacation, such as Sherlock Gnomes and Maya the Bee Movie.
For some, this summer is proof that the market is becoming more diverse, while others still say that Chinese animators still have room to improve.
As Cao Xiaohui, the vice-president of the animation division at the Beijing Film Academy, says: "There is a misunderstanding in China that animated productions are tailored for children."
Hits such as Monkey King: Hero Is Back and Big Fish & Begonia have changed the old ideas.
"Animation is a time-consuming job. Monkey King took eight years and Big Fish 12 years to make. Most domestic animated films take two years or less. Chinese animators need to slow down to polish their work," says Cao.
Besides, he says that local artists should also explore serious themes, such as sci-fi tales for adults, instead of just making content for children.
Yang Shuo, a veteran film producer, says poor storytelling remains one of the biggest problems for Chinese animators.
"An emotional story related to adults will gain word-of-mouth praise online. It is a sure way to create a blockbuster. But it seems none of this year's animated movies have such potential," he says.
A scene from Big-head Son and Smallhead Dad [China Daily]
(Source: China Daily)