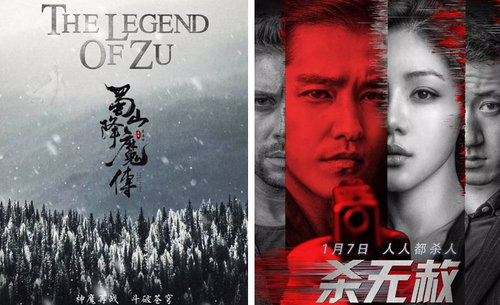 Posters for online films The Legend of Zu (left), and Chosen (right). [Photo/CGTN]
The online film, as the name implies, are movies distributed on the Internet platform. From 2014 to 2018, China's online film industry experienced more than four years of rapid growth. Several online films and dramas have been successfully distributed overseas including "The Legend of Zu," "Chosen," "Day and Night."
According to Entgroup's research, the mainstream video website in China launched 450 Internet movies in 2014, climaxing at 2500 in 2016, and implements the year-on-year increase of 263 percent In 2017.
The number fell by 20 percent after 2017. China's online film industry has entered a more competitive and content-driven stage of development, compared with the traditional movie industry. Is there any space to grow in the online film market? How Chinese film find the new prospect on the smaller screen?
A Healthy Content Circulation
"There are currently more than 800 films produced in China a year, but only 474 have made it to theaters, and attendance is only 14.2 percent," said Li Jie, the senior vice president of Alibaba pictures.
And this phenomenon is mostly because the current form of entertainment shows a trend of diversification. Internet, games and other modern entertainment has diverted the audiences' time of traditional offline cinema.
"From 2014 until now, China's online film hold encouraging achievement, although it is insignificant that compared with the film's development," said Yang Xianghu, senior vice president of iQIYI at the iQIYI online film summit forum.
Over the last four years, Chinese online films with a variety of genres and themes, of which there were many works with the excellent reputation. But at the same time, some contents that do not accord with the regulation also appeared, including vulgar, violent, gory and other harmful content.
How Should the Online Platform Control the Content?
"This requires all participants in the online film industry to return to the original intention, keep the positive enthusiasm to the film, and create the valuable content which is the best interpretation of the high-quality online film," Yang added.
Improve the Overall Content Quality
With the development of the Chinese film market, online films have grown into a significant force in Chinese film market and becoming the cradle of young film talents in China.
"We will improve the service level of our partners and provide a more equitable competitive environment," said Ge Xufeng, deputy general manager of iQIYI member department.
Also, for the young talent training, some online platform launched the plan to support youth director, and help outstanding young filmmakers to integrate the resource into work.
(Source: China Daily)