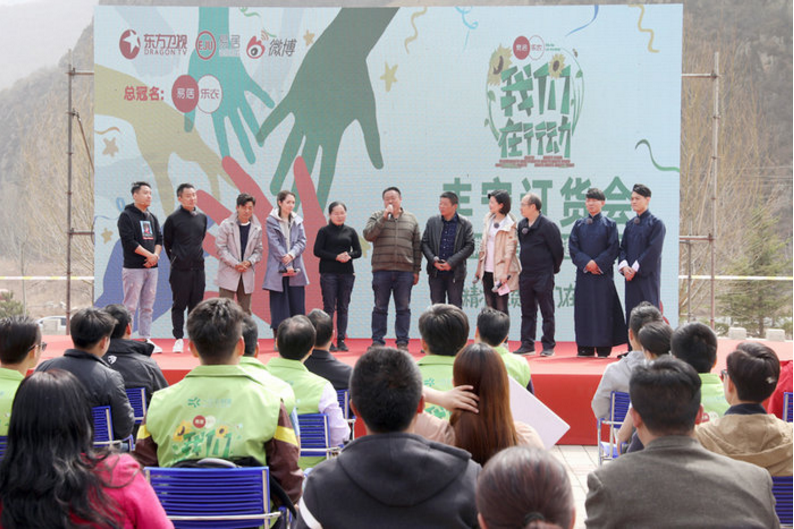 Distinguished guests at the event [Xinhua]
A public interest documentary We Are in Action was recently broadcast to open up the industrial chain for villagers and publicize effective strategies by celebrities and entrepreneurs to realize poverty alleviation.
On May 2, We Are in Action was aired as scheduled. After a thorough exploration of a Manchu village in north China's Hebei Province in the previous episode, the philanthropic ambassadors decided to introduce a cooperative to propel villagers to participate in the breeding of black pigs. The proposal was widely accepted by the villagers.
The ambassadors in this episode not only tried to improve the sales of black pork through the local Manchu-featured homestay hotels, but also obtained orders worth millions. They successfully earned the trust of villagers to establish village cooperatives, and were complimented by the public because of their spirit throughout countless attempts at poverty alleviation.
The China Poverty Alleviation Promotion Volunteer Service was also inspired by their actions and spirit and gave their support. Vice-President Wang Jiahua announced on-site that they would provide a three-year, zero-interest loan of 50,000 yuan for each household on the record to help alleviate poverty.
In the process of helping disadvantaged communities in Shiqidaogou Village, the ambassadors not only made great efforts to explore the local industrial chain, but also learned that young and middle-aged people were all forced to leave the village to seek jobs, whilst their children and the elderly were left behind.
"We are here to help build a prosperous village like a cornucopia, so that all these migrant workers can come back to start businesses here, and families reunite," said Zhang Yuhao, a comedian.
This program not only contributed to the local poverty alleviation cause, but also accelerated the process of villagers returning so that they can live and work in their hometown, and create a better life by their own hands, while being able to share this happiness with family members.
(Source: Xinhua/Translated and edited by Women of China)