Dressing as A Statement
Celebrity Hong Jun wears a swimsuit [baike.baidu.com]
In 1930, Hong Jun, the daughter of the Minister of the Interior Zhu Guishen, holidayed at Beidaihe in Hebei Province dressed in Western-style swimwear. It was a bold move that triggered much controversy. Although the one-piece swimsuit would have been considered conservative in today's culture, in the eyes of the traditionalists, it equaled to nudity.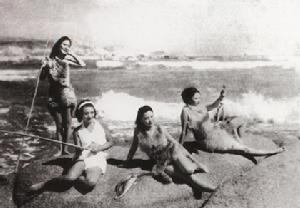 The stage set of 1937 film Return to Nature with leading actresses dressed in swimsuits. [baike.baidu.com]



Undeterred, the young women of the day who received Western education were constantly one step ahead, challenging the feudal ethics code. At public swimming pools and on beaches, modern women donned daring swimsuits in defiance of traditional norms.

In the 1937 film Return to Nature, actresses Li Lili [*note], Bai Lu [*note], Gong Zhihua, and Xu Jian star as a group of women who are stranded on a barren island because of a yacht accident. The film did a good deal towards making swimsuits acceptable to the public as the four stars showed off their beautiful figures wearing swimsuits during many of the scenes.

Thus it was that film stars and celebrities once again led the fashion pack. Singer and actress Hu Die, movie star Baiyang and other celebrities were spotted relaxing in the sunshine wearing swimsuits. Bai Yang even wore the more revealing two-piece suit, the precursor of the modern-day bikini. It was clear that for these women, it was not just a matter of showing off their figures. They were making a statement.

Aside from celebrities, other prominent women also advocated the emancipation of women's bodies.

Yang Xiuqiong, a swimmer who became famous after risking her life to send a flag of encouragement to the 800 soldiers guarding the Sihang Warehouse during the Anti-Japanese War (1937-1945), was also a pioneer of the Western-style swimsuit. In 1935, Zhonghua Magazine published a photo of her wearing a stylish two-piece.

A 1946 Movie Pictorial Magazine issue also published a bra advertisement depicting a woman modeling the undergarment. By the 1940s, bras were widely accepted by the women of the upper class and those working in fashion.

In the women's magazine Linglong, an article introducing the bra called attention to the fact that it enhanced and emphasized women's breasts, mentioning it as a selling point. Clearly, people's concepts about the function of women's underwear were changing rapidly.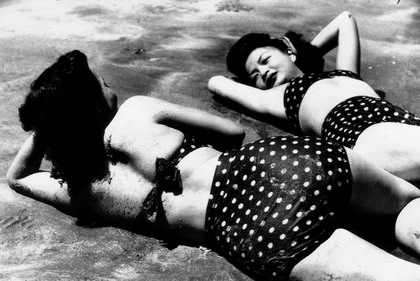 Chinese women wear Hollywood-style swimwear. [history.stnn.cc]
From breast binding to two-piece swimsuits, the women of China have seen a great evolution in the way that society and they themselves perceive feminine beauty. No longer feeling the need to hide the natural curves of their own bodies, Chinese women have made great strides in other arenas of their lives, free from the terrible constraints of breast binding.

Note:

Hu Shi (17 December, 1891 — 24 February, 1962) was a Chinese philosopher, essayist and diplomat. Hu is widely recognized today as a key contributor to Chinese liberalism and language reform in his advocacy for the use of written vernacular Chinese. He was influential in the May Fourth Movement, one of the leaders of China's New Culture Movement, was a president of Peking University, and in 1939 was nominated for a Nobel Prize in literature. He had a wide range of interests such as literature, history, textual criticism, and pedagogy.

Mao Dun (July 4, 1896–March 27, 1981) was a 20th century Chinese novelist, cultural critic, and journalist. He was also the Chinese Minister of Culture from 1949 to 1965. He is currently renowned as one of the best realist novelists in the history of modern China. His most famous works are Midnight, a grand novel depicting life in cosmopolitan Shanghai, and Spring Silkworms. He also wrote many short stories.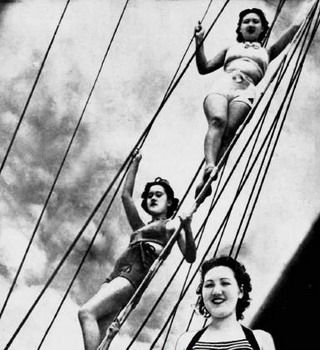 Chinese women wear Hollywood-style swimwear. [history.stnn.cc]



Ruan Lingyu (April 26, 1910 – March 8, 1935) was a Chinese silent filmactress. One of the most prominent Chinese film stars of the 1930s, her death at the age of 24 led her to become an icon of Chinese cinema.

Li Lili (1915-2005) was a Chinese film actress. Her films Little Toys, The Highway and Storm on the Border were blockbusters of the 1930s and 1940s.

Bai Lu (1916—September 1, 1947) was a Chinese film actress who starred in the movies Bye, Shanghai and Sports Queen. She was married to fellow actor Zheng Junli.

Hu Die (1907 - April 23, 1989), also known as Butterfly Hu, was a Chinese actress. She was born in Shanghai and her acting career started at the end of the 1920s. Having successfully maintained her star status in the transition from silent movies to talking pictures, she was at the top of her profession in the 1930s and 1940s and retired in 1967. Hu starred in China's first talking picture, Songstress Red Peony in 1931. Hu's most acclaimed role is in the 1933 film Twin Sisters, in which she portrays twins separated at birth, reared in entirely different environments and consequently with completely different characters. It is regarded as her best film.

Bai Yang (April. 221920 – September 18, 1994) rose to fame in the 1936 movie Crossroads, one of the few movies at the time that made explicit references to the Japanese occupation. Her finest role is generally regarded as that of Xiang Lin Sao in the 1956 film adaptation of Lu Xun's short story New Year Sacrifice. Her later roles, in such films as For the Sake of Peace, Jin Yuji and Dongmei epitomize the grace, strength and refinement of Eastern women.

(Source: baike.baidu.com/Translated and edited by womenofchina.cn)