The Advent of the Bra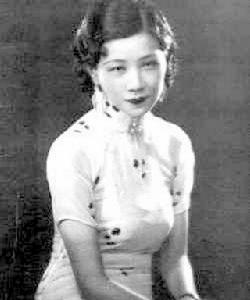 Actress Ruan Lingyu was one of the first Chinese women to wear a bra. [baike.baidu.com]
Around the same time, the iconic traditional Chinese cheongsam became very popular. The key to wearing this style well was to have curves. Accordingly, some women sought to augment their figures by stuffing cotton down their chests or even making fake padding by cutting a rubber ball in half. However, none of these offered a permanent and aesthetically pleasing solution.

In the late 1920s, the bra was introduced to China from overseas. Caresse Crosby, an American poet, publisher, peace activist and patron of the arts, had invented the first modern brassiere with two handkerchiefs and a narrow ribbon in 1914. Its initial function was to provide support for women dancers.

For Chinese women, it was a struggle to accept it at first. Although they needed the support, many Chinese women could not get used to it after generations of using the traditional bellyband and breast binding.

Movie actresses again became the pioneers of this fashion revolution. Their example led many women to accept the Western-style undergarment and it soon became popular.

Ruan Lingyu [*note], one of the most prominent Chinese film stars of the 1930s, was also one of the earliest Chinese women to wear a bra. Chinese people fell in love with the image of her wearing her cheongsam, made all the more alluring by the curve-shaping bra she wore underneath.

Since then, not only have bras becomes the norm, but China has also come up with many improved designs of the undergarment as well.
Please understand that womenofchina.cn,a non-profit, information-communication website, cannot reach every writer before using articles and images. For copyright issues, please contact us by emailing: website@womenofchina.cn. The articles published and opinions expressed on this website represent the opinions of writers and are not necessarily shared by womenofchina.cn.