Loose silk robes with broad sleeves and belts at the waist, drinking tea and appreciating Chinese poetry are no longer scenes relegated to the movies or paintings. The Han Costume Group of Wuhan, the capital city of Central China's Hubei Province, is appealing for the revival of Chinese traditional culture, by showing their passion and love for the traditions of a bygone era.

Coming together to celebrate "Hua Zhao Jie", China's traditional flower festival. Falling on February 12th of the Lunar calendar, that's March 4th on this year's Solar calendar, people in ancient times used to go out into nature among the lush flowers and beautiful trees to worship the flower goddess for good luck.

Ye Mao, founder of the Han Costume Group of Wuhan, is demonstrating the traditional gestures of worship to his companions.

The Han Costume Group is made up of young people aged from 18 to 30.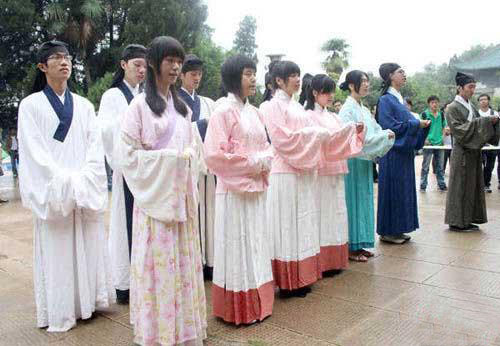 Students in Han costume [cntv.cn/file photo]
They are mainly made up of students, teachers and white collar workers. They all got to know each other through the internet. Now, they get together for every traditional festival wearing their eye-catching traditional Han costumes.

Rao Qian, Han Costume Group of Wuhan, said, "Han costumes have no buttons, but rather are tied, with loose and wide sleeves, making your body look graceful and elegant. It is fantastic and helped us get to know the profound culture that is connected with it."

Confucianism and literature, poetry and verse, ode and song, martial arts and fencing, tea and medicinal wine, calligraphy and painting, ritual music and dance. According to Ye Mao, they all have countless connections to the old Han costumes.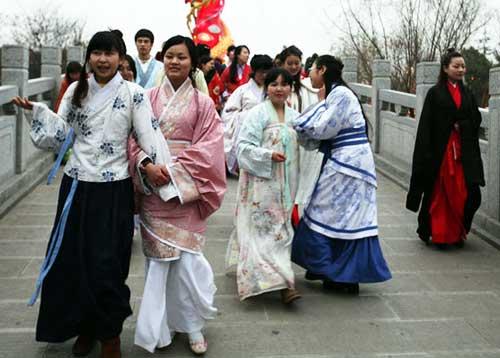 Students in Han costume [cntv.cn/file photo]
Ye Mao, founder of Wuhan Han Costume Group, said, "Han costume should be the symbol of a splendid culture and national spirit: it is more than just clothing."

As well as being a founding member of the "Han Costume Group", Mr. Ye is also a teacher of English at the Huazhong Agriculture University. Setting himself apart from other teachers, he wears traditional Han clothing in his class while introducing cultural differences between Western countries and China. There are over 15,000 students who have attended his "special" English classes since 2004, when he wore Han clothing in class for the first time.

A student said, "I like this way of learning English. By learning a language we should know more about the culture. The vivid comparison impressed us a lot."

Ye Mao says its his hope that the Han Costume Group can raise people's awareness of traditional Chinese etiquette and culture
(Source:cntv.cn)
Please understand that womenofchina.cn,a non-profit, information-communication website, cannot reach every writer before using articles and images. For copyright issues, please contact us by emailing: website@womenofchina.cn. The articles published and opinions expressed on this website represent the opinions of writers and are not necessarily shared by womenofchina.cn.