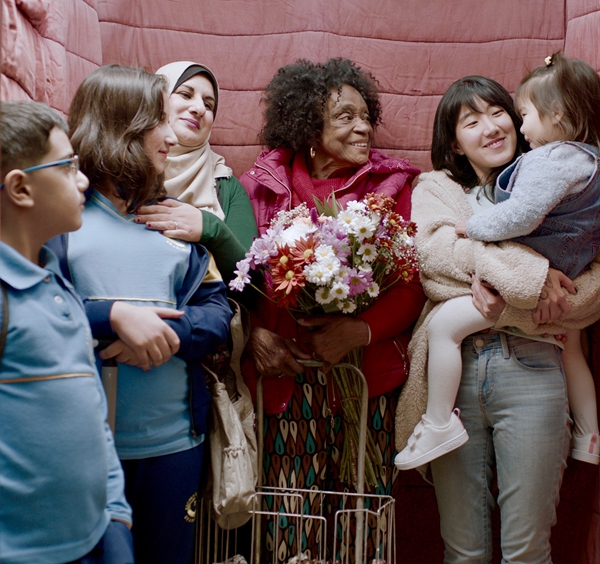 The image features the 90-year-old protagonist (C) of the Brazilian story, Olga's Family, from the BRICS coproduction Neighbors. [For China Daily]
The third movie in the BRICS coproduction project launched by Chinese director Jia Zhangke, which features five stories and locations, recently premiered at the third Pingyao International Film Festival.
For most people, soccer might be the first thing that springs to mind when you talk about Brazil. But, it's a lesser-known fact that the country credited for the Oscar-nominated movies Central Station and City of God has shaped a unique cinematic landscape over the decades.
For moviegoers interested in taking a peek into modern Brazilian cinema, Neighbors, the latest attempt to team up rising talent from across the five BRICS countries, might be a good option.
The film is the third installment of a coproduction project launched by director Jia Zhangke — one of China's most recognized art house filmmakers internationally — in 2017.
The movie's global premiere took place in late October at the third Pingyao International Film Festival in China, before being screened a few days later at the 2019 Sao Paulo International Film Festival. It has now been set for general release across China in the first half of next year, according to its producers.
Centering on the titular subject, the anthology feature-consisting of five stand-alone stories each produced by a different director-explores human relationships in each of their nations.
A rising star in local cinema circles, Brazilian director Beatriz Seigner says she was invited to join the project when she was celebrating her birthday earlier this year.
Deeming the film a special "gift," Seigner joined hands with her directorial counterparts-Han Yan from China, Alexander Zolotukhin from Russia, Rima Das from India, and Jenna Bass from South Africa-to co-helm the 106-minute work.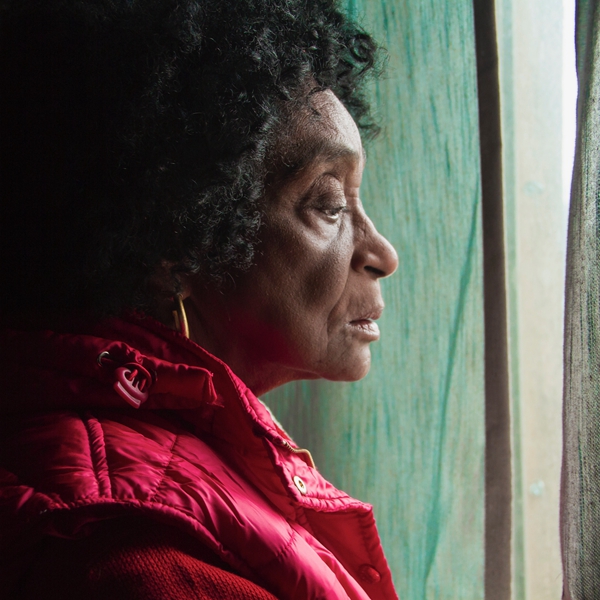 The image features the 90-year-old protagonist of the Brazilian story, Olga's Family, from the BRICS coproduction Neighbors. [For China Daily]
Titled Olga's Family, Seigner's tale turns the lens on a 90-year-old woman who lives alone in an apartment. A year after the death of her husband, as she waits for the arrival of her granddaughter to take her to his tomb, a string of unexpected visits from neighbors helps to ease her sorrows and brings her warmth.
"For me, a community is formed by people that are willing to share risks, and neighbors can either be a blessing or a nightmare depending on how they help each other in their daily lives. But they can also help us survive even the most difficult of times," explains Seigner.
With this concept in mind, the director says she quickly began to develop the script, which also delves into Sao Paul's diverse immigrant cultures.
Jia says the concept of neighbors was chosen for its symbolism and openness, since the people of the five different countries "all share similar emotions and are seeking to determine their fate."
"From the very beginning, we decided the project should be an in-depth collaboration that allowed the artists from the five different countries to use their own cinematic language to discuss a subject that they were all interested in," Jia adds.
He says that in our globalized world, developing countries need their voices to be better heard and non-Western films tend to draw wider audiences thanks to the diversity of their cultures.
Among the other four short films, Chinese director Han's story centers around an old-school barber's insistence on running his shop in the traditional way, leading to tensions with his son.
Based on Anton Chekhov's 19th century short story Death of a Government Clerk, the Russian segment revolves around a petty employee who inadvertently sneezes on the head of his boss at a concert. Although his boss quickly forgets about it, the suspicious protagonist tries to apologize over and over again, making the situation increasingly worse.
The short film from India explores human relationships in a small village through a story about a dessert shop owner, while the South African tale focuses on a group of homeless people trying to secure a place to live.
While the first and second BRICS coproduction installments — Where Has Time Gone? and Half the Sky — were both also anthologies made up of five shorts, the fourth work will be a complete feature depicting a couple of leading figures setting foot in the five countries, Jia says.
"Each director will be responsible for the section that takes place in their own country, and the story will be written by scriptwriters from each of the five countries," adds Jia.
(Source: China Daily)