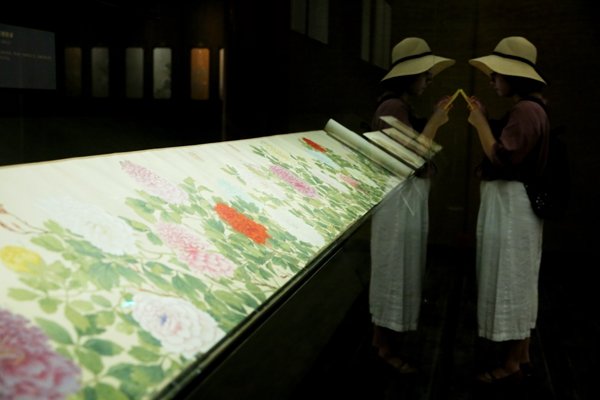 More than 300 cultural relics are highlighted to reflect traditional Chinese aesthetics on blossoms and plants at
Seasons of Beauty: A Special Exhibition of Floral Themed Artifacts
, an ongoing exhibition at the Palace Museum in Beijing. [For China Daily/Jiang Dong]
Exhibition shows how artists depicted plants and flowers to highlight emotions.
Blooming blossoms, luxuriant bamboos and varieties of wood throughout the past millennium have set a festive atmosphere in the Palace Museum in Beijing, China's imperial palace from 1420 to 1911. It is also known as the Forbidden City and the display is celebrating the 70th anniversary of the founding of New China.
These are auspicious patterns displayed on paper, silk and various materials, highlighting both the delicacy and craftsmanship of the artists.
More than 300 cultural relics-most are paintings ranging from the Song (960-1279) to Qing (1644-1911) dynasties-have been selected from the former royal collection for Seasons of Beauty: A Special Exhibition of Floral Themed Artifacts. They reveal a wealth of culture and the approach of Chinese aesthetics.
A set of ceramic cups with decorative patterns reflecting 12 varieties of flowers from the reign of Kangxi (1662-1722) in the Qing period. [For China Daily/Jiang Dong]
According to Wang Xudong, director of the Palace Museum, it is the first comprehensive exhibition of cultural relics on this theme not only in the institution but also nationwide.
"With the in-depth research involved in our collection, we'd like to present a panorama of ancient Chinese people's understanding of the cultural significance of plants," he explains.
The exhibition in the Meridian Gate Galleries in the museum will run through October.
The exhibition hall displays a variety of styles. From sketches by court painters, who used exquisite and realistic approaches to unroll the marvel of nature, to highly expressive ink-water paintings by established gurus revealing their subtle emotions, different artistic schools blossom under the hall's roof.
"In ancient China, floral-themed paintings developed in two ways," Wang Zhongxu, a researcher at the Palace Museum and curator of the exhibition, says.
"On one hand, professional painters working for imperial courts preferred realistic styles, which are extraordinarily demanding on details.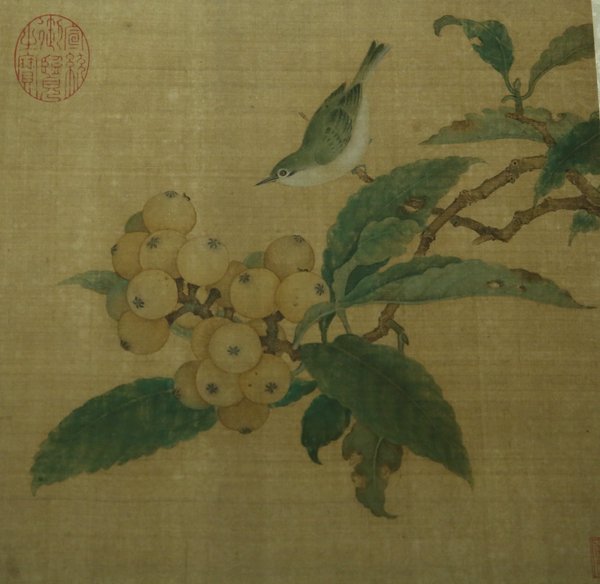 Floral-themed artifacts displayed at the Palace Museum in Beijing — a Song Dynasty (960-1279) painting on loquats and a bird.[For China Daily/Jiang Dong]
"On the other hand, among the literati, an elegant touch was favored. This situation thus created a plethora of works which entirely used black ink with different levels of darkness," the researcher explains.
Ancient Chinese paintings are often said to lack the capacity to display reality usually portrayed in Western art of the same time. But this display shows how realistic Chinese art actually was.
Sometimes, even the smallest detail, like an ant crawling on a piece of fruit, is highlighted.
"The colors in these paintings are usually very bright to show the emperors' tastes, which are often connected with power and wealth," Wang Zhongxu says.
In Baihua Tu (One hundred flowers), more than 60 kinds of flowers, including plum blossom, camellia and peony, are shown on a 16-meter-long scroll to portray scenes from the four seasons. And in Jiadie Tu (Butterflies), probably one of the best-known exhibits on display, a quick glance of the work seems insufficient to tell whether the creatures are real or not.
A long list of iconic names in Chinese fine art history-Ma Yuan, Ma Lin, Zhu Shaozong and more-have works shown in this exhibition.
A Qing Dynasty (1644-1911) glass screen. [For China Daily/Jiang Dong]
As one of the most typical representatives of imperial court painting, the works of Zhao Ji, an emperor of the Song Dynasty, who was considered a weak ruler but had an undoubted and widely recognized artistic flair, are also on display.
His observation on flowers shows a keen eye, and a sketch of a bird perching on a stick of plum blossom is both delicate and enchanting.
"In the Ming (1368-1644) and Qing (1644-1911) dynasties, adoration of floral-themed fine art began to spread from nobles and the literati to the general public in China," Wang Zhongxu says. "That also largely decides our taste today.
"Compared with still life in the West, plants in Chinese paintings are given much stronger cultural significance and seem to have a personality," he says.
For instance, in Chinese culture, plum blossom represents strong spirits, and bamboo is considered a symbol of gentlemanly elegance.
Consequently, a particular section at the exhibition reflects the relationship between humans and plants. Plants are also depicted to echo the portrayed people's emotions.
A lacquer vase decorated with blossom patterns. [For China Daily/Jiang Dong]
"Flowers are widely connected with women's beauty, religion, prosperity, longevity, success in exams, and many other perspectives," the curator explains. "Talking about them, we're talking about people's life."
The displayed paintings are joined by porcelain, jade, lacquer ware, enamels and other decorative arts, which have been inspired by plants throughout history.
From a ceramic plate used by a royal family of the Ming Dynasty to a Qing Dynasty empress' headwear, admiration for plant patterns are ubiquitous, and this remains part of our present culture, Wang Zhongxu says.
"Cultural relics are not just antiques being immersed in ancient styles," Liu Yuzhu, director of the National Cultural Heritage Administration, says after he visited the exhibition.
"They can only be reborn in modern society when people today have emotional resonance with them. Such an exhibition is just an interaction between history and our time," Liu says.
(Source: China Daily)