A House with 72 Tenants, a huajixi production Shanghai artist Wang Rugang has performed in. [For China Daily]
The once popular humorous art form of huajixi has been given a modern makeover by the Shanghai Dujiaoxi Heritage Center, Zhang Kun reports.
From garbage sorting to elderly people obsessed with fake health products, the Shanghai Dujiaoxi Heritage Center has been pushing the boundaries of creativity with Chinese theater by creating new plays that revolve around contemporary topics.
One of these plays, Temptation on the Tip of Tongue, is about a fraudulent company that tricks elderly people into buying wine that is touted as a health miracle. The play will be presented during the Chinese Opera Festival at the Shanghai Oriental Art Center on March 30 and 31.
Supported by the China National Arts Fund, the play is the first production of the Shanghai Dujiaoxi Heritage Center, which was the result of a merger between the former Shanghai People's Huajiju Company and Shanghai Youth Huajiju Troupe. The new company, known as the Shanghai Dujiaoxi Heritage Center (Shanghai People's Huajiju Company), officially opened in August 2018.
Wang Rugang, the head of the center, will play one of the victims, a woman named Wang Cuihua. The 66-year-old was once hailed by critics as having "mastered the portrayal of elderly women" in stage productions. Wang Liping, a Shanghaibased playwright, even called him "Shanghai's No. 1 grandma."
Wang Rugang recalled that he was enthusiastic about acting as a child and his talent was later recognized by master artists in the field of huajixi, or farce. However, his parents did not like the idea of their only son becoming a comedian. He explains that the performance genre used to be considered "rough and uncultured entertainment."
"My father used to be an architect, and all my cousins were professionals like engineers and medical experts. He didn't consider huajixi a decent career," Wang Rugang recalls.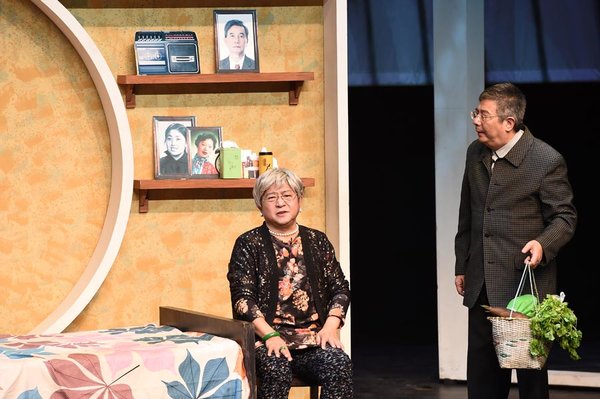 Shanghai Dujiaoxi Heritage Center's production that premiered last year, Temptation on the Tip of Tongue [For China Daily]
It was only after two celebrity huajixi artists, Yang Huasheng and Xiao Xixi, personally pleaded with Wang's father, that he was finally allowed to pursue his dream.
"I started my acting career with leading roles, and over the decades, I have won many honors and national awards for huajixi. Now, I am ready to be the 'green leaves' that bring out the beauty of the young 'red flowers,'" he says.
According to Wang Rugang, huajixi had evolved from dujiaoxi, a simpler, more casual form of crosstalk show, in the early 1900s. He is also the official inheritor of dujiaoxi, an art form that was recognized as an intangible cultural heritage by the government in 2009. Both are considered colloquial forms of live entertainment and an organic part of Shanghai folk culture.
Dujiaoxi is similar in nature to xiangsheng, cross-talk shows that are popular in Beijing, Tianjin and wider parts of northern China. The key difference is that huajixi and dujiaoxi are only performed in the Shanghai dialect, meaning that only some of those living in the Yangtze River Delta Region can understand the language. This also explains why these genres are largely unknown outside of this region.
Traditional Chinese theater art consists of hundreds of regional folk operas, the most famous of which is Peking Opera. While the singing, music and performing styles differ across opera types, they also share similarities such as minimalistic stage setting and a focus on live singing and live music that is dominated by percussion instruments. In the 1840s, drama productions in China that had no singing, realistic stage settings and lots of dialogue were named wenmingxi (civilized theater).
Dujiaoxi then came about in the early 1900s, borrowing from the methods of wenmingxi while reserving its colloquial comedy element, says Wang Yueyang, the son of Wang Rugang, a Shanghai-based theater critic.
La Lang Pei, or Forced Marriage [For China Daily]
Since the beginning, the jokes and materials used in dujiaoxi and huajixi have always been closely related to the daily lives of ordinary people. One of the best-known repertoires in huajixi was A House with 72 Tenants by the Shanghai People's Huajixi Company in 1958. The production revolves around the relationships of the various tenants of a crowded apartment building, including a boy who repairs shoes for a living, a washerwoman, a tailor and a traditional Chinese medicine doctor.
"The play encapsulates the aesthetics and principles of huajixi. It depicts the grassroots community of Shanghai, which is an open city that welcomes people from all parts of the country," says Wang Yueyang.
For decades, huajixi was so popular in Shanghai that there was even a saying in the early 1980s that goes: "one can trade an apartment with tickets to a huajixi show". According to Wang Rugang, this stems from an urban legend about a man who used his status as an employee of the famous Huajiju company to win the favor of the clerk who was processing his housing application. During that period, people weren't allowed to buy property-they were allocated a home by the municipal administration of housing instead.
The clerk, whose interest was piqued, then asked for a few tickets, which were delivered the next day. In exchange, the man was favorably granted a 15-square-meter apartment.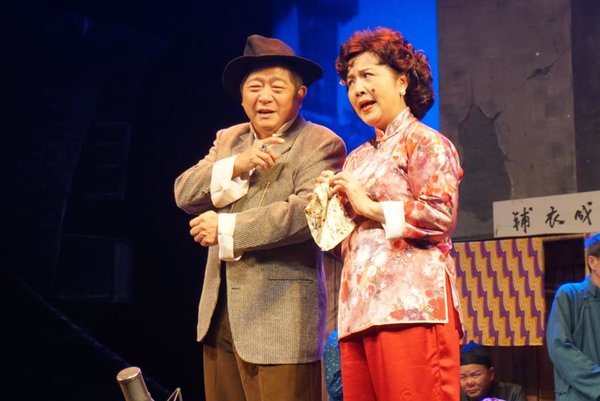 A House with 72 Tenants [For China Daily]
Wang Rugang adds that, in the past, women would turn down movie dates and ask to go and watch a huajixi show instead.
"If the guy managed to get tickets, it showed that he was capable and resourceful," he says.
"During the funny scenes, people laughed so heartily that they sometimes slapped their thighs-when the woman slapped not her own thigh but that of a man's, he knew that he had succeeded in getting himself a fiancee."
According to Wang Rugang, the Shanghai Dujiaoxi Heritage Center has presented more than 200 shows since August last year, and has created several new productions in the first year of its establishment. Its latest project is a play named First Things First, about the recently implemented garbage sorting regulations in Shanghai.
"The young actor playing the leading role of the cleaner used to work alongside cleaners in real life. We held many trial performances in local communities and this helped us to gain a lot of great feedback as well as learn new stories about people's experiences," says Wang Rugang.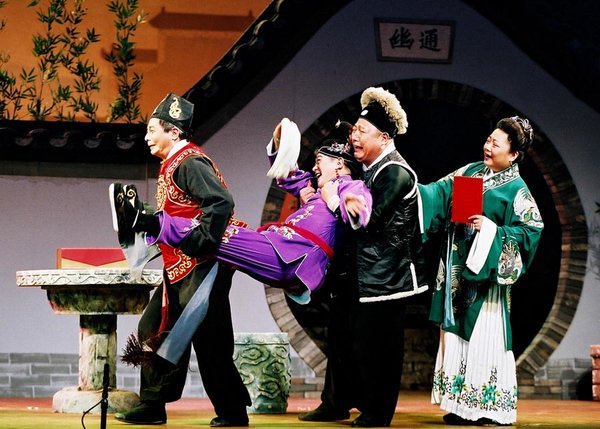 La Lang Pei, or Forced Marriage [For China Daily]
Although the younger generations no longer speak much in the Shanghai dialect, Wang Rugang is confident that this traditional comical performance will "bloom new blossoms from the old tree" with policy support from the nation.
"Laughter is universal. People all over the world enjoy comedy. Huajixi is comedy in the Shanghai dialect, an active and integral part of the city's culture," he says.
"Our first priority is to make sure that we pass the trade on to the younger generations," he adds.
"I hope we will have a space of our own-a theater with 500 seats will be good enough. This would allow us to put up regular performances so that people can come anytime and enjoy a live performance in the home dialect of Shanghai, no matter how long they've been away from the city."
(Source: China Daily)