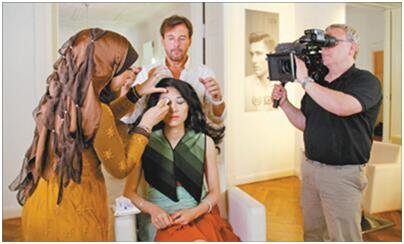 The production team shoots the process of preparing 50s-style makeup for a Chinese model. [People's Daily]
A German TV show focusing on different Chinese traditions has recently been promoting cultural exchange and mutual understanding between the two countries.
Each episode of China Tea-Time lasts for 30 minutes and encourages the audience to get involved in activities such as sampling food and celebrating traditional festivals.
In one episode, Chinese and German models were used to showcase the makeup of the two countries' women over the past 100 years.
In another,German and Chinese children delightedly explained to viewers about the legend of Monster Xi, from Chuxi, New Year's Eve in the Chinese Lunar calendar.
The program's director, who joined the team this April, said: "I live in Mitte, a downtown area of Berlin, which is known for its cultural diversity. I meet a lot of Chinese people every day but never really understand their pop culture."
The director explained, "To date, there is a gap between cultural integration and globalization. People often judge another country's cultures and humanities with prejudice more or less."
"For example, Chinese and German women share many similarities in aesthetic interests. Modern Chinese women do not pursue keeping white and delicate as in stereotypes; many think physique is more important," the director added.
Inspiration from parent-child culture class
Zeng Li is the initiator and producer of China Tea-time. She previously studied journalism and was a university teacher. She had the intention to produce a program to display modern China from multiple perspectives for a long time.
Her son's experience in 2012 enlightened Zeng. Her son in Grade 1 gave a lecture about Chinese culture to his German peers, from Chinese characters to Chinese cuisines, which unexpectedly aroused great interest of the kids and even their parents.
This experience gave Zeng great confidence. She began to produce a TV show highlighting typical Chinese cultures. After communication with her friends from German media, the pilot episode was completed in 2014.
Good contents and great significance
China Tea-Time has received much recognition from many German television stations.
Eventually,its broadcaster Berlin Alex TV decided to introduce the program and air it in prime time. Alex TV has more than 4 million viewers in Berlin and Brandenburg.
After the airing of the first episode in 2015, a tea ceremony expert who participated in the program soon became a local "star", and received many congratulations from friends and relatives.
Since February 2017, China Tea-Time has been aired at 19:45 pm on Saturdays.
Next, the team plans to help enhance mutual understanding between German and Chinese by introducing German pop culture to the Chinese audience and extending the coverage of media from TV to the internet.
(Source: People's Daily/Translated and edited by Women of China)