A female entrepreneur shares her start up stories. [Women of China/Zhang Yuan]
Beijing Women's International Center hosted the latest event in its series of female entrepreneurship salons with Lean In China on April 8, on the theme of "Food, Nature and Life".
At The Beauty of Entrepreneurship: Female Entrepreneurship Salon Series Events, businesswomen who have highlighted food safety and promoted a healthy diet, shared their experiences of founding startups.
Christina Zhu, is a Kiwi expat who previously worked in the tourism industry. When Zhu first came to Beijing, she encountered bad health problems and a skin condition.
Afterwards, she established Beijing's first source of artisanal coconut yogurt, Yeyo, aiming to provide Chinese consumers with healthy and delicious lactose-free food choices.
Klara Dlouha is the Czech co-founder of Miss Muesli, a breakfast cereal and granola brand, and has been living in Beijing for eight years.
When Klara came to the capital, she struggled to find muesli for a reasonable price in local supermarkets. She then decided to make it herself and established her own company, insisting on using high-quality, natural ingredients and providing customers with tasty and healthy products.
By sharing her start up experience, Klara encouraged women to "be their best self and their own master."
Helen and Jane, co-founders of Manna Source, were roommates in Beijing. Due to heavy working pressure, Helen suffered from a low immune system. Jane, from Brunei, started to learn how to make nutritious and healthy dishes to assist Helen. With their joint efforts, they started their company together.
Erica Huang, founder of Farm to Neighbors, a farmers' market in southeast China's Taiwan Province, believes food and drink has a direct impact on people's health as well as the environment. Despite the difficulties in transforming consumers' consumption habits, Erica has tried to try her best to change people's ideas.
By encouraging experts to share their experiences and discuss related topics, the series' organizers hope to assist more women entrepreneurs in Beijing in improving their business minds and promoting the development of their career.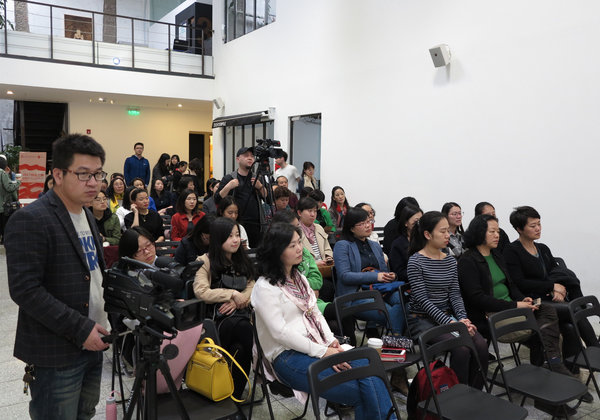 Beijing Women's International Center hosts the latest event in its series of female entrepreneurship salons with Lean In China on April 8, on the theme of "Food, Nature and Life". [Women of China/Zhang Yuan]
(Women of China)