During the past century, China has witnessed dramatic social changes, from the end of Qing Dynasty (1644-1911) to the establishment of new China (1949), from Cultural Revolution to reform and opening-up. Meanwhile, Chinese women also experience changes on social status and self-awareness, which is embodied in women's clothing evolution. Just as famous contemporary Chinese writer Eileen Chang wrote in her prose Chinese life and Fashions in 1943, "In times of political turmoil, unable to improve their social environment, people can only create their bodily environments–namely, clothes, since we all live in our clothes."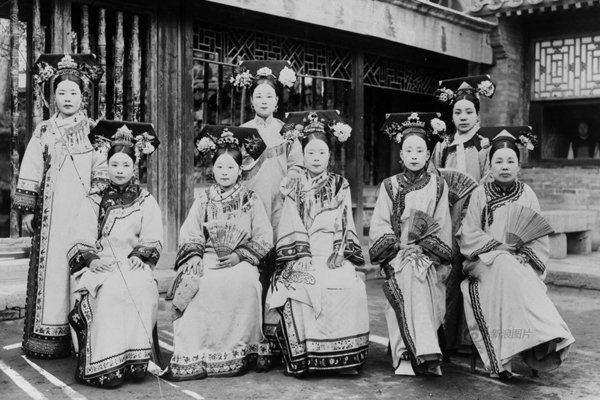 Pictured are women dressed in traditional clothes of the Man ethnicity in a palace in the late Qing Dynasty.[sina.com.cn]
Women in above picture are dressed in topcoats and skirts in Shanghai 1925. After 1925, due to the simple design, the school-uniform-style was gradually outdated by the above-pictured female dresses. The three women also kept typical bangs which were popular at that time.[sina.com.cn]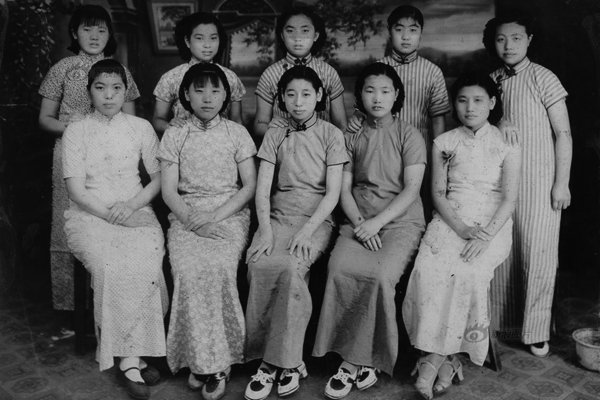 Pictured are female students in 1930s Shanghai. With influence of Western culture, Chinese women began to appeal to gender equality. Compared to the serious and rigid style at the early stage, qipao was gradually modified to highlight curves of women's chest, waist and hips.[sina.com.cn]
Pictured are women dressed in Lenin-style suits at an event in 1951. At the early stage of new China, under the background of good Sino-soviet relations, "Lenin suits" became popular among people as symbol of revolution. "Lenin suits" were named after the Soviet Union leader Lenin because he often wore it after October Revolution in 1917. Women then tended to wear "Lenin suits" and kept short hair to make themselves look bright and brave. The Lenin-style suits were usually in blue, gray and black colors to promote austerity. [Xinhua]
Pictured are young women in Beijing 1971. As China entered the period of Cultural Revolution (1966-1976), the whole of China advocated simple clothes in blue, gray and green colors. Wearing clothes like suits, qipao, and even the one-piece dress was regarded as anti-socialist.[sina.com.cn]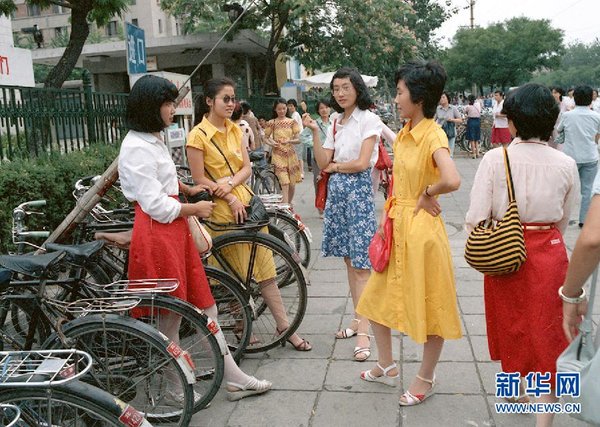 Pictured are women in bright dresses and skirts chatting on the streets of Beijing 1986. Since the reform and opening-up policy in 1978, China also underwent changes in clothes. In 1979, the French brand Pierre Cardin entered China. In the 1980s, people became more open-minded about clothing, dresses in bright colors became popular among Chinese women. [Xinhua]
(Source: sina.com.cn/Global Times)
Please understand that womenofchina.cn,a non-profit, information-communication website, cannot reach every writer before using articles and images. For copyright issues, please contact us by emailing: website@womenofchina.cn. The articles published and opinions expressed on this website represent the opinions of writers and are not necessarily shared by womenofchina.cn.