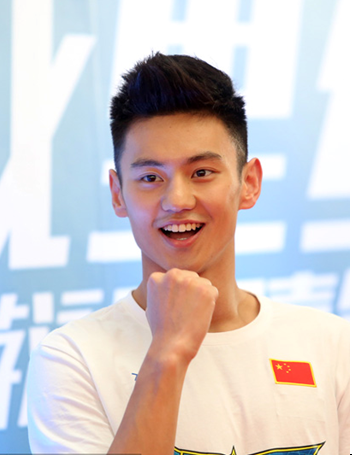 Ning Zetao, China's swimming Champion in the Rio Olympics recently became a new "Little Fresh Meat" and popular among women.[ifeng]
Lucky Blue Smith, a male model in Paris Fashion Week, is fairly well known in the western world, but he is extremely, and somewhat inexplicably, famous in China, where people called him "Little Fresh Meat", a common nickname for young, good-looking men.
Many might be surprised to learn that the nickname "Little Fresh Meat" is used by quite a few women in China, showing their 'appetite' for this type of guy.
Talk around "Little Fresh Meat" has never ceased. It's even a trend for talent agencies to define a new star. Many singers, movie stars, reality show celebrities, and even Olympic Champions, are now labeled as "Little Fresh Meat".
A psychology specialist analyzed this phenomenon as a supplement for a 'driving force', which was defined as 'Qi' (literally means "breathe") in the traditional Chinese medicine.
To find further underlying reasons for its popularity, specialists also used the psychoanalysis theory founded by Sigmund Freud, who is one of the most significant psychologists in history, to analyze the trend.
Specialists of psychoanalysis say that humans' driving force can be divided into two parts: sexual driving force and the impulse of attack. Sexual driving force is a main part of maintaining a person's living experience. The weaker someone's sexual driving force is, the lesser experience he might have.
This fact draws 'sexual driving force' to a larger context: when a person gets more sexual driving force, it means he or she can acquire more dynamic life experience.
One of the online fan-favorites, Ning Zetao, who recently medaled in swimming at the Rio Olympics, is a twink with a mesmerizing smile and strong physique. These features almost meet all of the requirements a woman might have for a man, "they also eliminate some women's fear of men," said specialists.
In traditional Chinese culture, sexual needs and self-gratification have been constrained for thousands of years with little progress. They seem to be bad words that are closely related to selfishness.
A psychologist Zeng Zhiwu once wrote an article titled For the Chinese, Finding Love Is Finding Mother, in which some of the opinions won large agreement among the specialists. A stereotype of mom - giving out love and sacrificing oneself unconditionally to her husband and kids - is not unfamiliar to many Chinese people as it's another form of the traditional 'three obediences and four virtues' formulated by ancient people to restrain women in the family.
However, the pursuit for "Little Fresh Meat" shows a chance of change. So long as women are able to recognize their sexual driving force, the situation is not that bad, say commentators.
Specialists also point out that physical needs and the needs for safety always come before the needs for love and respect. So the first step for being responsible for oneself is to recognize one's needs and admit them.
Besides, as the call for "Little Fresh Meat" is accepted by the public, not only can it bring a great deal of joy but it also won't arouse a sexual sense of shame. "It's like having fun by a nude beach in the south of France," compared a specialist.
"Little Fresh Meat" symbolizes women's progress in finding their sexual driving force. Meanwhile, it's a good medicine to help them the fix intimate relationship model, concluded a specialist.
Lucky Blue Smith. [i21st.cn]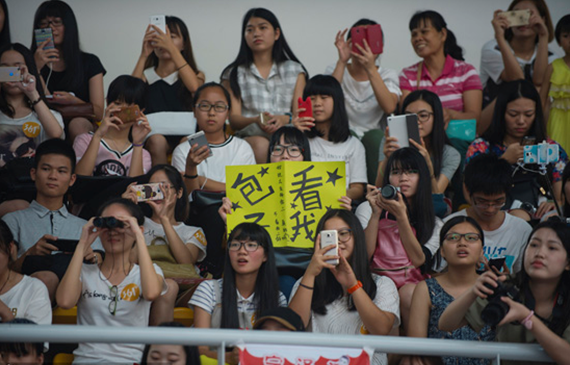 Female fans of a "Little Fresh Meat" gather in a stadium. [ifeng]
(Source: ifeng/Translated and edited by Women of China)