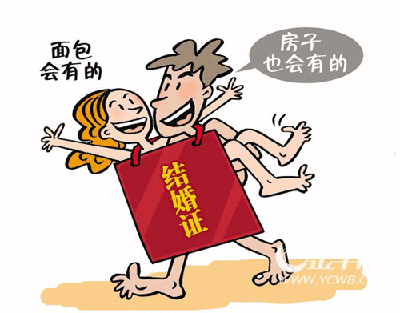 Now an increasing number of yong Chinese embrace 'naked marriages' and 'flash marriages' dute to the rising housing prices and living cost. [ycwb.cn]
Naked marriage is a term coined in 2008 by internet users, referring to the act of getting married without having first accumulated significant assets. To 'marry naked' means to not have a wedding, ring, house, car or honeymoon. The 'naked marriage' is in sharp contradiction with China's established marriage customs, which encourage parents to help lay the material foundation for their children's marriage.
Flash Marriage is a Chinese slang for a marriage between partners who've known each other for a short time. In some cases, these young couples (usually in China's large cities) represent changing attitudes towards romantic love; in others, they have found the soaring prices of real estate have made such speedy marriages more economical. (Source: Wikipedia)
marriage-婚姻 (hūn yīn) wedding-婚礼 (hūn lǐ) custom-习俗 (xí sú) car-轿车 (jiào chē)
ring-戒指 (jiè zhǐ) parents-父母 (fù mǔ) house-房子 (fáng zi) honeymoon-蜜月 (mì yuè)
Now 'naked marriage' and 'flash marriage' become more widely accepted in China and the new marriage concepts (婚姻观念 hūn yīn guān niàn) for young Chinese is closely linked to the surging housing prices (房价 fáng jià) and rising living cost (生活成本 shēng huó chéng bèn), especially in big cities.
According to Chinese state-run media Xinhua reports, new home prices in 100 Chinese major cities averaged 10,442 yuan (US$1,706) per square meter in August 2013 and retail sales rose 13.4 percent in August from early this year.
As a result, lots of Chinese young couples have to live in rented houses and some even only spend 9yuan (US1.5$) on their wedding cost-all that's needed to get a marriage certificate (结婚证 jiē hūn zhèng), because they can not afford diamond rings, cars or apartments.
(womenofchina.cn)