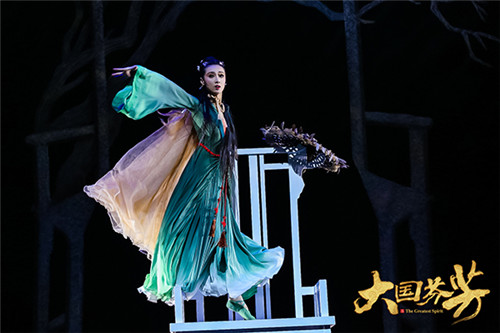 Veteran Chinese dancer-choreographer Liu Lingli features traditional Chinese elements in her latest drama, The Greatest Spirit, which will show in Beijing over March 6-7. [Photo provided to China Daily]
When renowned Chinese dancer-choreographer Liu Lingli started planning a new dance drama more than a year ago, she decided to root her ideas in traditional Chinese culture, just as she did in her previous works — including one of her most famous works from 2004, Qiao Hua Dan, which centers around the young female roles played in Peking Opera.
However, she decided to approach her latest project from a new angle, exploring a subject she really didn't know much about-Chinese white spirit, or baijiu.
With more than 5,000 years of history, Chinese spirits are enjoyed on many occasions, such as family gatherings, weddings and business banquets. The culture of Chinese spirits have long been celebrated in the works of many poets, including Tang Dynasty (618-907) poet Li Bai and Song Dynasty (960-1279) scribe Su Shi.
After a year of research and preparation, Liu premiered the dance drama, titled The Greatest Spirit, in Chengdu, Sichuan province, in March 2018. After five sellout shows, the work toured several US cities in September — including Minneapolis, Chicago and Los Angeles.
Over March 6-7, the dance drama will make its debut in Beijing, with two shows being staged at the National Center for the Performing Arts.
Performed by dancers from the Sichuan Province Song and Dance Theatre, the drama is divided into 11 acts, including The Spirit of Han Dynasty and Enchanted Ancient Beauty, which tell the history and culture of Chinese spirits, and explore the folklore surrounding them.
The final act of the work, titled Oriental Female Heroes, was staged in the closing stages of the CCTV Spring Festival Gala on Feb. 4, one of the most-watched annual TV shows in the world.
"I was challenged by the idea because it was new to me. After visiting museums and reading books about Chinese spirits, I learned that it is all about Chinese traditions and etiquette, which soon began to interest me," says the Sichuan native, who has spent the past four decades working with the Sichuan Province Song and Dance Theatre. Her choreographic works, Qiao Hua Dan, in 2004, and Hundreds of Flowers Blossom in Splendor, in 2014, were well-received by audiences after appearing on the CCTV Spring Festival Gala.
As well as mixing poetry, martial arts and Chinese calligraphy into the narrative of the work, Liu also borrowed elements from Sichuan Opera, a traditional form of provincial Chinese opera.
She also integrated one of her favorite props from traditional Chinese opera, lingzi, into her choreography. Made of feathers and measuring about 1.5 meters long, lingzi are usually worn on the hats and helmets of characters like officials and warriors to signify their rank.
"When the female dancers move onstage, the long lingzi waves in the air or dances in the hands of the performers, which helps portray the beauty of Chinese women," says Liu.
Only female dancers wear lingzi in the dance drama.
Dancer Zhang Aoyue plays the role of Liu Bang, the founding emperor of the Han Dynasty (206 BC-AD 220), in one of the acts, The Spirit of Han Dynasty.
"There is a scene where Liu drinks with his soldiers after a long, hard battle. I blended in moves borrowed from Sichuan Opera, which is something I had never attempted before," says the 31-year-old.
He also plays the role of Song Dynasty poet, Lu You, in another act, which portrays the tragic love story between the poet and his first love.
Other members of the creative team in the production include Chinese composer Xu Tao and set designer Zhang Jiwen.
(Source: China Daily)