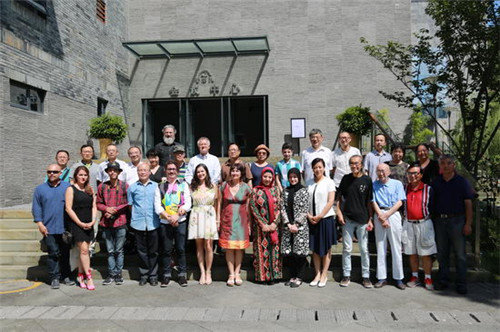 International cartoonists take a group photo at the Guiyang Confucius School in southwest China's Guizhou Province. [news.gog.cn]
An international cartoon exhibition about ancient Chinese philosopher Wang Yangming is currently underway and will last until September 20 at the Guiyang Confucius School in southwest China's Guizhou Province.
The exhibition aims to promote traditional Chinese culture through engaging foreign artists, according to curator Wang Liuyi.
The organizers prepared the exhibition from two years ago, and received more than 2,400 cartoon works created by artists from over 60 countries. Finally, 250 works were selected after three rounds of voting and discussion for the exhibition.
The works on display showcase different art forms, including sketches, oil paintings, paper cuttings, wood carvings and watercolors.
Regarded as a sage from Chinese history, together with the better known Confucius and Mencius, Wang Yangming was from Zhejiang province, but he developed his beliefs in Xiuwen county, Guizhou province. He is best known for his doctrine of "the unity of knowing and acting" which states that knowledge and action should be combined.
Gu Jiu, head of the Guizhou Research Institute of Culture and History, believes that the exhibition is helpful for passing on the philosophy of Wang Yangming.
"The creative works of foreign artists provide different perspectives and enrich our understanding of Wang's principles," said Gu.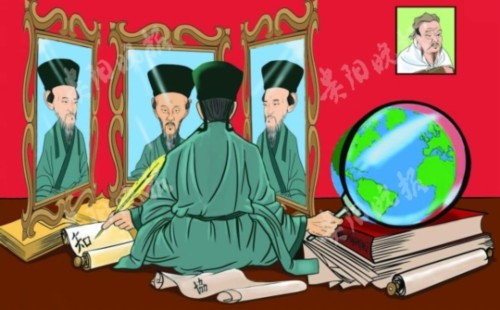 Self-understanding by Centeno from Nicaragua wins first prize at the exhibition. [news.gog.cn]
A work created by Romanian artist Constantine shows his perspective of the philosophy of Wang Yangming and traditional Chinese culture. [news.gog.cn]
(Source: chinadaily.com.cn)