Zhao Donghua (4th, L, Front), vice-president and member of the Secretariat of the All-China Women's Federation, attends the ceremony and poses for a group photo [Women of China/Fan Wenjun]
An exhibition showcasing the silk, craftsmanship, history and culture of Chinese fashion kicked off at a national museum in Beijing on November 22.
The exhibition "Harmony, Auspiciousness and Beauty: Chinese Garments Over Three Centuries" was jointly organized by the Chinese Museum of Women and Children along with Beijing Institute of Clothing Technology and fashion brand NE·TIGER. It is set to coincide with the promotion of China's "One Belt and One Road" strategy, encouraging links with other countries along the historic pan-Asia trade route.
According to curator at the museum Yang Yuan, the show is split into two parts. The first part shows off court costumes, traditional clothes of the Han people, clothes from the period of the Republic of China (1912-1949), and the figure-hugging cheongsam dresses which have been popular for over a century.
The clothes from this section of the exhibition are made of silk, featuring fine embroidery, gorgeous patterns and simple tailoring. All of the works are classic examples from the history of Chinese clothes, said organizers.
China has been known to the world as the "Kingdom of Silk" for countless decades and the Silk Route has had a profound and far-reaching influence on the economic and cultural development of the world. The silk and embroidery used for garments and decoration reached new levels in the past 300 years, according to the museum.
The second, modern, part of the exhibition, includes displays on the "new Chinese clothes", which were worn by the state leaders from all over the world during the APEC Summit last year.
Also in this section are garments produced by brand NE·TIGER, whose concept of "combining traditional and modern styles as well Chinese and Western ideas" have provided the ambition for the company to advocate and develop traditional Chinese embroidery.
Similarly, fashion house SHEME brought their own shoes to the exhibition, mixing Chinese elements, refined craftsmanship and a "reflection on the beauty and charm of the art of the shoes in China and the West."
The exhibition runs till December 22.
High-heel footwear [Women of China/Fan Wenjun]
A classic Chinese-style boot [Women of China/Fan Wenjun]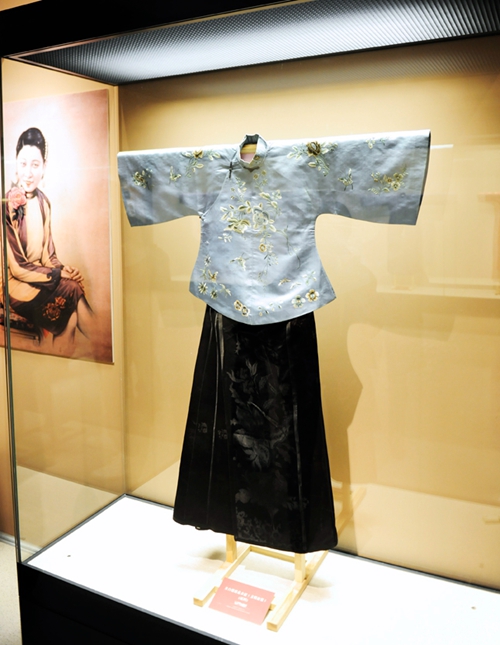 A dress from the period of the Republic of China [Women of China/Fan Wenjun]
A model wearing a silk dress [Women of China/Fan Wenjun]
A model wearing a silk dress [Women of China/Fan Wenjun]
Models wearing Qing Dynasty-style court outfits [Women of China/Fan Wenjun]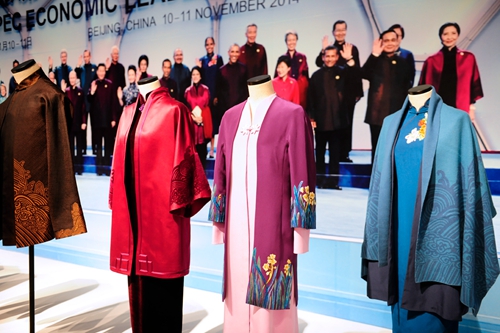 Clothes worn by state leaders during the APEC summit last year [Women of China/Fan Wenjun]