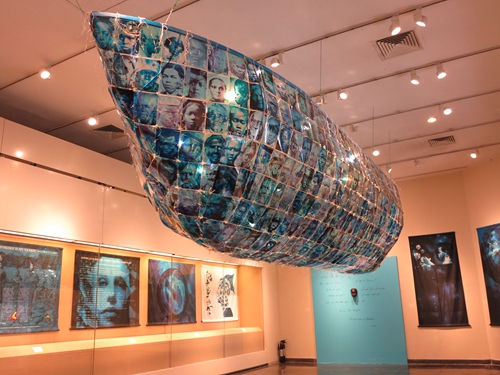 Installation of a slave ship by Toni Scott [Women of China/Zhang Yuan]
An exhibition that opened at the Arthur M. Sackler Museum of Art and Archaeology at Peking University in Beijing on July 4, explores lineage, displacement and genealogical ties between nations.
The exhibition "DNA, Bloodlines and the Family of Mankind" by U.S.-based contemporary artist Toni Scott is her first major solo exhibition in China.
Scott hopes that her works will play a role in bridging communication and exchanges, and promoting harmonious relationships between different peoples and countries.
The installation works at the exhibit come from her recent "Bloodlines" series, and indulge audiences in an atmosphere of dark shadows, back-lit portraits, and monumental sculptures.
Her inspiration for the works came from her recent study of DNA. In prehistory, mankind moved from Africa to Asia and finally to America, resulting in the same DNA legacy on all three continents.
Scott herself is mixed-race, and partly descended from the Muscogee Native American people, who have a population of 70,000.
At the main hall of the exhibition, Scott displays a 7 meter-long slavery merchant ship. Hanging in the air, the ship is covered on its hulls with photos of slaves that she collected from the Library of Congress. The ship provides audiences with a real-life, nightmarish feeling of the slaves who were being shipped from Africa across the ocean.
On the walls around the ship are digital composite portrayals themed on the family history of the artist, historical events of the U.S., and the relationship between the DNA of Native Americans and Chinese. Interweaved between the portrayals are stories about the journey of mankind out of Africa, and DNA's helical structure.
At the entrance to the exhibition hall and the courtyard are two cone-shaped tipis. The structures of both the tents are made with bamboos produced in China, indicating an integration of Chinese and Native Americans cultures.
Scott graduated in from University of Southern California, and took training at the famed Otis College of Art and Design. She is known for creating works by integrating different art forms, including painting, sculpture, photography, and multimedia.
Her "Bloodlines" installation art exhibition on the history of American slavery and her ancestors toured the U.S., and her solo exhibition at the California African American Museum ran for three years.
Her works have been collected by organizations and individuals across the world. Scott's diverse lineage motivated her to focus on the history and culture of difference races as well as her own family history.
The exhibition runs till September 27.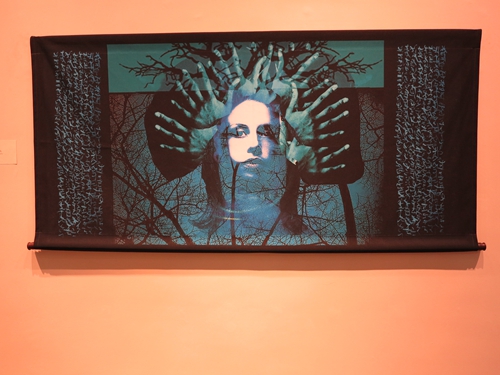 A painting by Toni Scott [Women of China/Zhang Yuan]
An installation by Toni Scott [Women of China/Zhang Yuan]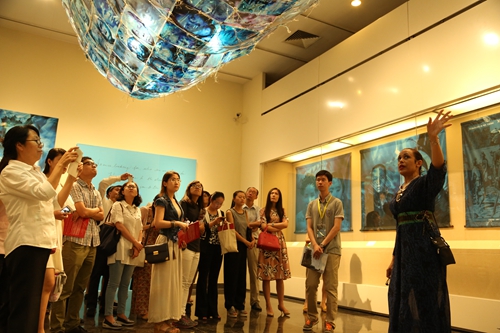 Toni Scott introduces her installation of a slave ship to audiences. [Women of China/Zhang Yuan]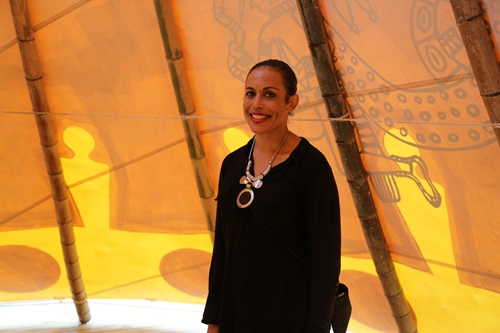 Toni Scott [Women of China/Zhang Yuan]
(Women of China)