Japanese musician Akihisa Kominato plays the shakuhachi on a section of the Great Wall in Shakuhachi: One Sound One Life, a documentary that opens across Chinese theaters on Friday.[For China Daily]
Director Yu Xin recalls the first time she heard shakuhachi music when she was driving across a viaduct in Beijing three years ago. She was playing the album Sorae by Japanese musician Kinohachi, who began learning the instrument during childhood.
An ancient type of bamboo flute known as chi ba in Chinese, shakuhachi was introduced from China to Japan during the Tang Dynasty (618-907).
Just as she was struggling to make a decision as to whether she should give up her decadelong life as a housewife in favor of returning to work, Yu, a graduate of film and TV production from New York University, says she suddenly felt a sense of relief and inspiration.
"At that time, the setting sun was going down in the west, and I couldn't hold back my tears when I heard a melody whispering what sounded to me like 'go after freedom' into my ear," she recalls.
But Yu was also astonished that she had never heard about shakuhachi before, even though she is an ardent aficionado of traditional Chinese culture.
The ancient art form had almost disappeared in China by the end of the Southern Song Dynasty (1127-1279), but witnessed something of a resurgence in Japan a few centuries later, before finally returning to China - where it's regaining its popularity among an increasing group of fans.
Director Yu Xin (front row, third from right) alongside Japanese player Kinohachi (second from right) and Taiwan teacher Cai Hong-wen (third from left) promote the documentary in Wuhan, Hubei Province, on Sunday. [For China Daily]
Rarely known among the wider public, the flute's distinctive sound and pretty, mellow notes has proved popular with producers of pop culture, as in the case of the background music for the hit Japanese animated series Naruto: Shippuden and Inuyasha: A Feudal Fairy Tale.
With a strong desire to highlight how the instrument's musical origins began in China, Yu led a film crew on more than 30 trips between China and Japan to retrace the footsteps of the shakuhachi, turning their efforts into a new documentary which is about to be released.
Titled Shakuhachi: One Sound One Life, the 90-minute documentary is scheduled to open across domestic theaters on Friday.
The crew visited a dozen cities, including Shanghai, Hangzhou, Chongqing, Tokyo and Nara, to interview top shakuhachi performers and instrument makers, as well as young learners.
Among the people interviewed were Kinohachi, a 48-year-old master known for performing shakuhachi in temples; Akihisa Kominato, 41, who is popular for combining ancient tunes with modern music; and John Kaizan Neptune, an American shakuhachi player and instrument maker.
Yu is the wife of Victor Koo, founder of Youku, one of China's most popular video streaming platforms, which was sold to internet giant Alibaba Group in 2015.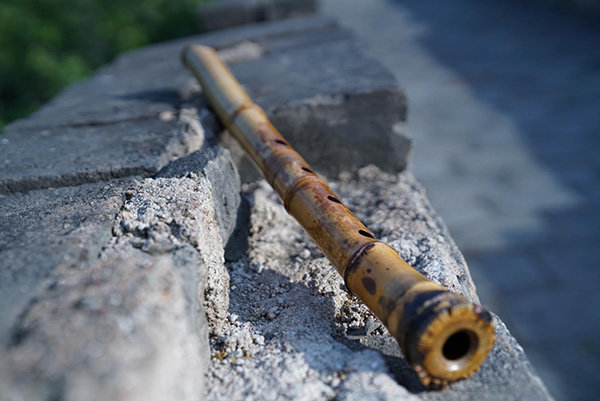 A shakuhachi, an instrument imported from China to Japan during the Tang Dynasty (618-907). [For China Daily]
With the support of her husband, she used mostly their own money to shoot the documentary, which had a budget of around 10 million yuan ($1.45 million).
"It was a long process finding shakuhachi artists and persuading them to take part in the documentary. But all of their stories were emotional and touching," says Yu.
For instance, Taiwan musician Cai Hong-wen previously worked as a highly-paid aircraft engineer, before he quit his job to teach students to play shakuhachi at the Wuhan Conservatory of Music in the Hubei province capital.
Now, earning just a fraction of what he used to, Cai is happy that he has realized his dream, and has married and settled down in Wuhan.
Statistics suggest that around 60,000 people in Japan play the shakuhachi, while the number in China is less than 1,000, according to the online news site, The Paper.
Joining the director and two Japanese shakuhachi players, Kinohachi and Kominato, in attending the Beijing premiere on May 23, Cai says the documentary has already raised awareness of this lesser known instrument.
A trailer for the documentary has already been viewed 130 million times online, Cai says, breaking the mold for videos about shakuhachi, which usually attract no more than 3,000 views.
"Shakuhachi performers and fans are not able to reach such a wide audience if they rely on their own efforts to promote themselves," says Cai, adding that cinema is an effective medium to shine the spotlight on the struggling musical art form in China.
Poster of Shakuhachi: One Sound One Life. [For China Daily]
For Kinohachi, who began to work as a professional shakuhachi player at the age of 19, the instrument has become part of his life.
"Shakuhachi has enabled me to maintain a living and has also brought me a lot of opportunities to communicate with people around the world," says Kinohachi.
"I was also thrilled to discover through the documentary that some youngsters in China such as Xu Haopeng have become self-taught shakuhachi players, thanks to the internet," he adds.
Born in the 1990s in Anyang, Henan province, Xu became fascinated with shakuhachi after hearing a few tunes online. Going against his father's wishes to study pharmacy and pursue a steady career, Xu saved up to purchase his first flute, and has now been studying the instrument for three years.
However, documentaries remain a rare niche in China's huge film market. Last year, only 18 films out of the 300-plus features making it to general release were documentaries, grossing 534 million yuan - just 8 percent of the total revenue earned by Chinese films in 2018.
When asked if she is concerned about the film's market performance, Yu says she just made the documentary out of love and passion. "I didn't think too much about the box-office returns. I just hoped that such a beautiful sound would be heard by more people".
(Source: China Daily)