Lü Bicheng (left) and Céline Liu (right). Lü was a Chinese writer, activist, newspaper editor and school founder. She is regarded as one of the top four women in Chinese literature during the period of the Republic of China (1912-1949).[For Women of China]
Liu Silin, 29, is an artist and a cultural-relics repairer at the Hospital for Conservation, under the Palace Museum. She began studying photography in 2008 at LuXun Academy of Fine Arts (in Shenyang, capital of northeastern China's Liaoning Province). In 2013, she began her postgraduate studies at the Department of Information Art and Design, under the Academy of Arts and Design of Tsinghua University.
I am Everywhere (originally named Silin Liu) is a series of artistic works created by Liu during the past seven years. In her series, Liu assumes the identity of Céline Liu, her alter ego, who travels through time and space; for example, Celine Liu enjoys a picnic with Audrey Hepburn, participates in a garden party with Eileen Chang, and paints with Pablo Picasso.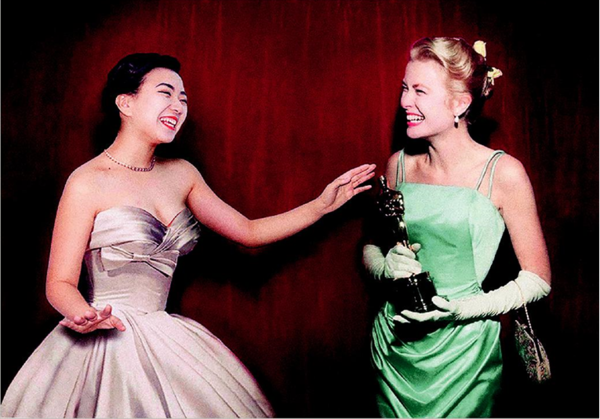 Grace Kelly and Céline Liu. Kelly earned the Academy Award for Best Actress in 1954, for her excellent performance in The Country Girl. Liu imagines Céline Liu is an actress who has failed to earn the award. Even though she is defeated by Kelly, she congratulates Kelly with a smile.[For Women of China]
Liu prefers to choose photos of her idols and the celebrities with whom she is familiar. Why? It is easier for her to imagine what will happen between the icon and Céline Liu. She must complete many needs to make many preparations before she can process the photos (of the celebrities). First, she creates an identity for Céline Liu, and then the relationship between Céline and the celebrity. Then, she selects suitable clothes to wear and the right background for the photo. After that, she thinks about and practices her pose, in front of the camera. She imagines the icon is at her side, and she interacts with the icon.
With the ever-present Céline Liu, the icons — and the moments in history — are cast in a new light. Through this process, Liu hopes to pay her respects to the icons of the last century, and she hopes to show her understanding of these celebrities.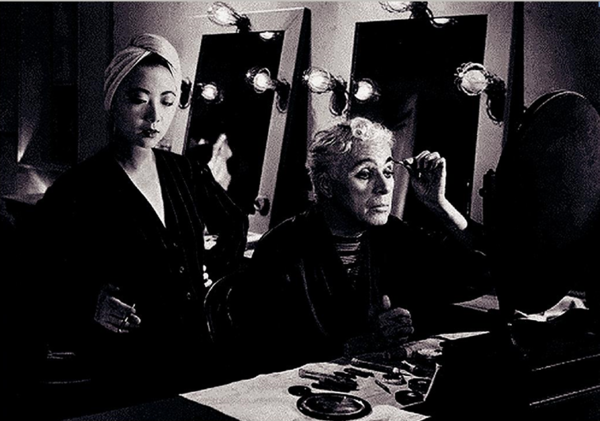 Charlie Chaplin and Céline Liu. Liu's father often imitated Chaplin to amuse her when she was young. She thinks she is familiar with Chaplin. Instead of choosing a photo that depicted his classic character on the screen, she used a photo of Chaplin applying makeup in his dressing room. She imagines Céline Liu is a close friend and partner of Chaplin.[For Women of China]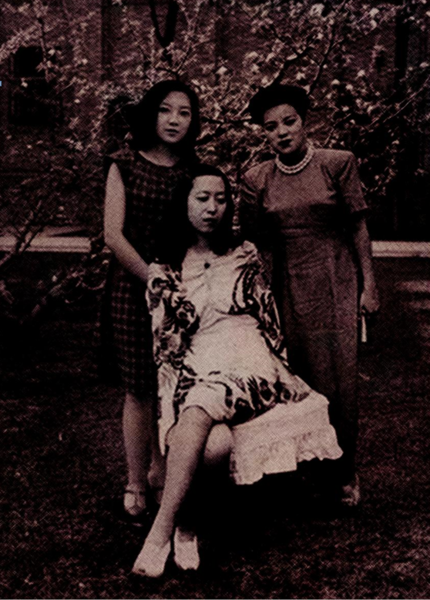 Eileen Chang (middle) and Céline Liu (left). Liu regards Eileen Chang as her idol, so she imagines Céline Liu is a good friend of Chang, and they attend a garden party together.[For Women of China]
Liu received the Jimei × Arles Discovery Award, during the Jimei × Arles International Photo Festival, in 2016, for I' am Everywhere — her series of works. Her works have been displayed in many countries, including France, Germany, Norway, Sweden, Austria, Switzerland and Singapore.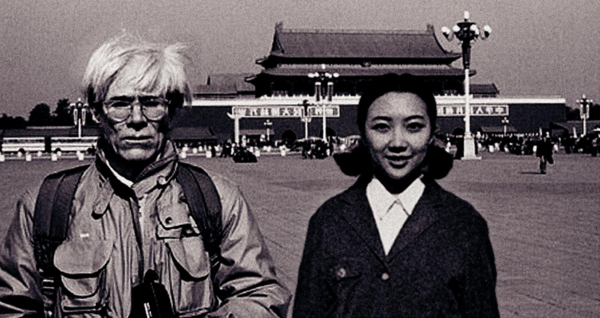 Andy Warhol and Céline Liu. Andy Warhol was an American artist, director and producer who was a leading figure in pop art, a visual-art movement. Warhol visited Beijing in 1982. Liu imagines herself as an ordinary Beijing girl, and she poses for a photo with Warhol at Tian'anmen Square.[For Women of China]
Simone de Beauvoir and Céline Liu. Simone de Beauvoir was a famous French writer, political activist and social theorist. Liu imagines Céline Liu is a student of Simone de Beauvoir, and she translates some documents for De Beauvoir.[For Women of China]
(Women of China English Monthly January 2019 issue)