A woman displays her "flower bun" in an interview. [china.com.cn]
People in northern China have been experts for centuries at making wheat flour into huamo (flower buns) which are artistically decorated by hand into various shapes and colors, with a sense of life to express their aspirations and wishes.
Northern China has long been a principal wheat production area since ancient times. People there have often transformed their wheat flour into various kinds of wheaten foods, the most typical of which is the steamed bun, a traditional staple food.
These "flower buns," mainly dough-made animals, were born as a replacement for the slaughter of cattle and sheep in accordance with traditional Chinese folk custom on sacrificial rituals.
In addition to being served as foods, the "flower buns" also boast visual and etiquette functions because of their vivid and exaggerated appearance, elegance and delicacy.
"Flower buns" have enjoyed great popularity amongst people living on both banks of the Yellow River, mainly in Shanxi, Shaanxi, Shandong and Henan provinces. Rural women often gather together and make "flower buns" whenever there are major festivals or important events in their lives.
They have been subtly conveying their inner feelings and emotions in the process of making "flower buns", which have been integrated with many elements from folk painting skills.
The most prestigious "flower bun" is the "Wenxi huamo" from the city of Yuncheng in Shanxi. It has a history of over 1,300 years and was included in the list of China's intangible cultural heritage in 2008 for its unique artistic characteristics and sophisticated creation process.
The making of "flower buns" in rural areas generally takes four to five days and goes through nine major procedures, including flour sifting, shaping, steaming, coloring and decorating. The production process is a folk art observed by mothers.
These "flower buns" are expected to be made into various shapes in accordance with different festivals and specific functions.
For instance, big steamed buns are often prepared for Spring Festival or traditional Chinese Lunar New Year, while snake-shaped buns will be made for Tomb Sweeping Day with the connotation of wiping out all misfortunes.
Many people are still willing to express their aspirations and best wishes through "flower buns" which serve as a pinched artwork, a steamed delicacy and an embodiment of Chinese folk etiquette, in the increasingly affluent era.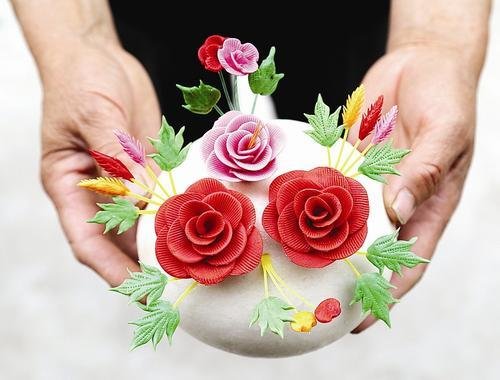 A "flower bun" [china.com.cn]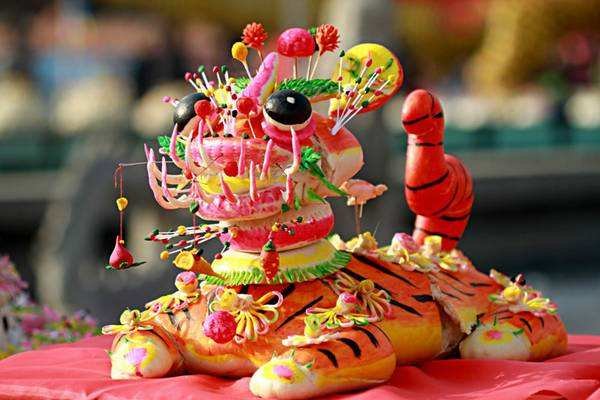 A "flower bun" [china.com.cn]
(Source: china.com.cn/Translated and edited by Women of China)