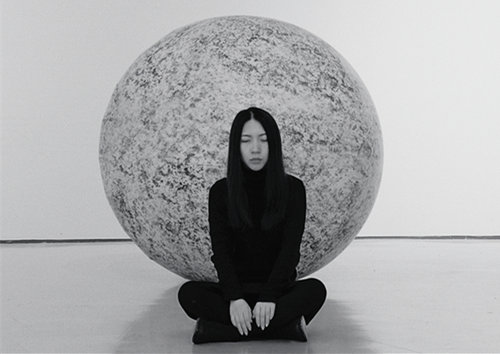 Artist Yi Yuxiao [Photo supplied by Yi Yuxiao]
Young artist Yi Yuxiao has long been creating contemporary art, and she has been combing art forms, such as experimental video and independent animation. Since 2012, she has participated in many exhibitions, in China and abroad. Her famous works include Please Listen to Me, a series of animated films that reflect children's dreams, and Spirit Body, an animation that highlights disabled children's lives. In Yi's opinion, the combination of a documentary and animation provides a free, diverse platform to express her artistic concepts.
Yi created Please Listen to Me when she was an undergraduate student. That work helped her win the 2012 outstanding graduation creation academy award when she was studying at Sichuan Fine Arts Institute. Yi's experience as a volunteer teacher inspired her as she was creating that artwork.
"I visited five primary schools in the provinces of Sichuan and Hunan, the municipality of Chongqing and the Xinjiang Uygur Autonomous Region. Those schools included both the high-quality ones, in the urban areas, and also the schools for left-behind children, in the countryside, or for children of minority groups," Yi recalls.
While she was collecting the children's stories and their dreams, Yi noticed the children had various views of the world, based on the differences among their families, their living environments and their regional cultures and customs. "For example, children from Xinjiang looked very happy because they enjoyed playing with animals in the beautiful nature. Children in the cities had clear goals, such as 'becoming a pop star' or 'going to study at Tsinghua University.' The left-behind children simply wanted their parents to spend more time with them at home. By combining those stories together in my work, I hoped spectators would think about their lives," Yi says.
Spirit Body was created during the third year of Yi's postgraduate studies. Yi visited a welfare house, in which children who suffered from cerebral palsy (a condition caused by damage to a baby's brain before or during its birth, and which makes the limbs and muscles permanently weak) were living. At that time, Yi wanted to create an animated film to follow Please Listen to Me.
"I wanted to highlight the thoughts of children in the welfare house. While I was visiting the children with cerebral palsy, I realized they had to have rehabilitation training every day. They must practice hard, so they can do simple actions, such as eat, walk and climb stairs. I interviewed a boy, who told me that he believed a person resembled the combination of two 'circles' — one representing the body and the other representing the spirit. Despite the physical deficiency of his/her body, a person could still have a strong spirit," Yi says. That, she adds, was why she created an animated film to explore the relationship between a person's body and his/her spirit.
In recent years, Yi has focused on promoting the history and development of independent animated films created by Chinese artists. "I am, firstly, an artist who has an interest in new media and independent animation. When I participate in an exhibition, I often answer questions, such as 'what do you want to express through your works?' or 'why does the animation you create look different from many animations I have watched before?' I think the combination of animation and various kinds of art forms is becoming a trend," Yi says.
She is currently artistic director of China Independent Animation Film Forum (CIAFF). The forum's purpose is to improve the creation of original independent Chinese animated films, and to enhance communications between artists. CIAFF has established an archive for animation researchers and the public to study documents and records about the development of independent animated films in China. Yi says her participation in CIAFF prompted her to continue studying and developing the habit of thinking independently.
"Every year, we have a great number of excellent animated films created independently by Chinese artists. Their works represent the vigor of original animation in China. But, meanwhile, artists have to spend much time, energy and money during the process of creating their works. Those artists include not only professionals, teachers and students in art schools, but also people who have transferred their careers from other fields. They all have the passion to experiment with bold ideas, and, thus, to explore the possibilities of creating more diverse works. So, we have established an archive to exhibit their works and the documents recording their art-creation processes. We hope more and more people will develop an interest in those works, and that they will better understand their academic and artistic values," Yi concludes.
Artist's Bio
Born in 1989 in Chengdu, capital of Southwest China's Sichuan Province, Yi Yuxiao graduated with a master's degree, in new media arts, from Sichuan Fine Arts Institute in 2015. She is currently working toward her Ph.D., also in new media arts, at Beijing Film Academy and is supposed to graduate in 2018. Last year, she won a bronze medal during the Third National Youth Film Scholars Forum.
Yi Yuxiao collecting children's stories and their dreams [Photo supplied by Yi Yuxiao]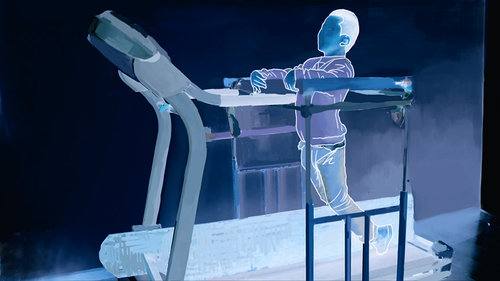 Spirit Body [Photo supplied by Yi Yuxiao]
Glass River [Photo supplied by Yi Yuxiao]
(Source: Women of China English Monthly September 2017 Issue)